Watch: Grammy Award-winning cellist Yo-Yo Ma puts up impromptu gig at Marine Drive
The 63 year old cellist Yo-Yo Ma played on for around 20 minutes, entertaining a group of Marine Drive regulars that included elderly men and women, and a seven-year-old.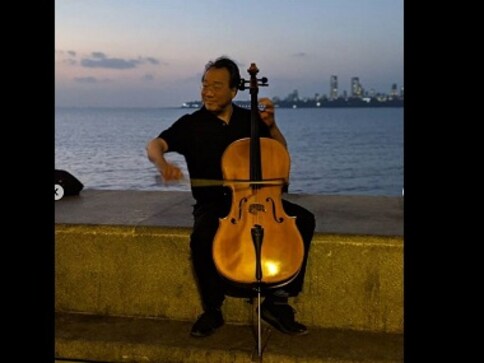 On Tuesday evening, world renowned Chinese-American cellist Yo-Yo Ma put up an impromptu gig on Mumbai's Marine Drive. A little before sundown, Ma quietly walked onto the promenade with his cello, sat on the wall that separates the sea from the city and started playing Bach's Cello Suite No 1, according to Mumbai Mirror. .
The video shows Ma grinning from ear-to ear while playing notes as his unsuspecting audience stands enchanted.
Ma's audience included an odd a small group of elderly men and women – Marine Drive regulars and a kid, about seven years old. At first, they were surprised at the sight of the 63-year-old cellist. But with the warm rich music of the cello, they gathered around him and stood in silence during the course of his 20-minute performance. After finishing his performance, Ma took a bow, shook hands with everyone, smiled and left.
View this post on Instagram
It's so nice to hear Bach being played by @yoyoma.official for the passerby's in Bombay on marine drive ! Only if we could do this more often ! How my heart yearns to listen to good music . How I wish we could do more street music !!! Music should be allowed to be played anywhere . It brings people together , it creates feeling love & peace
just seeing & hearing this brings happiness to my morning #art #and #music #bach #goodmusic #yoyoma
While the audience was unaware of the legend, his performance sure left them captivated. "I am not quite sure what he played. But listening to him left me spellbound.I have given him my card and he has promised to write to me soon," Prakash Poddar, who lives at Nariman Point, told Mumbai Mirror.
Ma, who is visiting India as a part of The Bach Project, performed at the National Center for Performing Arts in Mumbai on Monday. He is scheduled to be part of a panel discussion with actor-director Nandita Das, vocalist TM Krishna and Harvard professor Homi K Bhabha at the Chhatrapati Shivaji Maharaj Museum on Wednesday, according to Hindustan Times.
Entertainment
A descending look at the numbers behind Tuesday's nominations for the 95th Academy Awards.
Entertainment
The movie follows two ambitious analysts at a cutthroat hedge fund, played by 'Bridgerton's' Phoebe Dynevor and 'Solo's' Alden Ehrenreich
Arts & Culture
Designer Anavila Misra on how her blockbuster saris are an impact-driven social enterprise.