Watch: A deep dive into the machismo-driven world of greyhound racing in Punjab
Greyhound racing involves a big investment in terms of both time and money, and men in Punjab take a special interest to ensure that their dogs win | #FirstCulture
Track lines are being drawn, trophies shine in the sunlight and chicken curry is being stirred in a vat — a town in Punjab is preparing for a race, but humans won't be competing in it.
Fierce, growling greyhounds who have racing "in their blood" regularly take part in the sport in this northern state, as 101 India has showcased in this video. It takes one look of the faces of their owners to know just how proud they are of these dogs.
Doctor VC, who has previously explored stories such as that of the Ramgarh gaurakshaks and the dacoits of Chambal, talks about how this racing is a matter of honour for some young men in the state. In fact, they even call themselves shikaris.
One of the dog owners, Jugnu, may smile at the camera while brandishing his gun, but you see a contrasting expression when he is petting his greyhound. Though this breed of dog is quite lean, they can run at speeds of 60 kilometres per hour, and special tracks are created for them in the fields, where they can practice.
The sport is not a modern invention — greyhound racing has been in vogue since the British Raj, when the dogs would chase after rabbits. A ban was imposed on the practice, but racing enthusiasts found a way around it, by using a mechanical lure that moves along the track, which is covered in rabbit skin.
These dogs are fed a diet of protein-rich food, including fat and eggs. Many of these dogs have their own quarters, complete with lights and a fan, and are given oil massages. So invested are people in the sport, that groups such as the 'Hunter Brothers' buy greyhounds abroad and bring them back to train as race dogs. One of the 'shikaris' interviewed went so far as to say that they spend more time with the dogs than with their own children.
The future of the sport is largely dependent on the ability to import greyhounds, since it is discouraged abroad. There's also the obvious question of ethics and whether these dogs are being ill-treated to feed a curiosity and interest which is human.
You can watch the video set to the tunes of 'Jutt Blues' here.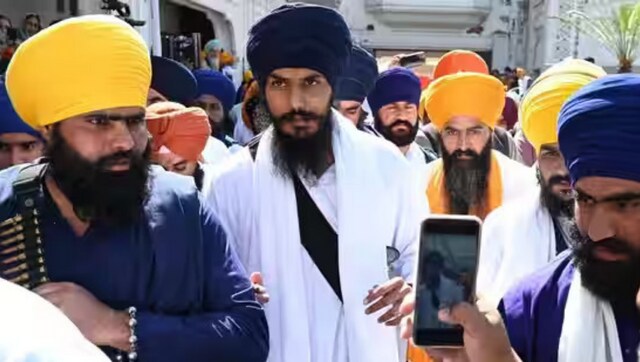 India
As the Punjab Police moved in to nab Amritpal Singh, mobile and internet services were restricted in several districts of Punjab. The curbs will be in place till Sunday
Politics
Amritpal's alleged advisor and fund provider Daljit Singh Kalsi and three others who were arrested on Saturday were flown to Assam from Punjab on a "special flight" and were being kept at the Dibrugarh Central Jail, the police said
World
Security agencies suspect the consignment was meant for Khalistani separatist groups in the border state. The Glock is a sophisticated semi-automatic pistol that is used by counter-terrorist forces like the National Security Guard (NSG) and other commando teams.