Warrior princess: Tara Anand's mission is to revive interest in India's forgotten heroines
17-year-old Tara Anand, a Mumbai-based illustrator, has brought the stories of India's warrior women to light with a new project called 'I Am No Man'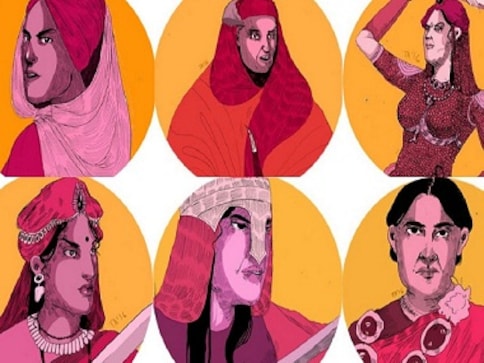 Whether it is in prescribed textbooks for history, or in pop culture representations such as graphic novels, it is rare to come across women warriors.
Even the few who do make it to page/on screen are generally typecast: Rani Laxmi Bai as a grieving widow out to avenge her husband's death and protect their kingdom; Mastani as one half of a love story rather than as a warrior in her own right.
That's where illustrator Tara Anand comes in.
A high school student from Mumbai, Anand has been illustrating from a very early age. The 17-year-old was on a study tour abroad when she had the 'eureka moment' that led to her current project:
"I recently went abroad for a course and we had a conversation about powerful queens in history and I was surprised at how many of the names I rattled off were western. As soon as I got back I dug out my Amar Chitra Kathas and my laptop and got to researching Indian warrior queens out of sheer embarrassment that I could only name two or three," Anand said.
In a conversation with Firstpost, Anand said she was perplexed by why India's women warriors, with the exception of one or two, had been left out of popular narratives.
"Honestly I was totally taken aback by the number of powerful queen regents and warriors that I could find and shocked at how totally their contributions had been left out of the mainstream narrative! So I decided to turn it into a project and contribute as much as I could to getting these women recognised as important and inspirational figures in our history."
To do this, Anand started an illustration series called 'I AM NO MAN'. Anand, a Lord of the Rings fan, says she was inspired by the character Eowyn (who screams out 'I am no man' when striking down the Witch-King of Angmar in battle; an Elvish prophecy had said that he would never be struck down by the hand of man) from Tolkien's tale. "Eowyn's display of courage inspired me to name my project as a tribute to unknown women warriors from India," Anand says.
For Anand, the point of the series is to reiterate that women made valuable contributions across the length and breadth of Indian history — and not that it was the result of the 'progressive' nature of any one period or culture. To further that view, Anand has tried to capture the contributions of women from a variety of reigns and periods. For instance:
Nagamma from medieval India

Nagamma is often hailed as one of the most powerful women in medieval India. While not a queen, Nagamma held immense administrative powers as a minister who later rose to be the prime minister of her kingdom. She was also trained in Warcraft and was a key player in the "epic" War of Palnad.
Bibi Dalair Kaur in the 17th century
Bibi Dalair Kaur was a Sikh woman in the 17th century who formed an all-woman army to fight Mughal forces.
Begum Samru in the 18th century
Joanna Nobilis Sombre, popularly called Begum Samru, was India's first woman Roman Catholic ruler and leader of a mercenary army that she inherited from her European husband.
Rani Velu Nachiyar of Sivaganga
Trained in warcraft as a child Rani Velu Nachiyar of Sivaganga ruled her kingdom for over a decade after her husband was killed by the British. She lead her kingdom's army in numerous battles against colonial powers in the 1700s and even formed a special "women's army" named "Udaiyaal" after her daughter
Rani Rudrama Devi of the 13th century
After succeeding her father to the Kakatiya Throne at the age of 14, Rani Rudrama Devi led battles against the nobles in her kingdom who opposed her rule because of her gender.
Chand Bibi of the 16th century
Chand Bibi is known as a 16th century warrior but she was also skilled in languages, music and art. She acted as the regent of Bijapur and Ahmednagar and defended her territory against Mughal invasions.
These illustrations are Anand's way of cutting across not just gender barriers, but also those of caste — especially since she feels feminism has become a 'bourgeois' activity of late.
To explain her point, Anand says: "I think the feminist movement has made incredible progress in the last decade but I feel like it's prevalent more among privileged members of society who often, have a very Western outlook on feminism. For example, people trying to bring the Riot Grrrl movement to India, not knowing that it tends to be targeted at mainly middle-class white women… I think we need to find our own brand of feminism that includes and involves women from all castes, classes and faiths. There are thousands of women in our country living in poverty or completely oppressive circumstances. These women have neither the time nor the wherewithal to even think about 'feminism' as it is currently perpetuated. It is therefore the responsibility of people representing the movement to alter it so that it includes everyone."
And to what does Anand attribute the mostly one-dimensional portrayal of women in history textbooks? "So much of mainstream history is written by men," says Anand. "They dominate the social and political spheres and therefore, dominated the narratives."
Anand's illustrations are certainly a step in the right direction, in that regard.
All illustrations © Tara Anand
World
On 20 January 2006, Evo Morales, a part of the Aymara group, took oath as the president of Bolivia, winning 54 percent of the vote and becoming the country's first indigenous president
World
On 28 January 1986, the US space shuttle orbiter Challenger disappeared into the air following a massive explosion just 73 seconds after its launch from Cape Canaveral, Florida.
World
Renowned basketball player Kobe Bryant died in a helicopter crash on 26 January 2020. The NBA legend, accompanied by his 13-year-old daughter was going to attend a girls' basketball game.