Verses from the Valley: How contemporary Kashmiri poets are leading a revival of Urdu poetry
In recent times, Urdu poetry has gained momentum as a medium of expression for Srinagar's youth. Through all the political, religious, and social changes that Kashmir has witnessed over the years – the Valley's poetry too has co-evolved.
In recent times, Urdu poetry has gained momentum as a medium of expression for Srinagar's youth. Through all the political, religious, and social changes that Kashmir has witnessed over the years – from being a hub of Buddhism, to the development of Shaivism school of thought, followed by a mass Islamic conversion led by different Sufi saints and poets – the Valley's poetry has co-evolved.
Poetry has always held an important place in Kashmir's cultural history. From Classical Mystics whose work transcends religion — like Lal Ded, who touches upon the ideologies of Shaivism and Sufism — and Sheikh Ul-Aalam, who was revered by both Hindus and Muslims; to progressive writers like Mahjoor and Abdul Ahad Azaad, whose writings pushed for social reforms, a wide range of poets have emerged from the Valley.
The '90s saw the most violent era in Kashmir's history, but those turbulent times also paved the way for poets like Agha Shahid Ali, whose work 'The Country Without A Post Office' is still considered a masterpiece in modern literature.
Though foreign languages like Persian, Arabic and English have had a very strong influence on Kashmiri language scenario, it is Urdu which has had the most impact. Not only it is the official language of the state under the Section 145 of the Jammu and Kashmir constitution, it is also the second most popular language, after Kashmiri, used by the locals to communicate. In the Indian subcontinent too, Urdu has proven to be a pivotal medium of literary expression. It has given us cultural icons like Ghalib, Iqbal, and Faiz, who continue to inspire generations.
Striving to carry forward their legacies are a bunch of young poets from the Valley, who have chosen Urdu poetry as a medium to primarily express themselves. They aim to serve Sukhan, the Urdu word for 'language', and push the envelope on poetry in broader terms.
One such poet is Syed Zeeshan Jaipuri, a young Kashmiri student, who inherited a love for Urdu poetry from his grandfather, Syed Akbar Jaipuri, a celebrated Urdu poet. Though he is pursuing a degree in English Literature, Zeeshan finds solace in Urdu poetry; he tries to look at poetry not just through the prism of literature, but also as a means to become society's mirror. Apart from poets like Faiz Ahmad Faiz, he draws inspiration from the progressive writers' movement that started in the early 20th century, seeking to inspire people through writings, advocating equality among all humans, and attacking social injustice and backwardness in society.
Zeeshan was deeply affected by the 2008 and 2010 mass protests against the state atrocities in the valley. He was still in school at that time, and during those days of curfews and strikes, he found himself deeply engrossed in Urdu poetry. He feels that language should strive to be more than just a medium of communication, it has a role in questioning society's existing structures of authority, and devising reforms for its betterment.
The poetry scene in Kashmir is largely driven by established poets, but it has witnessed a shift of late. A few years ago, the idea of an open mic or a poetry gig by local poets would've seemed bizarre, but lately, poetry aficionados are gaining recognition through the DIY approach.
Syed Saddam Geelani, whose pen name is Murad, is another member of the emerging open mic poetry culture of Kashmir. He is a huge fan of Mir Taqi Mir, whom he refers to as Khuda-e-Sukhan (God of Literature). Mir was a 17th century poet, who is considered to be one of the pioneers of Urdu Ghazal, and an unparalleled master in his expression of human suffering. Murad draws his inspiration from Mir and Ghalib, and strictly follows the classical style of Urdu Ghazal writing, he is a traditionalist who dreams of restoring Urdu's glorious reputation of olden days. Murad prefers poetry recitals over social media to share his work because he feels it is closer to a classical Mehfil, and gives him a better chance to interact with his listeners.
A poetess, with the pen name Rumuz, is another active member of the poetry scene in the valley. Though she is an engineer by profession, she started translating the works of revered poets like Mahjoor and Rehman Rahi, and eventually, started writing her own poems. According to her, having multilingual influences help a person grow as a thinker, and further one's mastery of one particular language.
She feels that a dialogue from the film Dead Poets' Society – "Medicine, law, business, engineering… these are noble pursuits and necessary to sustain life, but poetry, beauty, romance, love… these are what we stay alive for" –  correctly reflects her thoughts on poetry. 'Rumuz E Bekhudi', her Instagram and Facebook pages, have gained her a big following.
In a place like Kashmir, where unpredictability and unreliability are the only things that are certain, poets like Zeeshan, Murad, and Rumuz, are trying to use poetry and literature to make strong cultural statements and to voice their resistance.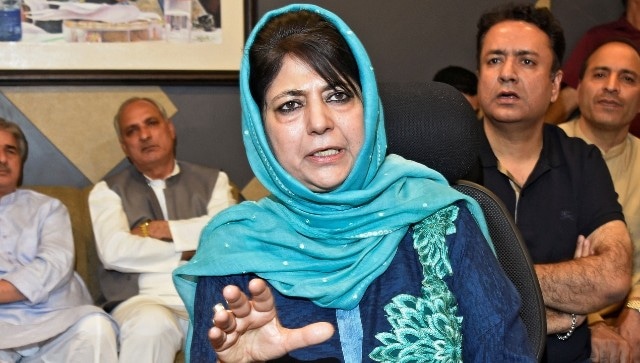 Politics
Addressing a public rally at Neel village of Banihal, the PDP chief said they want 'Mahatma Gandhi's India' and their identity and honour which was given to them by the Indian Constitution
India
The United Nations had recently expressed concern over the arrest of Khurram Parvez by the National Investigation Agency on 22 November
India
An encounter had broken out between security forces and terrorists in the Qasba Yar area of Jammu and Kashmir's Pulwama on Wednesday morning