A little while ago, Sanket Avlani — the curator at Design Fabric and more popularly known as the brain behind the funky 'Taxi Fabric' project — happened to travel with a friend to purani Dilli, to meet artists practising Urdu calligraphy. The katibs (calligraphers) showed Avlani and his friend how they practised their art; they also revealed, how, over time, it was fading out. The katibs believed that the language had suffered, because it was linked to a particular people, religion or agenda.
That conversation sparked a deeper interest in wanting to explore the origins and history of the Urdu language, so Avlani set out to shoot a 20-minute documentary with cinematographer Vikas Maurya. They visited the Rajasthan Arabic Persian Research Institute, one of the few institutes in India offering a certified course in Urdu, located in Tonk. They also filmed interviews with well-known Urdu calligrapher Qamar Dagar and Amir Waseem Ahmad, a professor at Urdu Academy in Delhi, who are striving to keep the art alive.
From that beginning rose Design Fabric's latest project — The Urdu Exhibit. On display at the G5A in Mumbai, with an event scheduled for Tuesday, 26 September, the audio-visual experience encompasses photography, murals, the work of calligraphers, poetry recitals, short films, and murals — all inspired by Urdu.
The curatorial note for The Urdu Exhibit states: "We delve deep into the origins and history of the language, the artists who're painstakingly trying to keep it alive, the different representations of it and largely at how it's a vehicle of peace. Given the current political environment — at home and around the globe — we expected to be faced with roadblocks on the way. But what we emerged with was Love. A lot of love."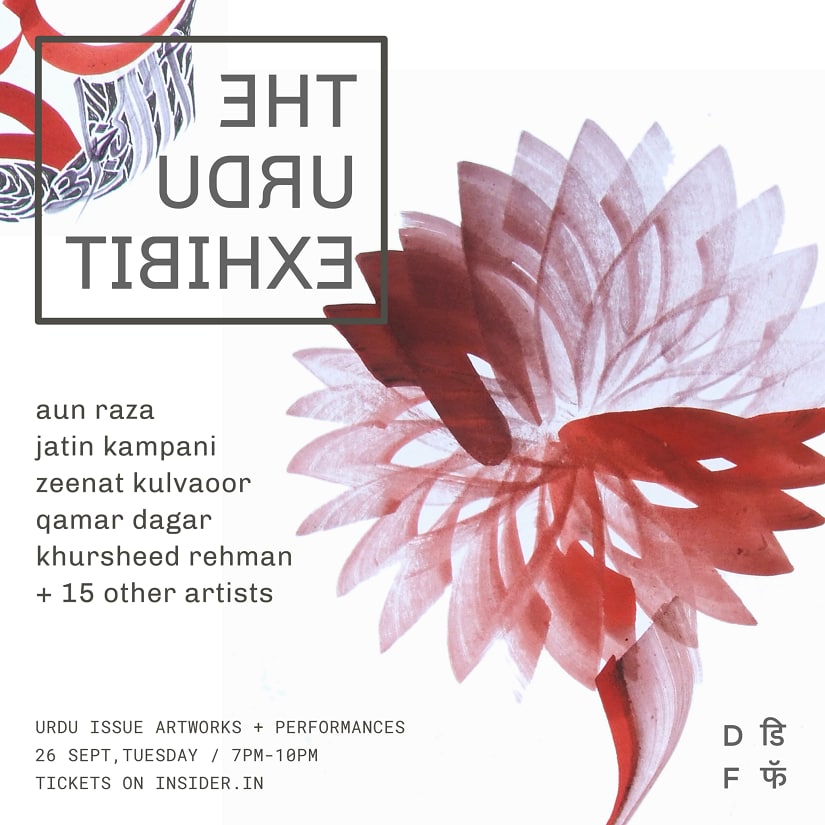 Madhuvanthi Mohan, the community manager and creative producer at Design Fabric, took Firstpost through some of the most exciting parts of the project:
The Urdu Exhibit encompasses the works of photographers responding to Faiz Ahmed Faiz's poem 'Before You Came'. What were the impressions you had while viewing these photos?
We asked a group of photographers with unique styles to create a photograph inspired by the timeless Urdu poem 'Before You Came' by Faiz Ahmed Faiz. The poem captures that roller coaster of emotions that love makes you go through and how the poet seeks permanence as a cure. This photo series captures the mysticism and romance that is unique to the Urdu language and Urdu poetry in particular. By putting together different photographers' visions of the poem, we also want to reflect on the fact that one poem never has just one meaning, it can evoke various feelings in various people. The result is a unique set of visuals that bring together the melancholy of the poem but in startlingly different ways. The photographers include Aashim Tyagi, Aishwaraya Arumbakkam, Aman Makkar, Aun Raza, Farhan Hussain, Jatin Kampani and Prashant Godbole.
Also read — Urdu literary icons get a visual makeover with Shiraz Husain's Khwaab Tanha Collective
The Urdu Exhibit also presents a futuristic look at what the script will look like, in 20150. How was that interpreted?
Urdu is steeped in tradition and apart from being the most respectful language, it has often been regarded also a 'holy' language, especially by those who speak it. Thinking what the future of Urdu script will be in 2050 is a visual idea worth exploring. Taking the past beauty and glory of the script and fast tracking to the future, we thought, would be an exciting challenge. How will the script look or translate or be used in 2050? We asked a set of talented artists to give us their take.
Mohammad Azad — 'Jahaan-E-Urdu': Here the letter 'U' looms large and omniscient and Mohammad uses the U to amalgamate everything the language stands for in 2050. He sees a world where the culture of 'tehzib' still flourishes and Urdu draws strength from that. It nurtures and protects the essence of other languages, as Sanskrit once was the root of everything, Urdu is now the root and the constant. It blends and seamlessly adapts into popular culture, as any language must do, to survive.
Qamar Dagar — 'Anjaam' (The Culmination): Qamar Dagar speaks of elegance, of refinement and how Urdu with its sweet rhythm and charm is quite perfect for poetry. Is this why there is such a 'khazana' of writings available from stalwart poets in Urdu? Of course. But the language also draws you in with aesthetics; the delicate calligraphy and linear beauty of Urdu are quite unmatched. And yet Urdu adapts and grows and when you change the physicality of the written form, something changes internally. It is a subtle change but a powerful one and if you notice, Urdu has now evolved from a language of communication into a visual art. Isn't that true of the future as well? Qamar Dagar creates the visual of a flower blossoming, that blends the script into it's form. A poetic metaphor for a language of poets.
Yusuf Zamani — 'Mustaqbil': Zamani sees the language from the eyes of an optimist. It adapts and moulds itself into the most popular mode of communication of the time. Be it a digital code or advertising jargon, it lives and thrives by becoming available and useful.
Furqan Jawed — 'Ghar-e-beghar' (Homeless in Homeland): Furqan assesses that Urdu is now associated with the rhetoric of a Muslim identity. And in the existing scenario this doesn't bode well for the growth of the language either in India or abroad. So to restrict oneself to the aesthetic beauty of the language alone would be unfair, one must consider the socio-political scenario that has curbed the language and possibly points towards its demise. And hence the dystopian world and representation of a language that is struggling to survive despite the clichés and stereotypes that are thrust on it.
Could you also tell us a little more of the mural art by Zeenat Kulavoor in Mumbai and Sanki King in Karachi, that's part of this project?
Two artists based in India and Pakistan embarked on a project to bring Urdu to the forefront and bring two communities together. Pehle Aap is a mural conversation project as part of Design Fabric's Urdu Issue between artists Sanki King in Karachi and Zeenat Kulavoor in Mumbai.
Using their own unique styles and perspectives, these artists will have a conversation with each other through Urdu script and through their walls. There will be a total of four walls — two in Mumbai and two in Karachi.
They will then announce an open call to other artists based anywhere to join in and continue the mural conversation in their own cities and create the #PehleAap movement, to do their part in keeping this beautiful dying language alive and to bring artist communities together over this cause.
It was so fun working on this collaborative project with artist based in two different countries. Through Skype calls and FB messenger we all got to know each other which added so much to the collaborative feeling of it.
Zeenat's first mural in Lakshmi mills compound Lower Parel says 'Pehle Aap' — a Lukhnowi tradition to show respect. It means 'After you'. She started the project with this phrase showing respect to Abdullah (Sanki King).
The second mural in the series, Sanki's first in the conversation is titled 'Inqilaab 1'and is inspired from a poem by John Elia called 'Ab hamain inqilaab chahye hai' (Now we need revolution). Throughout his life John had been an advocate of peace and put great efforts into bringing the people of India and Pakistan together, not only through his poetry but also through his writings.
The third mural in the series is by Zeenat also in Lakshmi Mills compound and is in response to Sanki King's line. It is a line from 'Yahaan bhai hai wahaan bhi' a poem by the late Muqtida Hasan Nida Fazli. During the partition of India-Pakistan, his parents migrated to Pakistan, but Fazli decided to stay in India. He remained a lifelong critic of the Partition and an opponent of communal, divisive politics. He penned the most subtle comparison between the two countries after his visit to Pakistan in the form of this beautiful poem.
The fourth by Sanki King is called 'Inqilaab 2', inspired by the same poem as his first. In this poem, John talks about the love and similarities between Indian and Pakistani people and the poem starts with verses singing praises of the artists and poets of these two countries. He also talks about the differences/conflicts that have been created between these "two brothers" by the politicians/establishment and how they have been abused, manipulated and pushed away from each other. Most of the poem is filled with grief and sorrow about the state of the two countries, and John constantly points out that these two brothers need to come closer and love each other again; for this he suggests that a revolution has become a necessity.
Through an augmented reality setup, guests can view images of Sanki King's murals in Pakistan through their device, at the site of Zeenat's mural (which is just outside where the Urdu Exhibit is being held at G5A).
The Urdu Exhibit by Design Fabric, at the G5A Foundation for Contemporary Culture, Mumbai
On Tuesday, 26 September 2017; 6.30 pm onwards
Limited entry; click here for more details
Your guide to the latest election news, analysis, commentary, live updates and schedule for Lok Sabha Elections 2019 on firstpost.com/elections. Follow us on Twitter and Instagram or like our Facebook page for updates from all 543 constituencies for the upcoming general elections.
Updated Date: Sep 26, 2017 12:46:11 IST