The untold love story of Sahir Ludhianvi and Amrita Pritam
Pritam may not have had eternity with Ludhianvi, but decades later, despite forgetfulness curling the edges of their history, their love story remains.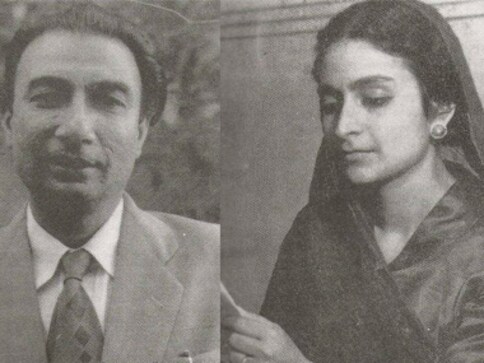 A dirty cup of tea, stubs of cigarettes, anecdotes and memories. These are the remnants of one of Bollywood's greatest love stories that is all set to be brought to life on screen. It was reported recently that Irrfan has been signed to play Sahir Ludhianvi in a film based on the lyricist's affair with poet Amrita Pritam. Producer Ashi Dua is tight-lipped about the film, but here's what really happened between Ludhianvi and Pritam.
In 1944, Sahir Ludhianvi, a poet and budding lyricist would first meet Amrita Pritam at a mushaira (poetry reading) in the village of Preet Nagar, between Lahore and Delhi. He was all intensity and idealism. She was striking, both for her beauty and her gift with words. It began like a worn-out cliché: their eyes met across a dimly lit room. However, the love story that followed was anything but conventional.
At the time she met Ludhianvi, Pritam was married to Pritam Singh, to whom she had been betrothed when she was a child. The marriage was not a happy one. Her relationship with Ludhianvi unfurled in the letters they wrote to each other. He was in Lahore, she was in Delhi; between them, they built a bridge of words, confidences and endearments. In her letters, it's obvious that Pritam fell headlong in love with Ludhianvi. She called him "Mera shayar", "Mera mehboob", "Mera khuda" and "Mera devta".
Akshay Manwani, the author of Sahir: A People's Poet, believes Pritam was the only woman who could have convinced Ludhianvi to give up his single status. In fact, Ludhianvi had once remarked to his mother after seeing Pritam, "Woh Amrita Pritam thi. Woh aapki bahu ban sakti thi." ("That's Amrita Pritam. She could have been your daughter-in-law.")
Yet Ludhianvi never committed to her. Theirs was a romance that was conducted through distances that Ludhianvi didn't seem to want to bridge. They'd write love letters to each other, but the few times they met in secret, there were more silences than words.
In her autobiography, Rasidi Ticket, Pritam writes about how they'd sit in silence and gaze into each other's eyes while Ludhianvi chain-smoked his cigarettes. After he left, Amrita picked up the stubs left by him and smoked them, pressing her lips upon the invisible imprint of his.
The challenges that faced Pritam and Ludhianvi were many. There was a period when both Ludhianvi and Pritam lived in Lahore, but soon he would move to Mumbai and when Partition happened, Pritam and her husband moved to Delhi. Pritam was prepared to give up her marriage — she'd eventually leave her husband anyway, without needing any encouragement from Ludhianvi — and her stature in Delhi as an intellectual and poet for the chance to be with Ludhianvi. He shimmers across Pritam's poetry and she makes no secret of her love for him in her autobiography Rasidi Ticket.
He, on the other hand, seemed less sure of himself and the future they may have. The attraction that he felt for her was compelling enough to shimmer across some of beautiful lyrics he penned, which is significant because Ludhianvi was at his poetic best when he embedded social critique and political idealism in his verses. Romance played second fiddle in his oeuvre. Still, Pritam and their unfulfilled love story did inspire him to write "Mehfil Se Uth Jaane Walo" for the film Dooj ka Chand (1964).
According to Manwani, the song was inspired by a meeting Ludhianvi had with Pritam years later, when she was with her long-standing partner, the artist and poet Imroz. The couple visited Ludhianvi in Mumbai, in 1964, and seeing Pritam with another man brought these lines out of Ludhianvi:
"Mehfil se uth jaane walo,
Tum logo par kya ilzam
Tum aabad gharo ke vasi
Main awaara aur badnaam."
(People who leave a happy gathering
What blame can I place on you?
You come from prosperous homes,
And I am infamous and delusional.)
While Ludhianvi paints himself as the tragic hero in his relationship with Pritam, it seems what ended their romance was Ludhianvi falling in love with the singer Sudha Malhotra in 1960. It is difficult to gauge Ludhianvi's state of mind when the relationship with Pritam ended because Ludhianvi was reserved by nature and despite his fondness for falling in love with women, he couldn't bring himself to really open himself up to anyone. On one occasion during their relationship, Pritam published a short story that recreated her first meeting with Ludhianvi. She'd heard nothing from him for a while and had hoped that the story would evince a reaction. But there was nothing. He said nothing to his friends, he wrote nothing in response. Much later, he would tell her that he'd loved the story but hadn't responded in any way because he was afraid of being made fun of by his friends.
Some believe that Ludhianvi's attitude towards women stemmed from his relationship with his mother, who was a dominant force in his life. She'd raised Ludhianvi on her own, having left her abusive husband. Ludhianvi never forgot that his mother had suffered a lot to protect him.
Filmmaker Vinay Shukla collaborated with Ludhianvi for the lyrics of his first film. Shukla believes Ludhianvi's failure to commit to long-lasting relationships with women was the unfortunate fallout of the poet's obsession with this mother. "Sahir had a strong Oedipal fixation," said Shukla. "You have to understand that the love and regard that he held for his mother (Sardar Begum) would leave him unable to divert attention to any other woman. Amrita was the only woman to have received the kind of affection he had for his mother."
Although Ludhianvi with his infatuation for Sudha Malhotra seemed to be the first to move on, appearances may be deceiving. Shukla narrates an anecdote that was told to him by the Punjabi composer Jaidev. In the 1970s, Jaidev and Ludhianvi were working together on the lyrics of a song at Sahir's house when Jaidev noticed a dirty and used cup lying on the coffee table. Jaidev remarked that it needed to be cleaned. "Don't you dare touch it," Ludhianvi said to Jaidev. "Amrita drank tea out of it the last time she was here."
It wasn't a relationship with a happy ending and it was unconventional in so many ways. Their relationship hovered in taboo territory and yet was strangely chaste, conducted as it was through silences and letters. Yet, for all its poignant lack of fulfillment, this was a love affair that filled the lives of the two people who embarked upon it and has lingered on in our memory despite the secrecy in which Ludhianvi wrapped it up.
In her autobiography, Pritam remembered an incident from when she and Ludhianvi were together. Ludhianvi had been unwell, so Pritam sat at his bedside and rubbed Vicks ointment all over his bare chest and arms. Recalling the sensual intimacy of that moment, Pritam wrote, "I wish I could live in this moment forever."
Pritam may not have had eternity with Ludhianvi, but decades later, despite forgetfulness curling the edges of their history, their love story remains.
Entertainment
It is of course a coincidence that the poet's birth anniversary falls on the same day as International Woman's Day, but many would call it a fateful occurrence, given how Sahir Ludhianvi wrote about women.
Entertainment
Here is a the line-up of biopics that Bollywood promises to churn out.
Entertainment
Actor Abhishek Bachchan is Sanjay Bhansali's only choice for Sahir Ludhianvi, a role late Irrfan Khan was eager to play.