Understanding rape: For many victims the scars are permanent
The National Crime Records Bureau data that points out that the Indian female — girl or woman — is more unsafe inside her home, neighbourhood, school and college, places that we would presume to be a safe and secure environment.
A journalist tweeted that she was groped at the meeting at Jantar Mantar in Delhi yesterday where people had gathered in thousands to mourn the death of the 23-year-old girl at the hospital in Singapore. Worse were some of the reactions to the tweet, asking her if she had enjoyed it. A mother and her two daughters also complained that they had a similar distasteful experience at the same venue.
Candlelights are hardly enough to illuminate a perverted, depraved mind. The irony of the occasion makes you wonder what is wrong with us as a people. Here we are mourning the horrific sexual violence unleashed on a innocent girl and even on this occasion, we find it difficult to keep our hands to ourselves, be decent, human.
Which is why actor Abhishek Bachchan's tweet echoes what many Indian parents are thinking now. "This is not the country I grew up in as a child, this is not the country I want my daughter to know whilst she grows up," he wrote.
You would think we are living in a country of many, many perverts and regular sexual offenders for who this has become a compulsive growing disorder. The unabashed way in which they go about their business with scant regard for those who they target and no fear of the law. "Any girl who has travelled in a public transport bus in Delhi, I can guarantee you, would have experienced this. Men rubbing and pushing themselves against you. It is disgusting,'' says a friend who grew up in Delhi. "Actually it can happen anywhere. In a queue when you are trying to buy a train ticket or even inside the sanctum sanctorum of a temple, when you are trying to get a glimpse of God, shocking as it may sound."
Psychologists call this frotteurism, a desire or rather a mental disorder in which they want to rub the pelvis or erect penis against a non-consenting individual for sexual gratification. Of course, there is no reason to conclude that men in this part of the world are more inclined to do this than elsewhere. But the perpetrators perhaps are emboldened because there is no sense of guilt and also a belief that they won't get punished.
There is no dearth either on the streets of Delhi and elsewhere, of the chalegi kya? type of hunters on the prowl. Like the experience, caught on camera, of a TV reporter, ironically even as she was reporting on the gangrape episode.
Yet the National Crime Records Bureau data that points out that the Indian female — girl or woman — is more unsafe inside her home, neighbourhood, school and college, places that we would presume to be a safe and secure environment. This is where the hunt is happening more aggressively, hidden from the public eye. Data for 2011 shows that offenders were known to the victims in 94.2 percent of the cases, with neighbours accounting for a high 34.7 percent of the rapists. What it means is that the violator is at your doorstep or worse, inside your home.
"It is never a spur of the moment rape. In most cases, such people first earn the trust, plan out their moves and strike when the girl or the woman's defences are lowered," says Dr Purnima Nagaraja, psychiatrist.
The most vulnerable targets are children. And the scars they leave are permanent. Psychiatrists say the breaking of a child's trust by a favourite uncle, close cousin, friendly neighbour invariably leads to disturbed relations with men when the girl grows up, making it difficult for her to trust the opposite sex. During her growing up years, the girl internalises the trauma so much that she ends up going against the gender as a whole.
The victims may become depressed, suicidal or a borderline personality or in some cases may get into the habit of using their sexuality as a trading currency and carry anger and intense emotions, that make it difficult for them to carry on with life. "There are cases where the psychological pain is so much that the person cuts herself, to experience a sense of reality and physical pain that makes them forget the psychological pain," says clinical psychologist Dr Praveen Chintalapadi.
Which is why it is so critical to have a sexual offenders list and criminal records bureau check for all those who may be in positions of dealing with vulnerable groups like children, disabled or even the elderly. They need to be vetted before they can be given access.
But the big problem with much of the debate happening around rape is that it has got highly politicised. Many of these critical issues are not on the radar. While there is merit in demanding accountability and action from both the police and the politicians, for them to become the sole target of citizen angst and anger is to push the real issues that also need to be addressed, under the carpet. The protest has been hijacked into an outlet for anguish over the apathy of the police, the quality of governance and the arrogance of the political class.
Find latest and upcoming tech gadgets online on Tech2 Gadgets. Get technology news, gadgets reviews & ratings. Popular gadgets including laptop, tablet and mobile specifications, features, prices, comparison.
India
According to the Kanker MP, if a CBI investigation is ordered into the Dhanora case, similar incidents will be unearthed in 'every four or five villages' of Bastar
India
The Dalit girl was reported missing by her father on Wednesday after she did not return home from the fields. She was later found dead by her family members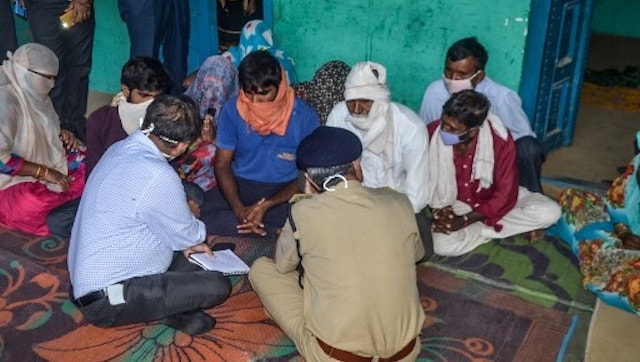 India
In an affidavit filed in the top court, the state government has said that it has deployed adequate security forces to the victim's family and witnesses to 'ensure free and fair investigation'