Turkish delights: Eight reasons to give Istanbul a whirl
Istanbul is popping up on the travel map of Indians more and more these days. If you still haven't made it there, here are eight reasons why you must go — from the baths to the Blue Mosque to ice cream acrobatics.
by Charukesi Ramadurai
Why eight, you may ask. No reason. It just sounded good along with Istanbul. Why Istanbul? Now you're talking! Turkey has been the toast of the discerning Indian travel crowd for a few years now and Istanbul its main attraction. It was the European Capital of Culture in 2010 and the only city in the world that lies in two continents. Above all, Istanbul is a charming city, full of contrasts that make it even more interesting. So here they are: my top eight reasons why you must put Istanbul on your travel itinerary, immediately.
Go sight-seeing
The main touristy sites are Hagia Sophia, the Blue Mosque and Topkapi palace. The latter has a brilliant location, on land overlooking the Sea of Marmara. The views from within the palace too are gorgeous, especially the terrace café Konyali. If like me, you have grown up on a diet of opulent forts and palaces in India, the interiors of the palace may not be that impressive, but it is worth a tour for its rich history.
The Blue Mosque, Istanbul's most recognized landmark, also called Sultanahmet Mosque, dates back to the 17th century. All visitors are welcome during non prayer hours. I have found the Blue Mosque to be a restful space, ideal for sitting quietly and gazing at the brilliant mosaics on the roof and windows that give it its name. And the Hagia Sophia, also known as Aya Sofya is the stuff awe is made of. It was once a church, then a mosque and is now maintained as a museum. Where else in the world can you see huge glittering Islamic medallions with the muted peeling mural of the Christ and his mother on the background walls?
Underground adventure
The Basilica Cistern is located unobtrusively opposite the palace and easy to miss if you are not looking for it. This underground water cistern, also known as Yerebatan Sarayi (meaning 'Sunken Palace'), was built in the 6th century to provide a water filtration system for the palaces. Dark, cool and lit with dim yellow lights, the cistern is a unique experience. Definitely take time out to visit this – and not just because a scene from the Bond flick From Russia with Love was shot here.
Go cruising
Take a leisurely cruise on the Bosphorus to experience the history of Istanbul from the water. Along the way, you pass not just palaces, mosques and forts but also old houses called yalis built along the river by the city's rich. Orhan Pamuk writes about this experience, "To travel along the Bosphorus - be it in a ferry, a motor launch or a rowing boat - is to see the city house by house, neighborhood by neighborhood, and also from afar, as a silhouette, an ever-mutating mirage."  If possible, go on a Sunday when you can spend a couple of hours at Ortakoy square by the river people-watching and bargain-hunting in the Sunday market. Have a hot chocolate and a kumpir (jacket potato with a choice of fillings) and smile in contentment.
Retail therapy
Istiklal Cadessi is Istanbul's premier shopping street and houses all the major international brands and loads of local delights in its many side-lanes. It is perfect for shopping, or window-shopping. If possible, take a ride in the antique train that traverses the narrow stretch of the road. Somewhere in the middle of the long road, you will come across an unobtrusive sign for Cicek Pasaji (meaning Flower Passage) – this open gallery is lined with restaurants and pubs and is the perfect spot for dinner. Try the local mezze (small plates of appetizers); waiters will come up to you with a sample assortment of mezze on a platter and you can choose what looks most tempting.
For a great evening, book a table at Café 360, one of Istanbul's to-be-seen-in places. The café is on the top floor of an old, decrepit building and offers stunning views of the city. Try to get a table on the outside terrace in good season.
Dondurma
If there is just one thing you can eat in Istanbul, then let it be the dondurma, the local icecream. Turkey has no paucity of desserts – the gooey chewy Turkish delight, the crumbly kadayif, the sinful irresistible baklava  -but dondurma is the most interesting. Dondurmasi aka the ice cream vendors can be found on all the streets of Istanbul, especially Istiklal Avenue, usually playing tricks on their unsuspecting buyer. Wikipedia tells me that dondurma means 'freezing' in Turkish – two qualities distinguish this Turkish treat: texture and resistance to melting, so the dondurma is a chewy icecream.
The dondurmasi takes out a scoop, puts it on the cone and then begins the fun and games. He turns the cone upside down, he takes it close to the buyer's face, he rotates it round and round – and the ice cream just sits tight. He sometimes takes the entire stock of dondurma out on a stick – it comes out like a lump of well-behaved dough. Taste-wise, dondurma may be nothing to rave about – that sticky chewy texture needs some getting used to. But for entertainment value, nothing can beat it.
Going local
If designer labels are not your thing, then head to the Grand Bazaar. Along with the adjoining spice bazaar, this is easily the best place to fully take in the sights, smells and sounds of Istanbul. You can easily spend a whole day here just browsing through the shops and watching the vendors at their wheedling, bargaining, joking best. Flavoured teas (their aromas so enticing you want to buy them all) are a must-buy here. This is also a good place to buy those souvenirs to take back home.
Whirling Dervishes
Call this touristy or whatever you wish but this is an unforgettable experience. If you walk along Sultanahmet Square, then you will notice that all restaurants and cafes there offer a whirling dervish performance along with dinner. Avoid them, for they are nothing more than performance. For a good experience, try the ones at the Cemberlitas Press Museum, just down the road from Sultanahmet Square or at the ancient Sirkeci railway station, where the legendary Orient Express used to come to a halt.
Get rubbed and scrubbed
And finally, you just cannot leave Istanbul without having a hamam experience, the local version of a steam bath and massage. Based on Roman bathing practices, in a hamam, there are interconnected rooms for hot (sauna), warm (wash and scrub) and cold (relax). In earlier times, hamams were social centers much like the Roman baths. Now, apart from public hamams, several large hotels offer their own version.
Charukesi Ramadurai is a freelance writer and travel blogger from Bangalore. When she is not actually travelling, she is busy planning her next trip. Read more about her at her website.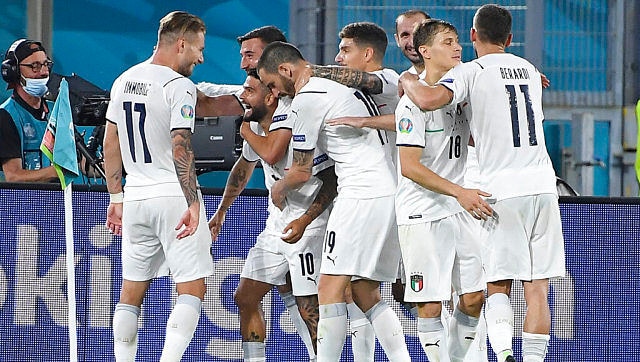 Sports
Merih Demiral's own goal put Italy ahead before Ciro Immobile and Lorenzo Insigne netted for Roberto Mancini's side in the Group A opener.
Sports
Italy failed to qualify for the 2018 World Cup but are now on a 28-match unbeaten run under Mancini.
Sports
Although dynamic, the Azzurri are anything but perfect; the absence of an explicit goal-scorer to lead their lines is a glaring deficiency. While Ciro Immobile and Andrea Belotti have had seasons when they were prolific for their respective clubs, neither have really nailed that number nine position for their national side.