Transgenders need society to join the fight for our rights: Thanuja Singam
As India celebrates Transgender Awareness Week from 13-19 November this year, Firstpost brings to you an unusual story of courageous, independent Thanuja Singam
Editor's note: As part of Transgender Awareness Week, 101 India has been running a series of videos on transgender individual's coming out stories. We profiled Thanuja Singam, who was featured in 101 India's story on the Koovagam festival. 
Thanuja Singam came out as transgender when she was 15; she had attempted suicide, unable to live any longer as a man. There are few traces of that early trauma evident in the confident, assertive Thanuja of today; she's one of the most well-adjusted individuals you might come across.
Born on 30 August, 1991 in Jaffna, Sri Lanka, Thanuja has had quite an eventful journey. She recounts her early days in India with pleasure:
"My days at school in India were nice," she told this correspondent in a recent conversation. "I was happy those days as there was no discrimination towards me... I was born into a Sri Lankan family and we left the country soon after I was born due to the civil war. I lived in Madurai, India, for eight years. My father then came to Germany through an organisation which helped Sri Lankan refugees to migrate here, and we followed him later on."
Germany is where Thanuja went through her rather difficult transition. School, especially, was tough, where classmates teased her mercilessly.
"The co-students teased the hell out of me, but I managed to overcome that tragedy and that made me a strong person today. I was called gay prince from India, homo, gay, etc. I really felt bad because they called me gay but I was not a homosexual. I'm a transgender."
She forgave her tormentors, however, "You can't stop them from being rude because teenagers all over the world are rude. They are taught to discriminate against the one who is weak, instead of helping them to overcome their difficulties," she rues. "I personally think discrimination starts when we hit puberty. Until then, life remains beautiful; once you hit puberty the world wants to see a gentleman, a perfect man from their community."
Thanuja, as mentioned earlier, came out when she was 15. The precursor to this courageous move was a suicide attempt. "I couldn't take the suffering — acting like a man for the society. After I was rescued, I told my parents about my decision. They were shocked, but that was the truth. At that time, I would have rather died than led a fake life, cheating myself. Later, I told my class teacher, and she made it easy for me at the high school," reminisces Thanuja.
Although her family got to know the truth, accepting the fact that their son wanted to physically transform himself into a woman was not that easy. "My family was totally against it, but I waited to get their permission. I explained gender identity disorder to my family and later, my mom gave me the green signal. However, I wouldn't say they had accepted me totally then, they ignored what I was doing. But now, they see me as their daughter. It took me some time but that's okay. Everything in the world takes time," Thanuja says, then quips: "After all, India didn't get its independence overnight, did it?"
Singam has been at the receiving end of many challenges, but she managed to find her way through them. She explains, "There were many hurdles initially — at home, to make my parents understand what was going through and get their acceptance; at school, to explain my high-school classmates who I was and what why I was going to change my gender; the society needed to be explained as well; going through the surgery which was very risky and cost a lot; taking hormonal pills which cause deep-vein thrombosis, mood swings etc."
As for how she withstood these testing times, she says, "Every day you will face new problems and difficulties; we can't run away. I needed to face it too. Once you stand against the wind you will learn to survive and that's what I did! You fall down once but you are not going to die. There was a greater will-power within me and I eventually found the way."
Today, Thanuja is a force to reckon with. She speaks four languages — Tamil, English, German and Spanish. She works as a translator at the Zurich University (ISEK, Ethnology department) in Germany. She translates German to Tamil and vice versa. How did she sketch the roadmap for a successful, independent life?
"I wanted to be a doctor; I was the first rank holder in the state when I finished schooling but I couldn't concentrate on studies due to my transition. It was hard for me to balance both at the same time. I went to business management college as a girl and I was totally depressed. I was finding myself, I was searching for a position in society. But today I'm working on my autobiography. I never wanted to be an author but I'm becoming one. I have had many classes at various universities; have been part of many conferences as well. I became a sexuality educator. I became a social media star and a model."
This year, in September, 101 India, an online portal that works towards unearthing unusual stories from the country, did a special two-part series on Koovagam, a small village in Tamil Nadu that is famous for hosting Asia's largest festival for transgenders. Transgenders from across the country, come to this village during the month of May where they get married, for a day, to a deity named Lord Aravan (mythologically believed to be Arjuna's son). In the recent past, the beauty pageant organised here, Miss Koovagam, has also garnered a lot of attention and holds a special place for members of the transgender community.
One of the videos in the series — 101 All the Way In - Koovagam — featured Thanuja as well. "Our production crew chanced upon her at Koovagam. She was spirited, brave, glamorous and outspoken so we asked her to be a part of the show. We would be working with her on other projects as well once she returns from Germany," says Cyrus Oshidar of 101india.com.
Thanuja is well placed to comment on the differences and similarities of being a transgender person living in India and Germany. "In India, there is a huge community of transgender, that is a plus. Here in Germany, we don't have a community, we live on our own, which again has advantages and disadvantages. One thing which I love about Germany is, here I'm not forced to identify myself as a transgender because legally I'm a woman and there is no doubt about it. I personally don't like to be called as a third gender; I wanted to be a woman and not a special gender. India is changing a lot, and somehow I'm proud to work for the changes in India. Here in Europe, there is not much to do, everything has been done by the government. They even pay for our SRS (Sex Reassignment Surgery)," Thanuja comments.
On being asked what is her road ahead for people like her, Thanuja says, "Transgenders need to come out of prostitution and begging. Society should come forward in fighting for our rights. How long should we (the minorities) shout? If society joins us and fights with us, we will have a better future."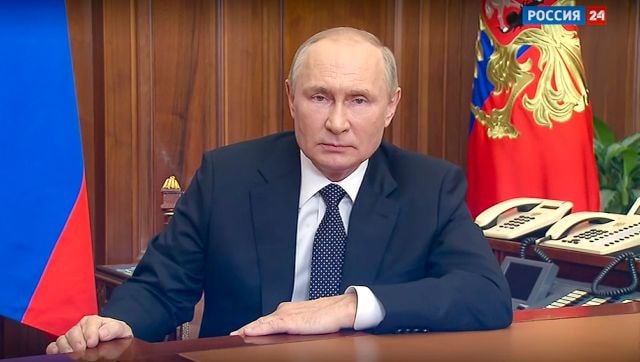 Explainers
Vladimir Putin on Wednesday, ordering Russia's first military mobilisation since World War Two, warned Moscow would respond with the might of all its vast arsenal if the West continued its 'nuclear blackmail'
Football
Germany's UEFA Nations League sqaud will be without Bayern Munich stars Manuel Neuer and Leon Goretzka as the duo return COVID positive after test. The duo has left the camp already.
Photos
Beer is flowing in Germany's Munich as its largest folk festival, Oktoberfest, is back after it sustained two cancellations due to the pandemic. Cheers to that