Sexism, like everywhere else on the planet, is rampant on social media, and anyone who has dared to express their displeasure about it is aware that it is met with much trolling. And I can safely say that such trolling often borders on abuse and harassment.
We often see educated and well placed individuals abusing and arguing over the issue of women's rights and sexual discrimination, but what the founder of Food Talk India, a food curation startup, did is nothing short of uncouth.
It was a day ago that a meme, put out by Food Talk India, suggesting that wives from an arranged marriage make better rotis than wives from love marriage started trending on Facebook. Many found it funny (still wondering why, since it reeks of the inherent sexism built into our heads by our so called sanskaars), and thankfully several sensible others criticised it on social media.
While most organisations would have pulled the meme down, or at least ignored the whole issue, founder Shuchir Suri in his infinite wisdom said this: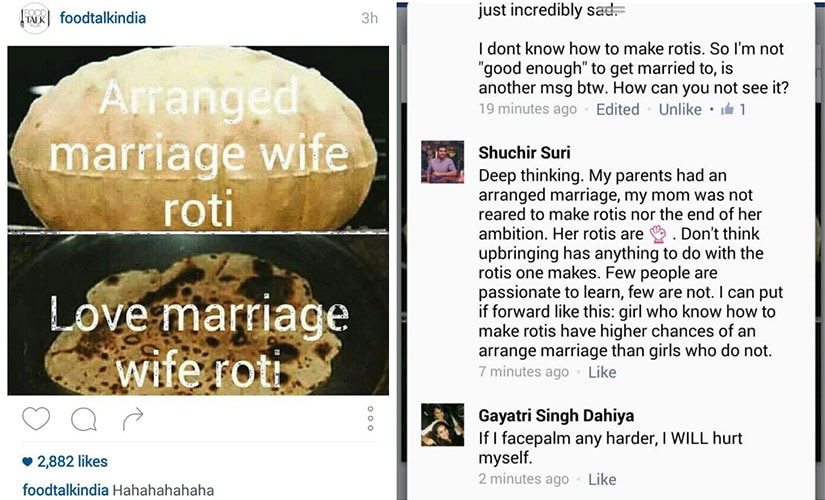 Vagabomb writer Shibani Bedi rightly called out the sexism in the meme and Suri's answer with her story — "Popular Delhi-Based Food Portal Promotes Sexist Image Which You Just Can't Ignore" But little did she know she would receive this boorish reply from the man himself.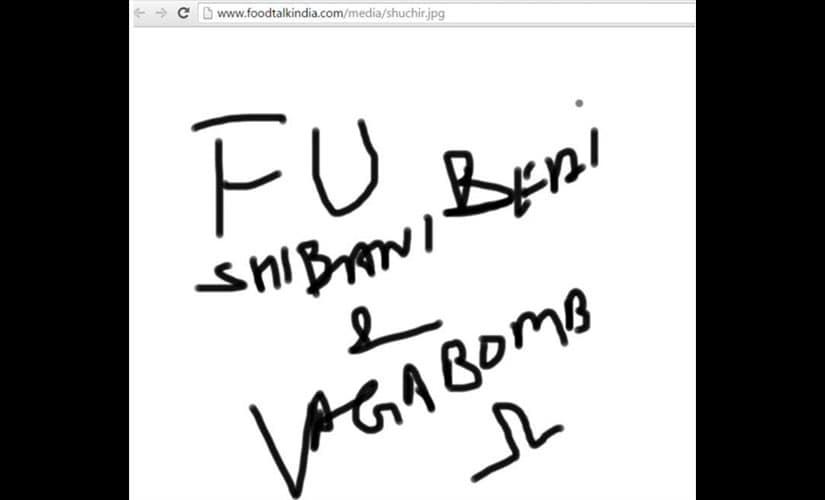 First of all, I would like to thank Mr Shuchir Suri. Sir, you have established exactly the point that Bedi was trying to make.
"Feminism is not about burning men at the altar. It is about fighting for equality, and nipping everything that propagates asinine and insipid gender roles, and gender stereotypes, right in the bud. Because, honestly, inequality starts with these 'harmless jokes' about what is expected out of an adarsh ladki, or an adarsh ladka, and goes on to become honour killing, and moral policing, and female foeticide, and perhaps everything that is wrong with the world," Bedi wrote.
Mr Suri, you have established with your act that if a woman speaks up or retaliates to sexism in any manner, misogynists take them on with abuse and harassment, not with well informed arguments.
Suri's answer to Bedi is only a mild form of harassment that women face in their lives. Online, you are called a whore, a slut, or a feminazi. You are sent abusive Facebook messages, tweets and texts in illegible childlike handwriting. In real life when a man is rejected or defied, the abuse snowballs to stalking, rape, sexual molestation or an acid attack.
Suri may have thought his 'dick pic' message to Bedi would be another one of his funny jokes. But it was not funny. Sending a 'fuck you' message to anyone because they criticised you over your sexism is not ok. Putting out memes with gross generalisations based on what established gender roles expect women to do shouldn't be the subject of humour.
Yes, and his explanation for the meme, that a woman who can make rotis has more chances of an arranged marriage than one who can't is another gross generalisation in itself.
And for those who say such little 'jokes' should be ignored, here's why we cannot ignore them — these jokes in itself may be harmless, but they stem from internalised gender roles established by patriarchy. They are an example of how society defines and judges women based on the shape of their rotis and their looks. If a woman makes round rotis, she must be eligible for an arranged marriage, a woman who wears mini skirts must be the 'modern types' who will get a maid to cook even after getting married (and that is wrong because women's destiny lies in the kitchen!), a woman who works must be a bad mother, a girl who goes to a night club is asking for rape, a woman boss must be nightmare, no wait, a bitch, a woman who refuses to abide by the rules set by society must be adamant and selfish — these generalisations and expectations need to be fought and need to go, not just from our so called funny memes, but from the face of this earth.
And as for Mr Suri, a Facebook message to him from Firstpost seeking response on his actions went unanswered.
*waits for a dick pic*
Firstpost is now on WhatsApp. For the latest analysis, commentary and news updates, sign up for our WhatsApp services. Just go to Firstpost.com/Whatsapp and hit the Subscribe button.
Updated Date: Jan 14, 2016 17:31:51 IST