Theatre Olympics 2018: American actor Ronald Rand talks about his play Let It Be Art!, how he prepares for the role
American actor Ronald Rand speaks to Firstpost about how he transforms into a character, and the role that theatre must play in today's world | #FirstCulture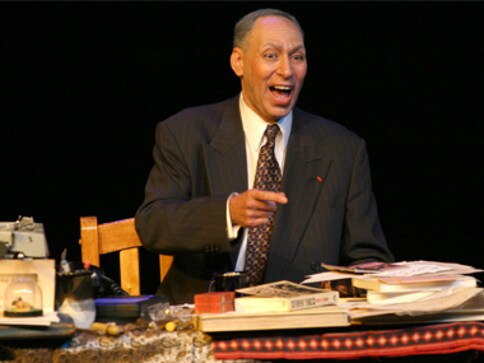 Before the concept of method acting was popularised by Marlon Brando, Robert De Niro and Warren Beatty in the 40s and 50s, it was an individual named Harold Clurman who breathed new life into modern American theatre. He, along with Cheryl Crawford and Lee Strasberg, founded the Group Theatre in 1931 to focus on developing a "system" of acting and creating theatre that was rooted in reality. Today, Clurman, a noted drama critic and director, is considered one of the fathers of modern American theatre.
So influential was Clurman's role in modern theatre, that American actor Ronald Rand decided to create a one-man play based on his life called Let It Be Art! Harold Clurman's Life of Passion. Rand was one of Clurman's students for a brief period of time. He also studied acting under actress and teacher Stella Adler for six years.
Inspired from Russian dramaturg Konstantin Stanislavsky's work, Clurman heralded a radical change in American theatre which was earlier dominated by vaudeville and dancing girls (Ziegfeld Follies), and introduced realism and naturalism into plays. Some of the Group Theatre members included Adler (who was married to Clurman for nearly 20 years), Elia Kazan, Sanford Meisner and Clifford Odets.
Directed by Gregory Abels, Let It Be Art enters its 18th year of performance this year. Rand, who essays the role of Harold Clurman in the play, has performed the show across 23 countries and 20 states in USA. He recently staged the production at the ongoing Theatre Olympics in New Delhi and Thiruvananthapuram, where he also taught his two-hour long workshop 'Art of Transformation'.
Speaking to Firstpost, Rand says it is his fifth time he is returning to perform the play in India. He has previously performed at Bengaluru, Jaipur, Mysore, Thrissur, Mumbai and Puducherry. He talks about why he chose Clurman as his subject and the process he undergoes to bring him alive on stage in his New York apartment in the 1980s.
Here are edited excerpts from the interview:
Let It Be Art! has been around for several years. What do you think makes the play relevant and enticing even today?
Harold Clurman, whom I bring to life in my solo play Let It Be Art!, was one of the most passionate individuals you could ever meet. Not only does he take the audience on the journey of his life, but you also meet unforgettable individuals including Stella Adler, Konstantin Stanislavsky, Lee Strasberg, Clifford Odets, and even Jacqueline Kennedy Onassis. Most of all, the ideas that Clurman shares in my play speak to us about how to grow as human beings, how to think — to look at life in a whole new way. To live life to the fullest every moment! I also believe the transformation the audiences experience before their eyes of "actually meeting" Harold Clurman in his apartment in 1980 in New York City makes for an exciting time at the theatre, travelling with him to Paris, to Russia, and all over New York City.
When and why did you choose Harold Clurman as your subject for the play?
I think he chose me. I studied with Harold Clurman when I was 17 years old, right out of high school, and the impression he made on me was life-changing. I had no idea I would ever write a play about his life and bring him to life. But I realised his contribution as the "elder Statesman of the American Theatre," and the theatrical conscience of his time was something everyone needed to know. Not only was he one of the co-founders of the greatest acting company in America — The Group Theatre — but he went on to become one of America's great directors of the 20th century, the country's foremost drama critic, a renowned acting teacher and author. His books, On Directing and The Fervent Years are must-reads for everyone who loves acting, directing, the theatre, and life.
What is your process to transform yourself from Ronald Rand to Harold Clurman?
My transformation begins the night before, in the dreams I have. It continues all day long before the performance, in what I read, in how I prepare before I go to the theatre. I always try to arrive over two hours before a performance. When I begin the transformation, I begin by applying make-up, as I have to become his age which is close to 80 years old. It is necessary I allow Harold Clurman to "arrive" as I slip into his clothing. Because I have been an actor constantly working on my craft for over 30 years or more, it has become more second-nature by now, and as the great actress/acting teacher, Uta Hagen once said: "It takes twenty years to learn how to act, and another ten or twenty to learn how 'not' to act.
You've worked with and studied with the greatest of the greats in modern theatre. What did you learn the most during that period?
I was fortunate to study with Stella Adler for almost six years, and with Harold Clurman, Robert Lewis, Joseph Chaikin, and Jerzy Grotowski. Adler brought to us the deep understanding of the nobility of the actor as a creative partner with the playwright. To act you must understand the playwright, the given circumstances of the play, the social situation of what's occurring in the play. She was greatly demanding and greatly caring, an extraordinary actress in her own right — and she never stopped demanding that we give our best in service to the playwright. The only time I "worked" with Adler was in a scene from Edward Albee's important one-act play, The Zoo Story, when I played Peter and she decided to be Jerry, and all of a sudden, I was acting with Stella Adler in the scene.
Harold Clurman, now recognised by many as the most influential individual in the history of 20th century American theatre, opened our eyes to see the great humanity in the poet-playwright, to appreciate the heroic qualities of the great actors and artists who bring great art into being. He kept reminding us that we are connected to one another and to all of life. His dynamic passion awoke everyone who came in contact with him to appreciate the life-changing power of the theatre.
How do you embody Clurman's voice, body language, speech for the play?
In the "creation" room —  I do not refer to it as a "dressing room" — at some point, during my applying make-up and getting into Harold Clurman's clothing, he "arrives" — my body changes, my breathing, how I see, how I move, and when Clurman enters his apartment, there is no stage; he is there to live, to talk to his students, and then he leaves and goes off to the theatre. I never know whether he will say the "lines in the play." For him, there is no play. He is living in his apartment. At the beginning when I started to work on the play over 20 years ago, director Gregory Abels, who has now retired, and I began to explore how he moved, what his motivations were, what his day was like before he arrives back at his apartment. Now that I have brought him to life in many, many performances over these past 18 years, I am merely a vessel for his creative life as he lives in his apartment, and I allow him to live and say what he must say. Because I had studied with him, I remember how he was, and I would also would meet him from time-to-time at the theatre in New York City.
Could you describe the journey of Let It Be Art from the time you conceived it to its present form? Has it evolved over time?
The first time I thought of the possibility of creating a play about Harold Clurman was after I had read Stella Adler's foreword to Clurman's book, The Fervent Years. She wrote that she feared his legacy might be lost. For her, he was the greatest American theatre individual of the 20th century. When I read that, I thought that it would be a great injustice to everything he had accomplished. So I wrote to Adler and told her I was considering writing a solo play to bring Clurman to life. She said: "Oh no, no one can play Harold." But then she wrote: "If you have to — go ahead!" So I began, and I have to say, the play came from my "listening to Harold Clurman" — writing down what he wanted to say. There's no doubt the play has evolved from the numerous performances I have given as a performer, whether it was in a cave theatre in Tbilisi, under the stars in Kerala, in a 2,000 seat auditorium in Minsk's Palace of Culture, or in Tangier's Dar el-Majzen Palace in the Casbah. Every audience and space has allowed the play to change. But no matter where its done, Harold Clurman in always in his apartment in New York City in 1980.
How and why did you choose to pursue theatre? In your opinion, what is it about theatre that separates it from other forms of art?
I think, theatre chose me. We are all born for a purpose. It is up to us to use our God-given talents to fulfill our potential in the best way possible to help others. It has become my destiny to continue sharing Harold Clurman's great passion and ideas through this play. Theatre is not separate from any of the other arts. Everything we do every day has elements of theatre in it. We're constantly telling stories to others, or telling stories to ourselves about our lives. All arts are related to one another because they ask us to see and feel with our hearts, not only our minds — to experience more of being alive. This is what keeps us human.
Who or what are your biggest inspirations?
I am constantly inspired everyday by everything and everyone I come in contact with. I marvel at the universe we've been given. I'm inspired as much by holding a flower as listening to a great symphony by Mozart, or read a poem by Tagore or watch a performance in the Theatre Olympics or on Broadway. I'm inspired by watching a child build a sand castle or simply looking at a dragonfly sitting next to me.
Do you have a particularly cherished memory of Clurman? Something he said or did, perhaps?
At one point, Harold Clurman literally jumped up on a chair, raised his voice as loud as he could, and screamed with such forceful passion imploring us: "Go out and change the world! It's up to you! Go out and make the theatre you want to see!"
In a seemingly divisive and polarised world, what do you think should be theatre's role?
I don't think of the world in that way. We are all one people. We can bring love and beauty into this world with every thought we think, in everything we do or do not. It's up to each one of us. Theatre has always existed to tell us stories about ourselves. To uplift and entertain, to make us more aware, to awaken us. Vijay Tendulkar, who was one of the greatest Indian playwrights was a friend, and I also had the privilege to get to know him. He certainly chose to use the theatre to make people more aware. I hope when audiences experience Harold Clurman in my play that they will be encouraged to have greater hope for this world, to get excited to live life in the most passionate way possible."
World
Transport officials blame videos of youngsters performing the daredevil stunts on social media for causing copycat attempts
Explainers
A foie gras war is raging in New York, one of the world's most celebrated culinary centres, pitting the city, backed by animal rights activists, against duck farmers and restaurant owners, whose position is supported by the state
World
In a post on Truth Social, Trump railed against what he claimed is a "false charge" and suggested that legal action against him could trigger nationwide violence that that could lead to "catastrophic consequences"