The Zai Whitaker column | Remembering Bob and Tanya, saviours of the Western Ghats' sky islands
The Palani Hills bug bit Bob Stewart and Tanya Balcar, two young British backpackers who were travelling through southern India in 1985.
The Western Ghats are not only among the world's 35 biodiversity hotspots, but also among the eight "hottest" of the hotspots. They've also won another ecological Grammy: the status of a UNESCO World Heritage Site.
And the Palani Hills (actually mountains) are one of its stars, a treasure trove like no other. Apart from their rich biodiversity, they also host wildlife corridors to neighbouring mountain ranges, and two ecosystems unique to the south-western reaches of the Ghats. The first of these, 'sholas', are cloud forests that nestle in the valleys. With their high endemism, these are biodiversity hubs with knobs on. The second are the montane grasslands, ecologically as important as sholas: maybe even more so, because their high water retention makes them a major water source for downstream and plains communities. This mountain mosaic, which includes the Kodaikanal plateau, falls into the evocative category of sky islands — isolated mountains surrounded by dramatically different lowland environments. It is an ethereally beautiful place. I went there in '87 for a short stay, and stayed on for 18 years. The Palani Hills bug had bitten me, good and proper.
It also bit Bob Stewart and Tanya Balcar, two young British backpackers who were travelling through southern India in 1985. They decided to do a short Kodai visit, and "take in" the mountains. Three decades later they were still there, an important part of the local conservation community of citizens, NGOs, academics and government officials. Their commitment, work and achievements were phenomenal, and their deaths — Tanya's in 2016, and Bob's in September this year — have left a huge vacuum. They died too soon, too young, but left a legacy of immense value: an understanding of the Palanis' ecosystem which will have a permanent bearing on its conservation and restoration.
It is an interesting story with a quixotic twist; a reminder that Things Aren't Always What They Seem.
In 1852, the British Raj — in the form of portly Major Partridge of the Bombay Army — took the disastrous step of introducing plantations of eucalyptus, pine and Australian wattle in the Palanis. No doubt a well-meant attempt to provide fuel for the "natives", it was disastrous for the environment. These exotic species quickly and completely changed the fragile montane ecosystem. With none of their natural checks and controls, exotic plants tend to go mad, spreading like wildfire and wiping out indigenous landscapes (as we have seen with lantana).
At that time montane grasslands were conveniently and erroneously called wastelands; and in terms of income from fuelwood and timber, the plantations were successful. So more and more of the "wasteland" was given over to these fast-growing, income-generating species. This practice continued post-Independence. Truckloads of timber and fuelwood hurtled down the mountain tracks to Kodaikanal and towns and cities on the plains. It caused a serious decimation of the grasslands. As mentioned earlier, these are precious repositories of water. In fact they are the source of most of the big south Indian rivers. According to Tanya, the grassland cover had fallen from 87 to 3 percent since the plantation practice began. The sholas were shrinking too, because of the easier human access and invasion of the plantation species.
This was the grim — and rapidly worsening — scenario when forest-loving Bob and Tanya arrived in Kodai, and the reason they never left. They set to work. Using their meagre personal resources, they   started a shola nursery in the garden of their rented cottage in Vattakanal: three greenhouses with fruit and fuel species for distribution, and hundreds of shola species, many propagated for the first time ever. Ornamental cacti were also cultivated, for sale to hotels and resorts; the income from this helped sustain the nursery.
Thus started a shola restoration project that brought high praise and acclaim. Bob and Tanya involved youngsters from the local community, and this morphed into the Vattakanal Conservation Trust. Thousands of seedlings were distributed free, and path-breaking data collected on the seeding, germination, and care of shola plants. They worked closely with the Tamil Nadu Forest Department and NGOs like the Palani Hills Conservation Council.
However, there was a missing piece — a crucial one. They had to get official permission to enter the sholas and start their replanting and restoration work; not easy, because they were protected areas.  But these two stalwarts weren't cop-outs, and didn't believe in giving up.  The precious piece of paper came in 2001. To the Forest Department's credit, they were able to look beyond bureaucracy and recognise the value of Bob and Tanya's work. This started a botanical feat that involved hard physical activity, meticulous record keeping and managing their growing army of young greenies.
Basically, they were growing forests in their nursery and putting them back in the sholas. To those of us lucky enough to have seen them in the field, their knowledge of plants was stunning. Proficient in the names and peculiarities of shola trees, they could even rattle off the name of the most insignificant little grassy tendril or liana on a mossy trunk. They identified and rescued many rare plants, through this propagate-and-reintroduce technique. Pambar shola was one of their conservation sites, and they were thrilled when seasoned botanists couldn't differentiate between the original, "natural" parts of the shola and the restored ones. Or when Nilgiri langurs returned to a particular patch they had restored. This raised hopes that one day the Nilgiri pipit, locally extinct, would be heard again in the montane grasslands. There were regular long, steep walks to and from Marion, Blackburn, Picnic, and other shola forests, complete with leeches, nettles and "bum travel" on steep, slippery slopes during the rains.
One early morning in May 2014, the Palanis conservation community was delighted to see this headline in The Hindu: 'State Prepares to Eliminate "Aliens" from Rain Forests'. The Court had asked the state of Tamil Nadu to make a comprehensive study of the interplay between the exotic and native species, and remove those endangering the forests and grasslands of the Western Ghats. To us, the Kodai community, it seemed as if there was finally a glimmer of hope for the shola-grassland mosaic of our magic mountains. Some of us had been viciously uprooting acacia saplings while on hikes and picnics, feeling like courageous environmental activists. We waited for more news on this plantation-elimination initiative. The government bureaucracy was gearing up to eradicate the plantations; the scale of the project would be unprecedented.
But in the meantime, while walking along the edge of Blackburn Shola, Bob and Tanya had made an important botanical discovery:  they'd spied some orchids growing on an old, mangled wattle tree. They were seeing more and more of this evidence of the shola invasion of plantations. More importantly, they were also seeing at first hand, the rapid resurgence of the plantation species, when cut. Clear felling led to an explosion of weeds, and thousands more seedlings of the plantation species. Felling and clearing did not perform the magic of bringing back the sholas and grasslands. These findings had been presented at workshops in Bengaluru and elsewhere, including the landmark symposium "Forest Plantations and Biodiversity Conservation", attended by botanists and ecologists from several organisations in India and abroad. Bob and Tanya's findings were widely accepted and valued.
Their findings changed the direction of the Palanis conservation movement, sort of turned the tables. These old plantations were actually shola nurseries! Of course, they shouldn't have been planted in the first place; but their removal at this stage would cause a serious ecological regression, maybe even the end of the remnant grasslands and sholas.
Those of us who knew them, and their commitment to the Palanis, are hoping that the Kodaikanal township will create a permanent memorial to these two outstanding botanists who in effect saved the sky islands. Yes, botanists, though neither had any academic training in the subject, and none of the "qualifications" we hold so dear. Rest in peace Bob and Tanya, in your own, well-earned sky island; hopefully with a Nilgiri pipit trilling in the distance, and surrounded by Strobilanthes kunthianus and a few Elaeocarpus blascoi… one of the rarest of the shola species, which you rediscovered in Pambar shola and helped propagate.
(With thanks to Ian Lockwood for providing crucial resources for this article, and reading the draft.)
*
Author and conservationist Zai Whitaker is managing trustee — Madras Crocodile Bank Trust/Centre for Herpetology
World
The UK takes great pride in the National Health Service. But now 75 years after it was set up, the famous healthcare system is ailing. There's a shortage of doctors, hospitals are overwhelmed and patients are dying because of delays in treatment. How did the NHS get here?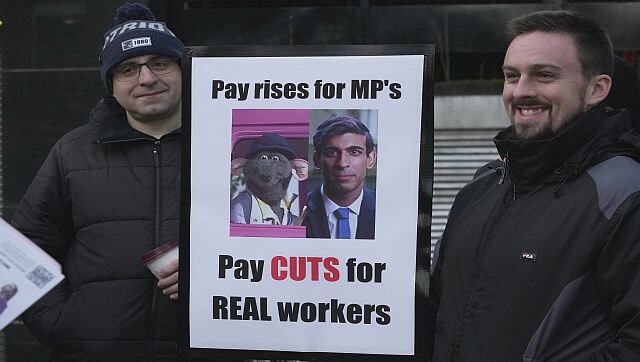 World
UK prime minister Rishi Sunak faces angry unions, worried Conservative Party lawmakers, and millions of voters as he marks 100 days in office
World
British prime minister Rishi Sunak dismissed Conservative Party chairman Nadhim Zahawi for a 'serious breach' of the Ministerial Code. The senior Tory leader faced fierce pressure to quit over questions about his finances and that he had agreed to a penalty settlement with the country's tax body