There's a popular saying - products will not last, but your community will. Yezdi is a classic example. These communities have outlasted the motorcycle factories.
Last month, Mahindra announced that it is resurrecting Jawa by relaunching it in 2018. The truth is, the brand never died, only its factories did.
Everything about the Yezdi spells nostalgia — from its throaty roar to the legendary twin exhausts. It was the bike which chased villains in movies — the superbike that all men aspired for through the 60s, 70s and 80s.
Despite the introduction of newer bikes, there are riders who love taking these vintage bikes for long rides. Deepak Kamath got his first bike when he was 18. His mother bribed him with a second hand Yezdi to score well in his exams. Years later, Deepak and his companion GH Basavaraj created history in 1995, becoming the first Indians to circumnavigate the globe in record time. They covered 42,038 km over six continents in 119 days on their Roadking and their expedition was called 'The Yezdi Castrol Continental Raid'. The bike didn't break down even once during their tour.
The Yezdi brotherhood
Unlike others, the Yezdi community is more than rallies, common interests and Sunday rides — the network is essential for the rider's and bike's survival. While Yezdis are known to be reliable, rides are rarely a road of roses.
Each time a rider goes on a long ride, his route is shared with the group. When he faces an issue, all he must do is update the group where he's broken down and what the problem is. Members who live in the region either share contact details and location of a mechanic or sometimes even ride to them with the required spares. This network includes hundreds of Yezdi owners across the country
Many such communities have sprung up across India and actively communicate through messaging groups. We got in touch with Roaring Riders — an exclusive 13-year-old club dedicated to owners of Yezdi and Jawa bikes in Chennai. Srinivasan Kashyap, the founder reveals, "Riding long distance on a Yezdi is definitely a different experience – we ride gentle and take frequent breaks, else the bike struggles. Since the factory shut down, people started hoarding parts and there are many middlemen involved. Yet, we've observed a rise in members and participation in Yezdi groups. While a genuine appreciation for the bike has always existed, there's a dependable network of riders to fall back upon now." The group recently rode from Chennai to Goa and back for the Motor Cycle Travellers Meet (MTM) 2016, and from Chennai to Vagamon for an All India Yezdi/Jawa owners meet.
Touring on a Yezdi
A couple from Chennai, Preshant Ramalingam and Induja Venkatraman, spent 45 days riding the bike pillion to Spiti, Himachal Pradesh.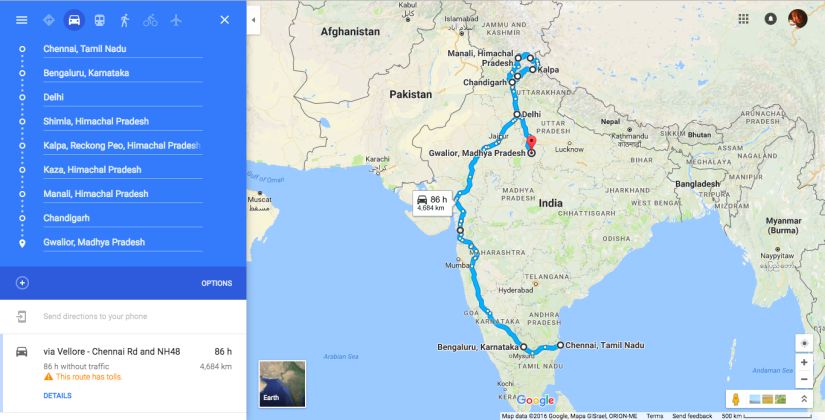 While riding through Maharashtra, they realised that the bike's chain sprocket needed replacement. Srinivasan put them in touch with a Yezdi rider in Nasik. "The Nasik riders later connected us to the Rajasthan Jawa Yezdi community, who helped with the bike's ignition coil issues while in Rajasthan. The bike reached Spiti and handled the terrain well. Smaller concerns like tank leaks were taken care of with good old M-seal," Preshant reveals.
Why do riders choose a Yezdi despite such issues? For Desikan Devarajan, a member of Roaring Riders, it's all about reminiscing the past. Back in 1996, he fell for the bike when his brother's friend visited home on a Roadking. "The thumping noise and its two silencers got my attention, and I decided that I must get myself one. It's only 16 years later that I purchased it. It's a beautiful, reliable bike."
Deepak adds, "The bike's core components don't fade away. I've dismantled and fixed an engine by myself — it's a no-brainer. It's much easier with a well-connected community and I know of people who have even removed parts from their own bikes and given it to other riders during their journey." Today, he prefers to ride his Yamaha FZ and Benelli. When asked if he would ride around the world on a Roadking again, Deepak paused for a few seconds, and said, "Why not!"
The last three generations seem to agree on at least one thing — their love for Yezdi motorcycles.
Hariharasubramanian, a 59-year-old rider, watched his dad ride a 1968 Jawa when he was younger. It's a prized possession for the family and he was enthused when it was passed on to him. "Every Sunday, I clean the bike and take it for a ride. So far, I covered over 1,80,000 km and rode through South India extensively. My son, who turned 30 this year, will be the next owner as he understands the bike too," Hariharasubramanian tells us.
The road ahead
Mahindra has some big shoes to fill. Some Yezdi enthusiasts are apprehensive about Mahindra's intentions with Jawa's relaunch. Their worst fear is they'll find a Mojo engine in a Jawa shell. No matter what Mahindra ends up doing in the name of Yezdi, the love for these old machines will live on.
Updated Date: Dec 18, 2016 11:21:37 IST