The Women of Nizamuddin Basti: Aga Khan Trust for Culture brings a new light into their lives
AKTC's efforts to improve the quality of life in the Basti has positively impacted 9,000 lives within the Basti alone.
"So much changed. When there was a wedding in the family, for the first time I did my own shopping. I felt so good that I didn't have to ask my father or bother," said Rukhsar happily.
"She isn't married," chipped in Farah from another corner, intending to explain why Rukhsar mentioned 'father and brother', instead of husband. After all, traditionally it is the husband who takes care of a woman's needs. Not that Farah's husband has been a great help in that department.
"Hardly anything is left to spend on me madam; after paying for the children's school fees and ration for kitchen. My husband has a small income," Farah revealed, with extreme reluctance. She doesn't like to share her story as it brings up bad memories. But today she is financially independent, and is proudly running her household.
***
Rasheeda has three sons, one of whom has cerebral palsy and is paralysed from the waist down. She was born in Nizamuddin Basti and grew up making and selling needles at the Nizamuddin market. Today, she is a fine crochet artist with the Insha-e-Noor family, earning a salary of Rs 12,000 per month and supporting her son's health care.
These are just some of the stories of change, from the women of Nizamuddin Basti.
Stories that started with the Humayun's Tomb-Sunder Nursery-Nizamuddin Basti Urban Renewal Initiative, a public private partnership (PPP) between the Aga Khan Trust for Culture (AKTC) and Aga Khan Foundation at one side and the Archeological Survey of India, Central Public Works Department and the Municipal Corporation of Delhi (now South Delhi Municipal Corporation) on the other.
The PPP was initiated by AKTC as part of the Aga Khan Historic Cities Programme which revitalises urban heritage centers across the world in ways to not only protect the sites and monuments but to also spur social, economic and cultural development.
The Basti Hazrat Nizamuddin embodies living heritage, with over 700 hundred years of history. This is the birth place of Sufism. The most revered Sufi saint Hazrat Nizamuddin Auliya was buried here in 1325 AD and since then, the place is considered a holy site with millions of devotees visiting the Sufi shrine. The area is rich with culture, music, art, architecture and poetry. Yet, to an ordinary visitor in Delhi, this is just another minority community ghetto seeped in poverty, dirt, filth, crime, drug peddling and so on.
"It was clear that the heritage site cannot be conserved without rebuilding the lives of the community settled here. So we have a multi-disciplinary team working towards the improvement of quality of life, including the gender component," said Ratish Nanda, CEO, AKTC.
Was gender development a specific component in the renewal initiative?
"Well, yes and no. AKTC is not a women's right organisation. That said, the community women have been key beneficiaries of various AKTC initiatives which addressed poor streets, dysfunctional MCD school, lack of proper health clinic, employment opportunity and so on," explained Jyotsna Lall, director of programmes, AKTC.
Sadrulnisha manages the ladies section of the community toilet which has provided safety and dignity to thousands of community women. With monthly or daily fees, the community toilets (which remain open 24x7) can also be used for bathing and washing clothes. The job helps her earn Rs 8,000 a month, and support her children's education.
As the SDMC polyclinic got a facelift, women like Naeem and Shama — for the first time — learned to address their own maternal and reproductive health concerns. Today, they are part of a 50-member team of sehat sahelis (community health team) visiting 180-200 households every month, be it in summer, winter or the monsoon, addressing women's health.
"Women around this area didn't know anything about their health. They could not even talk about their menstruation cycle. Initially they didn't want to talk to us; men used to say these AKTC people are bad, don't let them talk to our women. But today they depend upon us, trust us. It feels great to be part of this change," Said Meherunissa.
***
Culture-sensitive health manuals have been designed by AKTC to break the ice on sensitive topics like reproductive health, sexual health — an effort which goes the extra mile in gaining the community's trust and cooperation for various projects. Ratish Nanda believes that without community support, no conservation project can survive.
The women's self-help group organised under the brand Insha-e-Noor (creation of light) is one of the most successful initiatives by AKTC. Shaheen still fondly remembers the day, seven years ago, when all the Basti women went to Humayun's Tomb to attend the Saanjhi Jaali Paper Cutting training workshop.
Did you have any restriction on going out of home? "No, my husband and father-in-law didn't impose any restriction. They only said, 'go, but carry your modesty'," said Shaheen.
Clearly women are still required to take men's permission for what are their basic rights, and must "carry their modesty" — an ambiguous concept. At the same time, the community's men have accepted women going out and attending various activities for the simple reason that it brings home extra income.
"There was lot of suspicion in the community, that these AKTC people would not give us any money. But the day I first received my salary, it was such a great feeling. My own money!" says Shaheen.
Shaheen now earns Rs 15,000 per month doing the saanjhi jaali work, managing Insha-e-Noor stalls at Dastkar Nature Bazaar, and other activities. As of the previous financial year, Insha-e-Noor has a turnover of Rs 20 lakhs, thanks to a stunning collection of artistic products (made) using the crafts of saanjhi Jaali paper cutting, crochet and embroidery.
Also growing, is the business of Zaika-e-Nizamuddin, another women's self-help group which was launched as a strategy to address malnutrition among children below six years of age. The brand aims at being the first supplier of healthy, low-cost, hygienic and tasty snack options for the children of the Basti, while economically empowering the women members.
Lest we think that this empowering of women only takes place through perceived 'safe' indoor activities like cooking, sewing et al, it is worth noting that AKTC has also addressed the lack of open and safe public spaces for women. In partnership with the Delhi Development Authority, they now have a lively public park with an open air gym exclusively for women.
In the evening, young girls take a stroll here, they throw their arms and legs about in an unladylike manner, without inhibitions; working class women meet each other after a day's labour for a bit of chit-chat (which may also lead to unionising and revolution — the possibilities are endless).
As of this date, the historic Nizamuddin Basti has 1,900 households with a population of 10,000-plus. Much of this is a floating population. AKTC's efforts to improve the quality of life in the Basti has positively impacted 9,000 lives within the Basti alone. In addition, there are the millions of visitors to the Sufi shrine, who are also benefited. Perhaps in the larger scheme of things, in a country of 1.2 billion people, these are not path breaking numbers. And even within the Nizamuddin Basti, there are still several women who are battling deep, cultural and religious barriers to women's autonomy and self-determination. However, every single life changed has a domino effect.
Every change goes a long way. A way where there is hope.
Sanjukta Basu is a TED Fellow, a freelance writer and photographer and feminist scholar. All photos are sole property of Sanjukta Basu, except as specified above. 
Fwire
The commission also slammed the DDA for misplacing the applicant's file and subsequently giving him very little time to consider the option for applying under a new SFS housing scheme.
long reads
Water problems in South Asia are on the rise due to wasteful flood irrigation, government incentives of free electricity and market incentives. Most important for water management are agricultural reforms and accountability of urban population.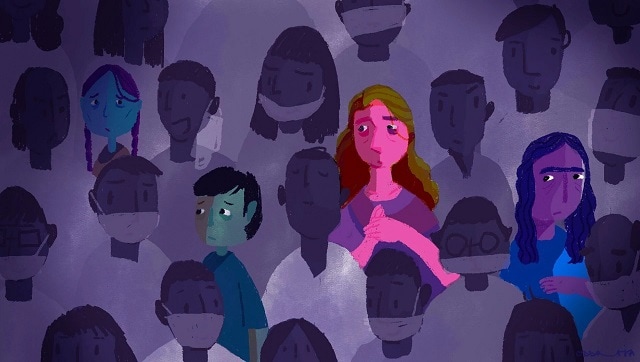 Lifestyle
This account is part of Firstpost's Oral History Project of the COVID-19 Crisis in India. The Oral History Project aims to be an ongoing compendium of individual experiences of the pandemic, with a focus on one significant day in our respondents' lives during this time.