Each week, Firstpost collates the very best published articles on the news item that captured the imagination of the public into a free downloadable ebook. You might have read some of them, missed some of them – so here's a look at the best of the year.
Last week, there was nothing more in focus than the horrific rape in Delhi. Rather than just outrage on the issue, we tried to focus on what could be done to improve the situation.
Rape-Outrage-Rape: This vicious cycle must end
The brutal rape and assault of a 23-year-old student in Delhi left even the most cynical among us shocked and has sparked outrage across the nation. What has India done wrong that makes women feel unsafe even in cities? And what can we do to ensure similar incidents are not repeated?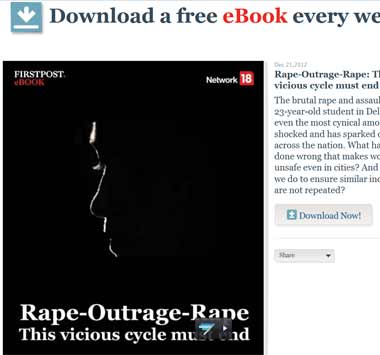 In April, we looked at the way women in India are treated. Three-month-old baby Afreen succumbed to her injuries in a Bangalore hospital. She was physically tortured by her father. On 16 March, two-year-old baby Falak, died at AIIMS in New Delhi. She was also a victim of physical violence. These two cases brought to the fore, a reality being suffered by countless girl children in India, that is hardly ever reported.
That's when we came out with the ebook No women please! We're Indian
Our baby girls are tortured and killed if they are not aborted first. Our women and girls are not only raped but are told they 'asked for it'. What is it about India that makes it no country for females?
There was a lot we discussed on sport. Where is Dhoni headed? The retirement of two greats, Ricky Ponting and Rahul Dravid. All three stories provoked ebooks.
Captain Cool is feeling the heat. On the verge of losing a test series at home to England after 28 years, critics are baying for Mahendra Singh Dhoni's blood, questioning everything from his captaincy to his form. But it wasn't always like this for the Indian captain. Here we track the mercurial rise and fall of one of India's most prominent sons.
Ricky Ponting: cricket's controversial genius hangs up his gloves 
Ricky Ponting was tough, uncompromising and singularly committed to winning. He was also one of the best batsmen of his era and arguably the second best Australian batsman ever after Sir Don Bradman.
When Dravid hung up his boots, Indian cricket lost something irreplaceable: Here is our tribute to "The wall".
A year of many deaths. We looked at two deaths in depth, Bal Thackeray and Rajesh Khanna.
Bal Thackeray: Man of the masses or fear mongering fascist?
The death of Bal Thackeray was undoubtedly the end of an era. But his death, just like his life, was the subject of stark polarisation. Was he, as many suggested, a man of the masses? Or was he simply a fear mongering fascist who exploited insecurities and communal divides?
Rajesh Khanna, India's first superstar, passed away at his Carter Road residence in Bandra after a prolonged illness. However the sparkle in his eye, the filmi dialogues and that onscreen persona which made him so special to countless Indians, will no doubt, live forever. This is our tribute to a man who was also an icon.
Finally, we come to Arvind Kejriwal. Now separated from Anna Hazare, and now a politician and no longer an activist, does he have it to succeed in this new game? Firstpost took a long, hard look at Kejriwal's prospects.
Arvind Kejriwal: Too naive to succeed?
Arvind Kejriwal wants to change Indian politics. Some might call him naïve, others might call him audacious, for the journey from activist to politician is a long and hard route. And, there is Anna.
Updated Date: Dec 26, 2012 11:26 AM