The tragedy and farce of JLF, the greatest literary show
Can free speech and free thought collude with the corporate sector? Should we just be happy saying what we want from tainted podiums?
By S Anand
On the morning of 22 January at the ongoing Jaipur Literature Festival, away from the Oprah Circus, I moderated a session called 'A Second Sunrise: Literature of Protest'. It featured Gogu Shyamala, dalit writer from Telangana; Cheran, Sri Lanka-born Tamil poet who lives in exile in Canada; Charu Nivedita, Tamil writer; and K Satchidanandan, Malayalam poet, editor and translator. I began with the session with this: "What kind of idea are you? Are you the kind that compromises, does deals, accommodates itself to society, aims to find a niche, to survive; or are you the cussed, bloody-minded, ramrod-backed type of damnfool notion that would rather break than sway with the breeze? — The kind that will almost certainly, ninety-nine times out of hundred, be smashed to bits; but, the hundredth time, will change the world."
I had decided to read this passage from the book that cannot be imported and owned in India. I did this especially because one of the festival organisers had sent an email to participating writers and speakers that the "festival continues to uphold the right to free speech and expression and the right to dissent within a constitutional framework". And added, lest one did not get the 'idea': "This is to advise you that the Satanic Verses is banned in India and reading from it may make you liable to prosecution and arrest." I had noticed that in the first few days some activists were distributing copies of the Quran at the gates of the festival venue, for free. They did it as quietly as I read the passage. The real challenge is whether we stand up to freedom of expression when it is under crisis; and the organisers of JLF—in suggesting that Hari Kunzru, Amitava Kimar, Ruchir Joshi and Jeet Thayil leave the venue and city for their own good and to let the festival continue—did not stand up to this challenge.
Cheran, in an earlier session has said that it was impossible for a writer to function within a prescribed framework and expect him or her to be 'free'. Writers and artists have to transgress. That is what they do. And many times, this involves a brush with legality. Cheran spoke passionately about the May 2009 'genocide' inSri Lanka, a word he cannot use inSri Lanka and how it would be impossible for someone like him to function within Sri Lanka's constitutional framework. To a question, he said the Indian government was totally complicit in the mass murder of over 70,000 Tamils in Sri Lanka's war. He said he was well aware that saying this may not help him get a visa to India next year, but writers have to say what had to be said.
The battle of, and for, words need not be with the state alone; so I asked my panelists to reflect on the cooption of writers by corporate sponsors against whom many of the artists/writers would be, or ought to be, battling. Are we using their platforms or are they using us writers/activists and publishers to legitimise their corporate crimes? One of the organisers said the festival was like a Kumbh Mela; sure, many come to wash their sins here. Each venue was prefixed with the sponsor's name—Rio Tinto Samvad, Tata Steel Front Lawns—and this did not seem to 'offend' most writers. In the last year's edition, Pauline Melville, Guyana-born British writer-actor did say, "This festival is for writers, people who are genuinely interested in the human condition, but behind us are the logos—staring at everybody—of the most pernicious organisations in contemporary finance… Even as I speak, I'm half expecting to get a bullet in the back." Chimamanda Adicie too had addressed this issue.
Perhaps Melville was referring to Rio Tinto—a mining corporation that has colluded with dictators and fascists, and has infamously applauded Franco's forces for assassinating strikers and a group of radical miners who occupied their mines, and is today mining for diamonds in Madhya Pradesh. They have of course won CSR awards, like Tata Steel, another major sponsor whose banners with quotes from famous dead, unbanned writers adorned Diggi Palace, the venue. But that's the way it has been.
At the inaugural of the festival, Sanjoy Roy, one of the organisers, openly praised the DSC group for the superb Delhi-Gurgaon-Jaipur road they had built. 'Unlike all other roads in the country, this DSC road does not crack.' Appearing to be embarrassed, even the chairman of Darshan Singh Corp, HS Narula, responded: 'I don't know why you said all this about the road.' A courtier was praising a king. So the poet-as-fool had to have his word.
I was sitting next to poet Hoshang Merchant who, bored, had been reading 'literature' others perhaps had not bothered to read. He drew my attention to it—the fine print on the rear side of the bar-coded speaker's pass that dangled around all participants' necks. One of dos and don'ts said, 'The holder of the card shall not indulge in ambush marketing.' Sanjoy Roy was wearing the same tag. What next? Rio Tinto are such good miners? Tata's values are indeed stronger than steel? How about Dow Jones/ Union Carbide next year?
The same set of issues cropped up during the recent Tehelka gig in Goa, Think Fest. Can free speech and free thought collude with the corporate sector? Should we just be happy saying what we want from tainted podiums? Should we compromise, do deals, or be ramrod-backed type of damnfools? A threat to freedom of expression for one person is a threat to such freedom everywhere. Organiser Namita Gokhale's defence that five writers cannot be allowed to derail the platform for 260 others at JLF does not wash.
The greatest literary show on earth is quite like the world's biggest democracy—both a tragedy and a farce.
S Anand is the publisher of Navayana.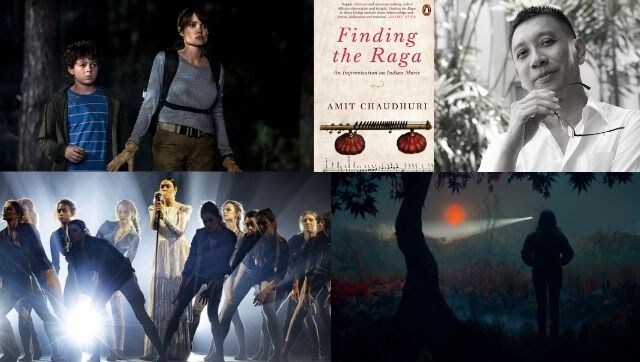 Arts & Culture
Every Friday, we'll bring you a curated list of online experiences — performances, talks, tours, screenings — to mark on your weekly calendar.
Arts & Culture
Every Friday, we'll bring you a curated list of online experiences — performances, talks, tours, screenings — to mark on your weekly calendar.