The story of a chameleon: What could the death of a reptile tell us about drought, and its species?
The Indian chameleon (Chameleo zeylanicus) reached up for a drink of water and froze...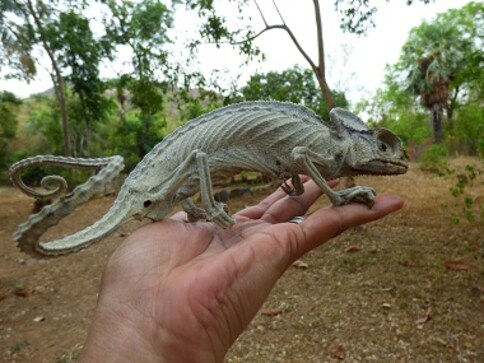 The Indian chameleon (Chameleo zeylanicus) reached up for a drink of water and froze. It was oddly colourless, not the normal bright green or yellow. My herpetologist husband, Rom Whitaker, and I looked closer, wondering why it didn't move. It was only on seeing its sunken eyes that we realised it was dead.
The state of Tamil Nadu is suffering its worst drought in 140 years. It hadn't rained since a freak thunderstorm in early March. For three weeks leading up to that June morning, midday temperatures hit 40ºC every day. All surface water had evaporated. Birds gathered at the bird baths around the house. Trees wilted and grass dried. Troops of bonnet macaques left faucets in the garden running after having a drink. Toads disappeared from sight, probably hunkered down underground. Tree frogs moved into our kitchen and bathroom, seeking refuge from the outdoor heat. Despite access to the sinks and toilet bowl, many didn't make it. Every day we threw out at least one dried, dead frog that had fallen from its perch. Some lay near doors and windows as if they had been trying to get out.
One morning the dogs found a spotted owlet chick on the ground below the nest box. Its two older siblings had probably shoved it over. We put it back inside, with the hope it would make it. A few days later, the chicks fledged. We waited until a pair of magpie robins began checking the nest box out before cleaning it. We found the mummified remains of the unfortunate runt.
So when we saw the poignant, dried out chameleon, we weren't surprised. When I posted the photograph on Twitter, to many the tragic end of this chameleon reprised Rango's role in the 2011 animated kids' film of the same name.
If indeed thirst was the cause of death, then many more chameleons ought to be dead. Until the first summer showers began in late June, we checked other pipes and didn't find any desiccated chameleons clinging to or near them. Nor is the lizard a rare species.
This Indian chameleon was doing poorly as its bony body shows. Thirst may have been the final straw. Clearly, the healthy ones were getting by somehow. Or they were dying out of sight in the trees.
The episode was remarkable for another reason. Why did the chameleon choose this spot to die?
The pipe is not only exposed without any cover, it is below the nest of a shikra, a small raptor. These birds target garden lizards and would probably not think twice before nabbing a chameleon to feed its ravenous young. If it was basking on the pipe, it couldn't have chosen a more dangerous spot. Why would it risk its life to sit close to the ground in the open when it could have been safely camouflaged in the foliage of nearby trees? It had to have chosen the pipe for another reason.
The outlet on which it had died had been disconnected more than a year ago, not at that point but about 50 metres away. How did it know it may have been a source of water at one time? None of the normal cues such as sound, smell, sight, or moisture came from the pipe for at least 12 long months. Did the chameleon remember that at one time it had dripped water? Or was it a coincidence that the perch he chose happened to be a water outlet not so long ago.
I asked herpetologists studying reptile cognition if a chameleon could remember something from more than a year ago.
Professor Martin Whiting studies lizard cognition at Macquarie University, Sydney, Australia. He replied: "There is no question that lizards, including chameleons, learn. And that they remember. But I honestly doubt that they would remember that in the past there was water at that location, especially that long ago. I would be very careful about speculating about that."
Professor Rick Shine of the University of Sydney had a different view.
"They are smarter than they look! I have no doubt that lizards are capable of complex cognition, and have long memories. There are abundant anecdotes of lizards (and snakes) returning to very specific places after absences of many months. At Fogg Dam, for example, our radio-tracked water pythons (Liasis fuscus) do a major circuit every year — the seasonal flooding pushes them several kilometres from the dam wall. But then they return when the floodplain dries out. The snakes often end up under exactly the same bush that they sheltered in a year previously — even though the surrounding landscape was under a metre of water in the interim, so surely there are no chemical cues etc. that persist.
Lots of recent work on "social" lizards, that live in family groups, has documented individual recognition and long-term memory. One pair of sleepy lizards (Tiliqua rugosa) have found each other every spring for 37 years and mated — very long-term monogamy, especially given that males and females live separate lives most of the year and only join up again in spring. Impressive memories!"
Had there been water at the outdoor faucet, would the chameleon have made it? My husband thinks it was probably too far gone. But at least it would have died a less miserable death.
India
The CBI had raided the premises of the Chidambaram family and arrested Bhaskararaman even as Karti Chidambaram was questioned by it
First Cricket News
No play was made possible after the fourth over in the second innings of the TNPL 2022 final due to rain and hence, both the finalists had to share the trophy.
India
In a letter to PM Modi, CM MK Stalin pointed out that the OCA in its executive committee meet held on 6 May, 2022 at Tashkent had in principle accepted holding the ABG in Tamil Nadu in January, 2024