The Spy Chronicles gives insight into Indo-Pak relations, but offers little in terms of secret information
From an admission about the ISI's bloody hand in Kashmir, to Pakistan's contribution to the raid that killed Osama bin Laden, The Spy Chronicles does contain a few gems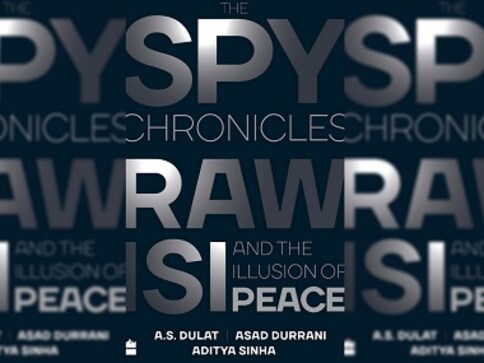 If it weren't for the 'spy' in the title, few people other than former spooks and a few academics would actually read The Spy Chronicles beyond the first few pages. Though offering some great insights, it is contrived, zig-zagging from one subject to another, until it makes your head ache. But then of course, the Pakistan Army decided to pull in the former DG ISI for questioning, and put him on an Exit Control List. Now the book has all the makings of a best-seller.
The Spy Chronicles naturally has that tinge of spice, since it constitutes a series of conversations between two former spy masters – the estimable Amarjit Singh Dulat, formerly of the Intelligence Bureau, who migrated to the RAW to become its chief, and was later a part of the National Security Advisory Board at a time when it was being used for some real policy-making by the government. On the other side is Lt Gen Asad Durrani, a spy who was in Military Intelligence and then moved to head the redoubtable ISI. Both men are in their 70s, but they would have a tale to tell if they chose. Regrettably, they remain spooks to the last, admitting nothing very much in terms of secret information – Dulat in particular.
What is astonishing to the objective reader is the openness with which General Durrani again and again admits to the ISI's bloody hand in Kashmir. At one point, he even talks about Kashmir being "tactically handled for containment". In simple words, they were fine with Kashmiris being killed, but did not want this to overflow into their own side. At another point, he bewails the fact that his organisation did nothing to support independence for Kashmir. It's just as well they did not, since far wiser heads than his had perceived independence as a recipe for disaster. Make one area independent, and there are immediately a host of other groups also wanting the same on both sides of the border. There are other suggestions from the General — many of them undoubtedly indicating considerable knowledge — but from first to last, there is not one iota of regret that Pakistan's policy of supporting terror has killed several thousand Kashmiris. All this from a man representing an agency of a country that has absolutely no locus standi, in the legal, moral or any other sense, in Kashmir. The arrogance is astonishing, but infinitely revealing. It seems the Pakistani army believes it has a near 'divine right' to meddle, no matter what anyone says.
There are a number of gems in the book that will bolster what is already known by most academics in the field. For one, Sharif didn't know a lot about Kargil, and the misadventure was planned and executed almost entirely by Musharraf; that the raid that killed Osama bin Laden was with Pakistan's collaboration and not a triumph of US intelligence; and more curiously, that the United States has no intention of letting the Afghanistan conflict wind down, proven by the fact that it allegedly kills off anyone willing to negotiate. It is unclear whether these comments arise from the General's palpable dislike of the Americans. He even characterises the CIA as one of the worst intelligence agencies in the world. What he omits to mention – and Mr Doval seems too much of a gentleman spook to say so – is that the ISI has killed off even more Taliban leaders who were quietly talking to Kabul.
To most readers, the interesting part is the chapter on the present national security advisor, Ajit Doval. Again, it is clear that Durrani dislikes both Doval and his boss, the prime minister. In Durrani's eyes, the Indian national security advisor comes across as rude and overbearing. But that doesn't prevent him from saying honestly that Mr Doval is far more capable than the Pakistani national security advisor Janjua, who he calls " run of the mill". It appears the General's dislike of mediocrity is far stronger than his dislike of lethality in spies.
What's of the most value in this book is General Durrani's character depiction of Nawaz Sharif. At various points he depicts Sharif as a person of complete self interest, with the "acumen of a camel" on international relations, allows him political (and business) acumen, but no ability to have a "chemical" empathy with anyone. In other words, grand gestures such as Narendra Modi dropping in on his grand-daughter's wedding, are unlikely to cut any ice. Even more interesting is the fact that the present Prime Minister Abbasi, though selected by Nawaz Sharif over his own brother – don't forget there are strong Mughal overtones in Pakistani politics – is his own man, and may well continue in the chair. That's interesting because present signs are that the Pakistan Muslim League (Nawaz) under the tutelage of Sharif is likely to hold its own in the next election.
Other comments in the book wont endear the good General to the establishment. Among these is his statement that India has probably less of a role in Baluchistan than the US; that every intelligence agency including the Chinese are in the province, and that the Kulbushan Jadav case was badly handled, particularly in annoying Iran. One can admire General Durrani for his forthrightness, but wonder at his naiveté. He may condemn the present Indian government as hard-line, but he forgets that the Pakistan establishment has moved steadily towards authoritarianism, ever since he was DG ISI in the 90s. As Pakistani TV news channels are commenting, the move to put him on an ECL was probably taken by people who haven't even read the book.
One can be but grateful that no such irate action is expected against Mr Dulat. After all, he survived publishing a book that gave away several open secrets of Kashmir. Besides, the tradition of writing memoirs of troubled terms is catching on. General Musharraf is presumably laughing all the way to the bank on his royalties from his own book. Hussain Haqqani is probably in similar luxurious straits. But neither can return to Pakistan, without being imprisoned. That's the difference between a democracy and virtual military state. As Mr Dulat continues to amble along to seminars and functions, one can but say "Vive la difference."
World
The prolonged suspension of gas and electricity has dashed the consumers' hopes of a "smooth" supply in the fasting month as promised by the government, as per the news report.
World
All production units of Dawlance, a private company with Turkish sponsors, have stayed shut since the start of 2023
World
He said regional and global security could be highly beneficial as the SCO charter focuses to maintain and develop relations with other states and International organisations and to cooperate in the prevention of International conflicts