The Queen of Jasmine Country: Sharanya Manivannan's 'dream' debut novel tells the story of poet-saint Andal
As the only woman among the Vaishnavite saint-poets, Andal has been a subject of great intrigue to historians as well as feminist writers. The poet-saint is also the subject of Sharanya Manivannan's new book, The Queen of Jasmine Country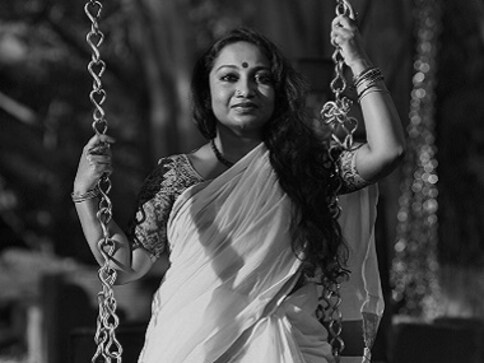 Editor's note: Writer's Room is a new books column, curated by Krupa Ge along with 15 writers across India. The column seeks to introduce new works as well as allow a peek into the writer's studio, accompanied by recordings of book readings.
***
As the only woman among the Vaishnavite saint-poets, Azhwars, Andal, or Kodhai as she was called, has been a subject of great intrigue to historians as well as feminist writers. For in Andal's bhakti poetry there was plenty of room for the sensual too, as she pined for her Lord, shunning mere mortal men. Andal has also in recent times, unfortunately, become the subject of a deeply polarising debate in Tamil Nadu. In a speech, Vairamuthu (the Tamil lyricist who was also recently in the news when several women accused him of sexually harassing them as part of the #Metoo movement) quoted an American scholar who said that Andal belonged to a Devadasi community. The Vaishnavite community in Tamil Nadu took offence and a nasty war of words broke out over a course of several weeks.
Did this debate play a part in Sharanya Manivannan's new book, her debut novel?
"I was really heartbroken by the controversy. It was so clear that the people who were upset were not engaging with the literature. Not only that, the misogyny was also so palpable. But if someone had said to me while this debate was going on if I would like to write a novel about Andal before the next margazhi I would have said no," Manivannan says.
In the Tamil month of margazhi (mid-December), Andal's Thiruppavai is recited by Hindus, especially Vaishnavites in Tamil Nadu, in the wee hours of the morning either at temples or in homes. Entrances to homes and temples bear large, spectacular kolams during margazhi as a mark of the month's spiritual significance. "Like many people, I too read Andal. I knew her as a reader. I discovered her in my teens, at the same time that I discovered Sangam poetry and bhakti poetry in general. At that time there was a book, which is out of print now, For the Love of God..." Manivannan says speaking of her introduction to Andal's work.
In the book, Kodhai thinks (of) these lines, as a reflection perhaps of the unsavoury debate around her origin:
In the worst of moods, someone would call me an illegitimate child, or a prostitute – that word used by those who do not believe a woman owns her own body, or her own self – and, inevitably, of unknown and therefore untouchable caste – that concept for those who believe God ordains their superiority at the expense of all humanity.
In The Queen of Jasmine Country, the young Andal is Kodhai (the name given to her by the parents who adopt her), telling her story, in her own words. This effective call allows the reader to understand her, a young girl on the cusp of womanhood, with dreams and desires, and later a woman waiting for love, in an intimate manner, instantly. In a tongue that is sensual and rooted, Manivannan invokes the imagery of someone who is both young and unsure, while also being gifted. She transports readers to an era vastly different from ours. Yet, there's something in there that's universal and continues to be relevant for women, who yearn, to break free from the shackles that family, caste and life, in general, bind them with, and to be the masters of their own destinies. To choose for themselves whom to love and how. Manivannan weaves an impressive story that feels new while drawing from the familiar. Little is known about the everyday lives of women from these times from historical accounts, but that does not stop the writer from dreaming up a beautiful array of scenes that fill Andal's days and nights inspired by Tamil Sangam poetry.
Manivannan, who usually works on multiple manuscripts simultaneously had a couple of dreams in 2014 that first planted the seeds of this novel in her. "In 2014, I had dreamt about Andal. In one of those dreams, I don't remember anything except that she said 'write a novel about me'. In the year before I had done a lot of kalyana venduthal (prayers for marriage), all of which failed. Thankfully! I was 27, and my parents wanted this. I think I was in that particularly vulnerable moment that a lot of women find themselves in, in their late 20s. It wasn't something I wanted but pressure and loneliness made me think, you know what I will try anything. In the second dream I had, I made a venduthal (prayer) at her temple. I went up to the sanctum and was holding this tray, like a good girl [laughs]. The moorthy (statue) came alive. She looked at me and she looked at the crowd around me which was mostly composed of men and she rolled her eyes. 'If these are your options, no' she said. It was funny and cute. I didn't think of it as particularly a divine message or anything like that, but in retrospect now, when I think back on those two dreams I had four years back, I think it definitely had an impact on me."
Manivannan, who has written two collections of poetry, one short story collection and a book for children before, usually works on books for five to nine years but completed this in six weeks. "This is a book that is really about reading and writing," she says, "It is really about creative engagement. I was familiar with her poetry but I went back to it while writing this book and looked at it very carefully. I followed the poems very closely to develop a plot. Even the dates are controversial. I based it around the time of Srimara Srivallabha, a Pandya king, whose name is found in the hagiography of Periazhwar (Vishnuchittan) who is supposed to have been Andal's father."
Andal was found by Vishnuchittan in a basil grove, who then brought her up and eventually married her away to the Lord himself according to legend. Manivannan also relied on Dennis Hudson's 'Tantric Rites in Andal's Poetry'. "Dr Hudson wrote in this paper that there is a very distinct shift in tone between the Tiruppavai and Nachiyar Tirumozhi by Andal. In the Tiruppavai she is so girlish. She is joyous, asking and expecting that her demands will be met. She is like a teenager girl. In the Nachiyar Tirumozhi she is harrowed, in anguish and the work becomes sexually explicit and very dark. She talks about no longer fitting into society." (I begin to fade. I begin to fray like the thatching on roofs after too many seasons. My moon blood becomes scant. I want to pluck these useless breasts of mine, untouched, and fling them at his own chest, and see then what he will see of me – blood and fire, worn down to bone, weakened to ash.)
Manivannan's Kodhai is also deeply aware of the inequities around her and it appears that at times she is struggling to find the balance between the inequality and her faith. "All of the bhakti poetry has that kind of complexity. There are so many questions and demands and there's so much to grasp at times. There was confusion." This is a Kodhai who is a devotee and a skeptic at once. Like all of the other poets of her time. "There are also things that mark her as an outsider. Why was she not married off in childhood? How was she literate? What would it have been like, being a teenager in Puduvai, unmarried, literate, and there's no one like you around you. There must be some loneliness."
Kodhai wonders early in the book: Maybe everywhere there are those like me – people who smoulder sun-like but singe as easily as feathers. But I know of no one else who is fevered by a secret so large.
And later on:
Sometimes I sit on our thinnai as dusk descends and wonder if, anywhere in the world, there is another like me.
Manivannan also writes a scene in which a young, starry-eyed Andal meets Manickavasagar who appreciates her poetry. "I wrote that for her. I wanted her to be appreciated in her lifetime. I wanted somebody to look her in the eye and acknowledge her. Otherwise, there's a loneliness to being a writer anyway, but it's compounded by the fact that she's a woman writer in that time."
The author's call for the ending of this book is an interesting one that lends Kodhai agency, while also hinting at immortality.
also read
World
The latest action follows the suspension indefinitely of a popular political cartoonist, whose work frequently satirised Hong Kong's connection with mainland China, and the removal of his books from the city's libraries during the previous week
India
The passenger was handed over to the local police with the help of the Central Industrial Security Force (CISF) after the flight landed in Bengaluru, read a statement
India
As Prime Minister Narendra Modi inaugurates the new Parliament building on Sunday, a key part of the event will be the installation of a 'sengol', a golden sceptre. It was received by Jawaharlal Nehru on 14 August 1945 and symbolised the transfer of power from the British