The moral of Gopinath Munde's death: Wear your rear seat belt
Perhaps we need to pay closer attention to those rear seat belts too. And while we're at it perhaps more Indians need to look at cars with airbags.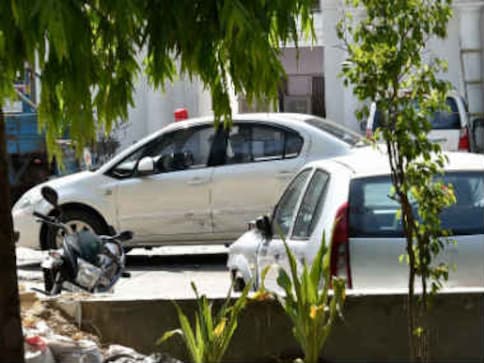 Maruti Suzuki must be cringing since the news broke of the tragic accidental death of Gopinath Munde, newly appointed Union Minister for Rural Development and a popular politician. Almost every media story has mentioned the fact that Munde was in a Maruti SX4, a fairly popular sedan, when his car was hit on the left side by an over speeding Tata Indica that ran a stop light.
Tata Motors doesn't have much to worry about --Tata Indicas are commonly used as private taxis, and therefore frequently rashly driven, as any Indian who lives in a metro would attest, especially in areas where BPO/IT companies are located. Fact is, very few Indians would look at a Tata Indica when buying a private car, and by the look of Tata Motors sales numbers that are southward bound, perhaps the taxiwallahs are also starting to give it a miss.
Not so for Maruti. Adding salt to Maruti's wounds, the Indian Express had a piece this morning about Munde's preference for the premium, imported Toyota Lexus-- the newspaper claims he would buy a new white Lexus every three years, since he suffered a serious neck injury in a stage collapse accident and needed the size and comfort of a Lexus to go through his busy schedule with his neck condition.
"But on Tuesday, he was being driven in a Maruti SX4 car when he met with the fatal accident in Delhi," the Indian Express says.
So was the Maruti SX4 to blame? Take a look at a picture of Munde's SX4 now parked at a Delhi police station and you hardly see any damage except for a slight dent.
Maruti SX4 to blame? Unlikely. As Union Health Minister Harsh Vardhan stated, the late Union Minister suffered cervical fractures and oxygen to the brain and lungs may have been cut off. He also suffered a rupture in his liver and lost one-two litres of blood.
I'm no medical or driving expert, but I'm willing to bet that the unfortunate Union Minister may not have been wearing a rear seat belt and the sudden impact flung him out of his seat. Please note: I am not blaming him. Besides, rear seat belts are not mandatory in India. And when did you last see someone in the rear seat of a car in India wear a seat belt?
I am one of those who do, and when I travel to Delhi and Bangalore, with wide roads from the airport I usually slip on the rear seat belt, but often I find it broken or filthy or stuck. Ask the driver and he will usually give me a look that suggests he thinks I'm a moron, and merely shrug and note that rear seat belts are not required.
As competing versions of the accident emerge, it isn't clear if it was Munde's driver or the other car driver, Gurvinder Singh, who is to blame for the tragedy. Irrespective of who is at fault, the lesson remains the same. It is time to strap on that rear seat belts. And while we're at it perhaps more Indians need to look at cars with airbags. Fact is, even car salesmen will tell you that airbags are just extra cost and are not worth it.
I've had car salesmen graphically explain to me that an airbag deploys only beyond a certain speed and therefore the chances of it deploying are uncommon. But isn't that the point--accidents aren't common, and as India finally gets wider and better roads, many of us, even in Mumbai that's renowned for slow moving traffic, travel at high speeds on some of these roads.
Then there's child safety. I cringe when I see us proudly allowing a child to stand on a front seat and peek out of a sun roof. Or seating small children on front seats with airbags despite clear manufacturer instructions that children under 12 should not be seated on the front seat if there's a dashboard airbag. Sure airbags don't deploy every day, but when one does, an airbag is designed for adults and could seriously injure a child when it deploys.
And while front seatbelts are mandatory in many Indian metros, step out of metros and many drivers will slip them off, not realising that they are actually needed more on highways.
Statistics say that seat belts can prevent 50 percent of deaths in road accidents, and in the country with the ignominious status of suffering the highest number of deaths caused by road accidents, the importance of seat belts, including rear seat belts cannot be overemphasised. Fact is, deaths occur even when a driver or passenger not wearing seatbelts collide with something else in a vehicle going as slow as 20 kmph, which is a speed maintained in parking lots and building compounds.
And while I have no concrete proof of this, at least a simple Google search shows that some of our leaders may not wear front seatbelts too. Yesterday I saw Tamil Nadu Chief Minister, J Jayalalitha step into a car after meeting Prime Minister Narendra Modi and she didn't seem to be wearing a seat belt. On a cursory Google Image search I couldn't find any pictures of her wearing a seatbelt. More often than not I saw a picture like this one here.
Take Prime Minister Narendra Modi himself, who also preferred the front seat of a vehicle, but now has to be seated on the rear seat of his armoured Prime Ministerial BMW because of the SPG. I couldn't find an image with him wearing a seat belt after a short search.
Then I looked for Arvind Kejriwal who also prefers the front seat, and while I did find a picture of him without a seatbelt there are also some with him wearing a seat belt. Perhaps it's because till around two years ago he was an aam aadmi who the cops would pull over for not wearing a seat belt.
The unfortunate Munde episode should bring road safety to the forefront and the government should make every effort to bring those speeding Tata Indicas to book, install CCTV cameras and warnings at accident prone junctions, but it should also serve to make us look at the personal safety equipment already in our vehicles and make sure we use it and not leave it hanging around like decorative trinkets.
India
Rohit Bhati, also known as Rowdy Bhati, died after his car crashed into a tree while his friends who were severely injured are undergoing treatment at hospitals in Greater Noida and Delhi, a police official said.
India
As per information, the people were having a funeral feast on the roadside when the car drove into the crowd.The injured were rushed to a nearby hospital