'Life is long and love is small and selfish, and I do love you, I love you, I do.' In a crisp 3-page story, Sweet, Sharanya Manivannan writes this of love. Ironically enough, a small and selfish thing as that unravels over pages — 283 to be exact. It shapes people, the places they inhabit, with its poignancy and they're caught in its spell, suspended, in one or another kind of heartbreak. Then, there's something terrific that pours from it.
The High Priestess Never Marries is Sharanya's debut collection of short stories. Some of these have previously appeared in journals and literary magazines. But they hold together as a collection — a bold meditation on the nuances of love. As she explores its many textures and contours, language, it seems, is given a whole new purpose.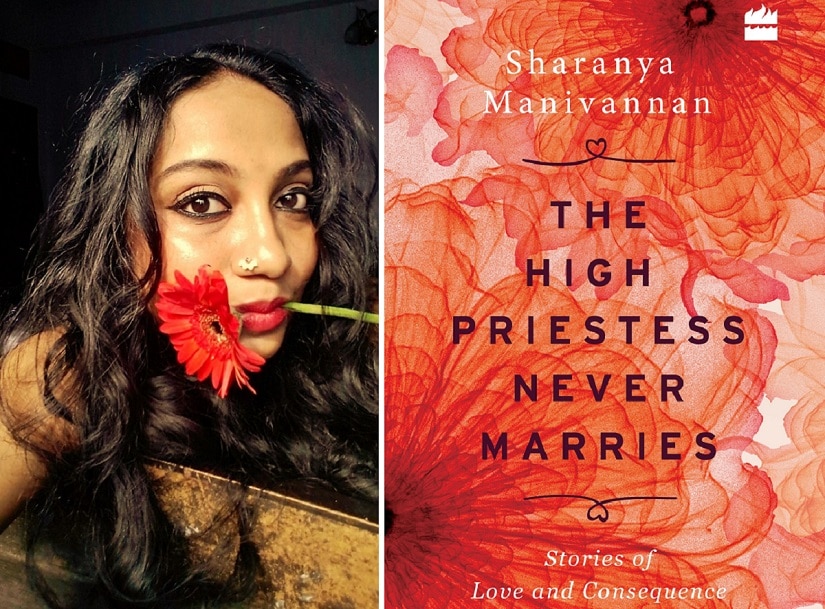 In Boyfriend like a Banyan Tree, one of my favourites from the collection, the narrator dreams of a boyfriend who will sustain her like a banyan tree sustains the terrain of its presence. Under the aegis of whose boughs she will walk, knowing that the same love that roots them, raises her. The imagination of romance in this is spectacular, almost making one forget that it draws from a convention of masculinity in romance — qualities of strength, protection and gentility. On the other hand, its anthropomorphism elevates the desire to something primordial, transcending the individual and perhaps along with that any labels.
Quite in contrast to this desire, an old and lonely woman sinks into her naked brown body for comfort in The Black Widow — 'her heart as a cavern with its entrance agape.' The self-sufficiency here comes devoid of choice. But in another story, Ancestress, it comes as a fully-conscious one. It is of an emphatic embrace of destiny, a course that often follows the bitterness of rejection. As the story implicitly tells though, it is not to be reduced to a consequence of just that. There is substantial agency even in what one chooses to do after loss, how one can still decide the course of their transformation.
You know what to expect from a writer like Sharanya, high-priestess first, poet next. Femininity's glorious spectra reveals itself: the women are timid, furious, self-sufficient, needy, devastated but never once insignificant. At a time when the idea of femininity is undergoing a transformation, the stories assume a didactic quality. They tell us that there's no one template to follow, that every kind can prove to be one vulnerable to criticism. What matters most is what one tells oneself — truth exists only in these crystallisations.
As Sharanya told me in this interview, experiences, aided by the richness and mutability of mythology, can be alchemised into creating resonance for oneself. In doing so, she also challenges reductive narratives of Goddesses and spins sensitive stories of their empowerment. It is a wonderful, mutually sustaining barter. And in other acts of storytelling, she takes destitute women and elevates them into Goddesses by virtue of their transcendence. Sarala Kali's is a portrayal that will stay with you long after the story is over.
Most stories in the collection consciously stop at any fulfilling resolution. Like the narrator herself in a few of them, they leaving us longing. 'I myself have learnt to love your absence, your aftermath, everything tinged with a brief and bittersweet beauty, like the world after a storm.' Indeed. Sharanya's greatest gift lies in imbuing the mundane with meaning. They come as snippets offering wisdom from a soul that is forever seeking. My greatest redemption from this book though came from the sensual imagination of Chennai, a city that I had always dismissed as bordering on insipid. Whether it is in describing the Gemini circle at midnight as 'as empty as a morning after,' or alluding to the salty lure of the constant sea, or describing the colour of earth in Tamil Nadu — 'red ochre, burnt umber, areca, sienna' — the geography is seen through a hedonistic kaleidoscope. And deeply set within this landscape is profound reckoning; who, for instance, would think of a 'kiss that is sad as immortality and as wise as the original sin'? Only the oracle, the high priestess, as one of her ex-lovers says.
For all its poetic indulgences, The High Priestess Never Marries is ultimately about finding salvation in oneself. Lovers come and go, but it is you who is a constant, it seems to say. Therefore, grieve fully and deeply, and render the past in beautiful metaphor. The renewed self that emerges in the aftermath makes for a story of great courage and grace.
Your guide to the latest seat tally, live updates, analysis and list of winners for Lok Sabha Elections 2019 on firstpost.com/elections. Follow us on Twitter and Instagram or like our Instagram or like our Facebook page for updates from all 542 constituencies on counting day of the general elections.
Updated Date: Dec 11, 2016 09:08:41 IST