The full-time travellers: How serendipity became our guide to long-term travel
Mumbai-based couple Sandeepa and Chetan kept putting off their travel plans for 'sometime in the future'. Then they made a decision to live the life they really wanted, and began travelling long-term, and full-time. Read about their journey.
We left Mumbai with a one-way ticket to Delhi. The month of May made the Himalayas the obvious choice for the destination. An overnight train from Delhi took us to Jammu. Excited, we got out of the Jammu railway station. Sandeepa, looking for taxis to Srinagar. Chetan, for an auto rickshaw to a hotel in Jammu! Thus began our first long-term trip together!
A year before that, we had decided it was time to make changes in our lives. Both of us loved to travel, it probably was one of the reasons we got together. We had both dreamt of travelling long term — but pushed it to a convenient "sometime in the future". We traveled at every chance, even spending the money from our wedding gifts — meant for "buying useful things" — to travel. "Experiences are useful", we would retort to objections.
Every trip, however, left us wanting more. Never did we return with a "happy to be back" feeling. When a month went by, without us having had a single meal together, we realised it was time to act if we wanted a different life.
The decision to travel long-term now — was made over dinner. We decided to go on a round-the-world trip for a year. Quitting jobs and selling the house were decisions that came naturally to make time and money for travel.
The house took a while to be sold, and we had already quit our jobs. With time on hand, we decided to "practice" travel in our own country.
That's how we were outside Jammu railway station — without any future plans. A crawling 2G connection led us to a hotel in the main market of Jammu. For Rs 300, we got a garden-facing room with a fan.
While buying trekking shoes in the Jammu market, our camera bag caught the shop owner's attention. He was a photography enthusiast but lost about using his DSLR camera. We gave him tips on photography; he gave us a discount, and tips on places to go.
On his recommendation, we ended up in a tiny village called Sanasar — where we had our first meal in a stranger's hut. We had gotten alarmed when the farmer, who had been observing us come down a mountain trail, invited us for tea. "Why would he do that, we don't know him!" had been our instinctive, city-bred reaction. Inside the hut, conversation flowed. He used to drive a truck with apples from Jammu to Mumbai. ("Marathi mein bolte hai aalu ko batata," he told us!). When his wife learnt that we were planning to climb down the mountain, she started preparing a meal for us, saying, "You won't get food anywhere on the way".
A few days later, we reached Srinagar. In its crowded markets, we had to walk single file. We decided it was time to leave and explore some lesser known places. A quick look at the J&K tourism website and we left for Kokernag — a place we'd never heard of before.
Walking down the main street in Kokernag, we came across the Tourist Reception Centre. We were surprised to see the tourism officer there on a Sunday evening. The first question he asked us was, "How many days do you have?" When we told him we didn't have a limit on the number of days but were traveling on a limited budget — he got super excited. From then on, he took it upon himself to send us to as many obscure places as he could.
He asked us to visit this place called Sinthan Top — the only place in the Kashmir valley which has snow through the year. Sinthan Top is a part of the mountain pass on the national highway NH1-B. It opens up for only a few months each year when the BRO (Border Roads Organisation) clears the snow on the road. This highway NH1-B is a more challenging, hardly used alternative highway to get into Kashmir. Unlike the Jammu-Srinagar highway, it connects Kishtwar on the Jammu side to Anantnag in the Kashmir valley.
We had asked him how we could get there without hiring a taxi. He had said he wasn't sure. We would have to get there "somehow". We travelled in a series of shared taxis with horsemen, local teachers and farmers and managed to reach Sinthan Top.
Feeling confident that we could "somehow" manage things, the tourism officer now suggested a place called Chatpal. "The bungalow is ready. I will send a caretaker with you. Stay as long as you can manage without electricity", he told us.
In our six weeks in the Kashmir valley, Chatpal is the single most enchanting place we went to. A stream, snow-capped peaks, meadows and flowers — the bungalow was in the midst of it all. A pedestrian bridge over the stream led to the forest and the nomadic settlements of the Gujjar tribe, with whom we had our cup of morning tea when we went trekking in the forest.
While in Chatpal, we met the main officer in charge of the Amarnath yatra. When we told him we were looking for a longer trek in Kashmir, but it was getting quite expensive, he suggested we try the Amarnath yatra.
So, just like that, we became part of one of the most famous pilgrimages in India. This also gave us chance to interact with the original vagabonds of India — the sadhus.
To rest from the exhaustion of the Amarnath yatra, the tourism officer sent us off to a place called Reshwari. When we told the locals we were heading there, they said they had never heard of the place. "Are you sure there is such a place?" Well, the tourism officer himself had suggested it, we were pretty sure it existed.
At Reshwari, there was another officer there with his wife. They had come to visit the peer baba. They asked us if we wanted to join them. Peer baba shrine didn't sound like a place we wanted to visit, but it was a daylong trip. With the prospect of seeing a new place, we agreed.
And what a new place it was! The shrine was at a distance of 25 meters (yes meters, not kilometres!) from the LOC. The army opens up this place for 15 days a year, as a sadbhavana gesture.
Every day, a convoy of seven jeeps would leave Reshwari, led and trailed by the Indian Army trucks. Most of the day, we travelled through areas off limit for the civilians. Over the mountain slopes, we could see a line of burnt trees — from the shelling that happens from both sides.
After the Kashmir valley, we went to Kargil. The guy at our guest house told us of a Sani festival happening in Zanskar. We had only recently heard of this valley called Zanskar. We mistook Sani for sunny — we thought it would be a festival worshipping the sun gods.
Again, he said if we didn't want to hire a taxi, we would have to figure out how to get there somehow!
This time, "somehow" meant hitchhiking in an Indian Oil truck. When some communal tensions meant we couldn't reach our destination, Padum — the headquarters of the Zanskar valley — the truck drivers decided to call it a day. Where were we? Till date, we do not know whether the place has a name. All we know was, it was right next to the imposing Greater Himalaya mountains, a river flowed by and we could see a few dim lights over the horizon. This could be the official middle of nowhere.
With no sleeping bags and tents (our travel companions were carrying these), one of the trucks became our room for the night. "Lock the door, you will be safe and warm", the driver assured us. That night, we slept in the Indian Oil truck, with 12,000 litres of diesel behind us, our most expensive accommodation ever!
Communal riots in Padum also meant staying back in Sani. Except for Padum, the Zanskar valley isn't really equipped to handle tourists. A shepherd, who was also the lone shopkeeper of Sani, came to our rescue. He offered us a room with breakfast and dinner! We didn't know the catch was going to be "no toilets". In Zanskar, to conserve water, they use the dry compost toilets. We stayed a couple of nights with the shepherd family, learning how they prepare their meals and gear up for the winters, sipping yak butter tea and cups of chang (the famous local brew), exchanging stories from our lives.
It had now been two months in the mountains — we were yearning for some plains. The only reason we went ahead to Ladakh was to return to Manali via the Leh-Manali highway. When we reached the Leh bus stand, we met these three guys who were looking for partners to go to Tso Moriri. They had already spent two weeks in Ladakh. If they didn't find the two partners, they would be leaving Leh the next day! That's when we stepped into the picture. Even before we had figured a place to stay in Leh, we were already sorted for a visit to Tso Moriri, 250 km away.
We spent around a week in Ladakh. After which via Manali, Chandigarh, Amritsar, Agra and Delhi, we returned to Mumbai three months after we had left.
We hadn't known what to expect from these three months. We hadn't heard most of the places we had been to in this time. There is no way we could have planned for the trip, the way it unfolded.
We had just been open to the opportunities that the road offered. What we got in return, was serendipity.
Sandeepa and Chetan are full-time travel bloggers and photographers. You can follow their work here. They've been travelling long-term since 2013.
Find latest and upcoming tech gadgets online on Tech2 Gadgets. Get technology news, gadgets reviews & ratings. Popular gadgets including laptop, tablet and mobile specifications, features, prices, comparison.
India
Sinha succeeds former IAS officer Girish Chandra Murmu, who resigned on Wednesday night and was appointed Comptroller and Auditor General (CAG) on Thursday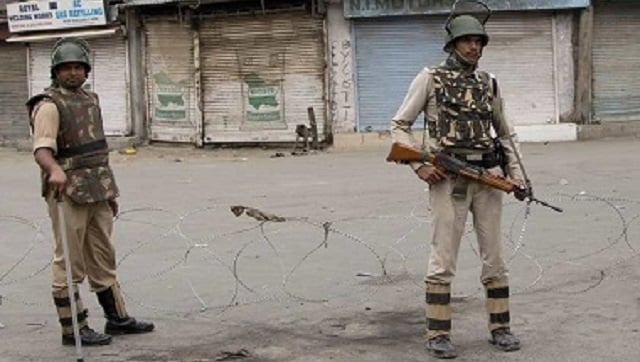 India
Home Ministry states that Valley's top politicians were released within seven months of scrapping of Article 370, but many leaders like Soz claim they were kept under illegal detention