The story goes that when Russian emperor Peter the Great conducted his grand tour of Western Europe in 1697, he became convinced that his own country was stuck in a time warp, in all the ways that mattered.
In terms of economics and science, yes; but also in matters of style.
When he returned to Russia in 1698, a grand reception was held in his honour. But the gathered crowd of dignitaries was horror-struck when, having greeted his friends, Peter pulled out a razor and began shaving off their fulsome beards!
Peter the Great was convinced that the Russian preference for beards was but one sign of the vast ground the country needed to cover in its quest to be truly modern. Given the cultural preference for beards, Peter hit on the idea of a 'beard tax': apart from priests, men who didn't shave had to pay a tax of 100 roubles annually.
The beard tax was abolished in Russia in 1772, but we wonder what Peter the Great would have thought of the proliferation of beards as a style statement among men today.
Beards — once a way for primitive man to protect his face from the elements — are now as ubiquitous as, well, commas in a sentence.
Indian men have jumped on the beard bandwagon as much as their counterparts elsewhere in the world.
To get an idea of just how all-pervasive the hirsute look is, here's a vectorised image of the Indian cricket team. Can you tell the difference between Virat Kohli and Ravindra Jadeja?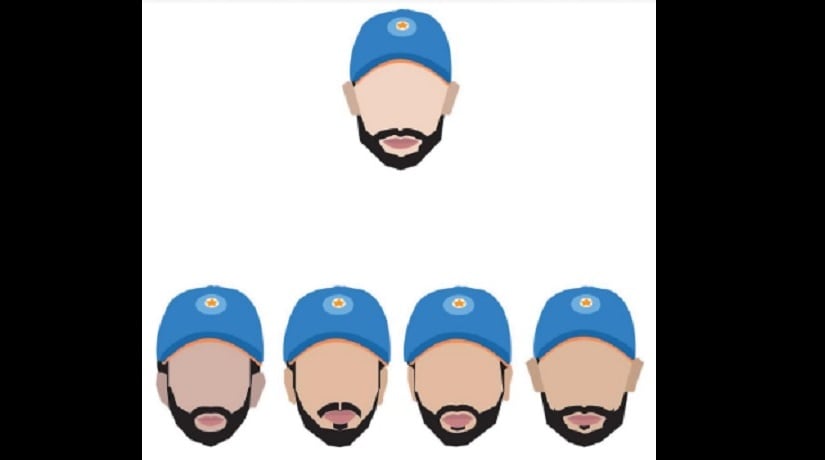 And it's not only the Indian team; an abundance of facial hair seems to be a favoured look for the entire cricketing fraternity. A recent survey on Cricinfo asked fans to identify their favourite cricketing heroes from a set of illustrations. Around 80 percent of them didn't get it right. Can you really blame them?
Sixty-nine percent of players participating in IPL 2017 have facial hair — compared to only 31 percent who are clean shaven. Here's a 'facial hair breakdown' for the players in each team:
And it isn't just cricket stars, even those on the small screen are displaying the same propensity for the beard.
The reason young men quote most often for sporting a beard is that 'they look different' or 'look more masculine'. One student we spoke with, said his beard lets him 'explore (his) wild side and also makes (him) feel more powerful'. For a Mumbai-based filmmaker, sporting a beard is all about a look that's 'in keeping with (his) profession'.
Fuelled by social media, pop culture and celebrities, it seems young Indian men aren't looking beyond the beard at the moment.
Unfortunately, it's almost become like a 'pseudo-masculine starter pack' that everyone's rushing to get.
The irony of course, is that while the desire to look different is behind many Indian men opting for a beard, they're now more likely to look like clones of each other.
But there's another trend in the making, and this one's fuelled by the likes of cricketer Ravindra Jadeja. Debuting a new, cleaner look on his social media account, Jadeja wrote: "Change the game on the field. Change the look in the dressing room. #BreakTheBeard."
Here's a video Jadeja tweeted, along with a short video:
Change the game on the field. Change the look in the dressing room. #BreakTheBeard #rajputboy #newlook #timeforchange #vivoipl #glvsrcb pic.twitter.com/iEr7i7gPIL

— Ravindrasinh jadeja (@imjadeja) April 18, 2017
Soon enough, Jadeja's peers like Rohit Sharma and Hardik Pandya also followed suit, sharing their own #BreakTheBeard moments:
Surprise! Decided to finally have a summer style of my own. My time to #BreakTheBeard! What say Paltan? #NewLook #MIGotStyle pic.twitter.com/h5H1XNfXpc — Rohit Sharma (@ImRo45) April 22, 2017
Taking a leaf out of the cricketers' book, other personalities have also gone the cleaner route — TV actor Abhinav Shukla is a case in point:
And maybe they're being spurred on at least in part, by the compliments they seem to be getting:
Loving the new 'talwar' look @imjadeja❤ Maybe it's time for others to follow! #BreakTheBeard #ChangeIsAwesome pic.twitter.com/Sbk6UpSTxN

— Neha Dhupia (@NehaDhupia) April 18, 2017
So, unless you are aiming for a role on Vikings, why not try a different look like Jadeja et al? #BreakTheBeard: Peter the Great would approve.
Firstpost is now on WhatsApp. For the latest analysis, commentary and news updates, sign up for our WhatsApp services. Just go to Firstpost.com/Whatsapp and hit the Subscribe button.
Updated Date: Apr 26, 2017 11:51:23 IST