The environment myth: Is going 'green' just feel-good hogwash?
The environmental crisis is urgent and very real. But a Open magazine cover story claims that the most popular remedies serve to exacerbate the very problems they are supposed to address.
Going green is urgent and necessary. But do the most popular remedies serve to exacerbate the very eco-crisis they claim to address? Jay Mazoomdar's answer is a big resounding 'Yes'!
Writing in Open Magazine, Mazoomdar debunks the ten most commonly touted (not 'trendy' as he likes to call them) green solutions, arguing that they do more harm than good. His targets of choice: afforestation; carbon offset; alternative energy; eco-tourism; coexistence; organic farming; vegetarianism; activism; earth hour; and tribal remedy. [Do read 'The Thing About Trendy Green' in its entirety here]
There's plenty of intelligent food for thought here. For instance, he cites the statistic that India has added 50,000 sq km of forest cover since 1987. Sounds good, except that much of this so-called cover consists of monoculture plantations – think teak, rubber, coffee or eucalyptus – which do not support biodiversity, have little or no ecological value, and are no substitute for natural forests. Our natural forests, in fact, have been decimated to make room for mining operations, development projects et al.
"In the past two years, for the gain of 1,000-odd sq km of green cover through plantation in Punjab, 670 sq km of ancient forest was lost in Andaman and Nicobar and another 18,000 sq km in Madhya Pradesh and Chhattisgarh," notes Mazoomdar. Afforestation driven by commercial interests and without concern for bio-diversity will do little to save the day.
And this push toward monoculture greening is omnipresent. Mazoomdar doesn't mention it, but in cities like Bangalore, 150-year old native trees are routinely axed by developers who replace them with easier-to-maintain saplings that endanger the eco-balance. The result is fewer large canopied fruit or flower-bearing species that are necessary to sustain urban wildlife. So goodbye large-canopied gulmohars; hello, the ubiquitous palm.
Some of the the eco-fixes offer easy targets, for example, the largely symbolic Earth Hour: turn off your lights for sixty minutes while you merrily run the air-conditioners for the next six months. And, yes, eco-tourism is largely a feel-good illusion that inevitably destroys the very environments it claims to protect.
But it's also easy to be a naysayer when it comes to the environment. Alternative fuels and energy sources have indeed remained unviable and come with their own downside, be it solar panels, windmills or ethanol. But failure is hardly a reason to continue our efforts – with ever greater urgency – to devise eco-sustainable sources of energy. The same holds true for carbon offsetting, which has fallen victim to widespread corruption and abuse.
And while there are worthwhile arguments against vegetarianism as an eco-friendly diet, this is not one of them:
Vegetarians who fly in exotic greens and fruits from around the world often leave a larger footprint than those who consume local meat or poultry in moderation. A 2010 World Wildlife Fund (WWF) report nailed the charade by pointing out that highly processed vegetarian meat-substitutes or foods made of imported soya might use more arable land and resources than their meat or dairy equivalents.
The practices of a small elite offer poor evidence to make a case against vegetarianism, more so in a country where local cuisines are freely available. Who cares about arugula or tofu, when most Indians who are vegetarian eat dal, chapati, sambhar etc. And never mind that an Indian elite addicted to gourmets meats – and in a culture where meat is a status symbol – is hardly in any danger of turning vegetarian.
Such cheap shots aside, Mazoomdar offers a timely critique that is must-read for all on Earth Day. Defined by eco-fanatics and climate change deniers, the polarised environmental debate is in need more reasoned and reasonable voices. We are indeed facing an environmental crisis. And what may save our planet is a willingness to put aside our ideological blinkers and embrace what works.
Read Mazoomdar's The Thing about Trendy Green on the Open magazine website 
Find latest and upcoming tech gadgets online on Tech2 Gadgets. Get technology news, gadgets reviews & ratings. Popular gadgets including laptop, tablet and mobile specifications, features, prices, comparison.
World
Puerto Rico, Myanmar and Haiti were among the countries worst-affected by extreme weather events.
Politics
The All Assam Students' Union (AASU) staged sit-in demonstrations across the state with black clothes tied to their face during the prime minister's visit to Sivasagar to distribute land 'pattas'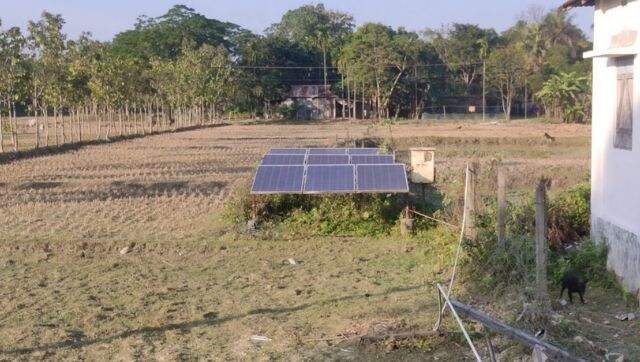 Lifestyle
The situation was vastly different some years ago, when water was scarce, farming was not an option and the community was forced to venture into the forest to earn a living. They encountered elephants, leopards and other wild animals in the reserve.