The death of a Byculla Zoo penguin: Dory's demise should teach us about the obsolescence of zoos
It is a time to reflect on the one-and-a-half year life of Dory — the Humboldt penguin that died in Mumbai last week and the questions her death raises over the future of her seven companions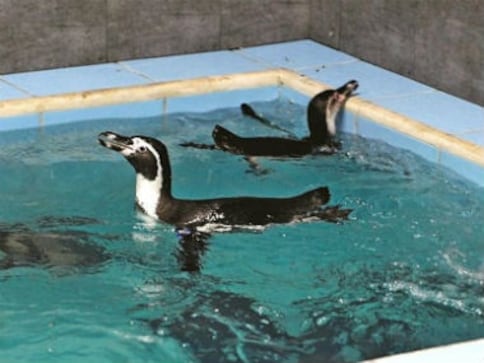 This is not the time to gloat "I told you so".
It is also neither the time to find a scapegoat, nor to politicise the issue.
The death of a penguin
Rather, it is a time to reflect on the one-and-a-half year life of Dory — the Humboldt penguin that died in Mumbai last week and the questions her death raises over the future of her seven companions. Initially, liver dysfunction and an intestinal infection were being cited as the reason for the flightless bird's premature demise, but the postmortem report showed that Dory had been unwell for around six days and may have died as a result of septicemia. The report added that the penguin's bloodstream contained gram-negative bacteria.
Afternoon Despatch and Courier quoted a senior veterinarian on condition of anonymity as saying that "Gram-negative bacteria originates due to unhygienic surroundings, water quality, food etc. The water in which penguins are kept should be regularly filtered. Failure to keep a check on water quality leads to a breeding ground for such bacteria. The bacteria can also be developed because of leftover food which has been kept for a long time".
We'll return to this shortly.
A statement had been put out earlier by the Brihanmumbai Municipal Corporation (under whose purview the Byculla Zoo lies) to elaborate on Dory's death:
That it was felt necessary to include the concerned doctor's credentials — "has dealt with Penguin Health and Management while doing her Masters from New Zealand" — in the press note demonstrates the sort of backlash the authorities were probably expecting.
But what of the other penguins?
Damage control?
"As of now, they are all healthy," Dr Sanjay Tripathi, director of the Veermata Jijabai Udyan (also known as Byculla Zoo) told Firstpost. "Dory's condition was not related to Mumbai's climate, since the penguin enclosure is climate-controlled." A senior BMC source pointed out, "Singapore has the same weather conditions as Mumbai, and the penguins there have no problem. We have state-of-the-art facilities in Mumbai and have taken all the necessary precautions."
Tripathi and the senior BMC official both added, "There is no question of sending them back or anywhere else."
Earlier this month, two bits of information regarding the zoo made the news. First, it was reported that the Byculla Zoo will be receiving 10 new species of animals by February 2017. The second was a report about a notice slapped on the zoo by the Central Zoo Authority ostensibly threatening its closure unless the quality of animal enclosures and upkeep was improved.
Tripathi assured Firstpost that the notice was a 'routine internal communication' and was not a cause for concern.
At this point, it's worth revisiting a 2014 letter written to animal rights NGO PAWS by the CZA's then deputy inspector general Inder Dhamija that points out that "the proposal was not advisable from the point of animal welfare issues, negative publicity, economics and difficulty in creation of naturalistic conditions" (emphasis added).
'Animal welfare issues' sound an awful lot like the sort of thing that leads to gram-negative bacteria infections.
Interestingly, after being told on Monday that the media was more than welcome to come and see the state-of-the-art environs in which the penguins were being housed, it was on Tuesday that we were told that no one apart from one veterinary official was allowed into the penguin enclosure. And I was really looking forward to going to see the magnificent seven too.
A CZA official on condition of anonymity told Firstpost that the idea of sending the birds back would be tricky as 'multiple agencies were involved'. In fact, a glance at the CZA document on 'Guidelines for exchange or transfer of animals between zoos' throws up a few glaring issues.
The third guideline states that "While approving exchange programme the past track record of the zoo with regard to success in breeding and infant healthcare and upkeep shall be given proper weightage".

The seventh states that "Exchange of animals to zoos outside India, shall be permitted only if it is in over all interest of the conservation of species concerned and also helpful in enriching the population of indigenous species in the country".

And the ninth guideline holds that "Prior to entering into an exchange with a foreign zoo, the antecedents of the foreign zoo and the nature of housing and health care facility available in the zoo shall be verified".
On conservation and common sense
It's worth mentioning at this point that if these guidelines refer to animals being sent overseas from zoos in India, the same should apply to animals being brought to India from zoos across the world. If the third and ninth guidelines are to be applied in reverse (ie in reference to Indian zoos receiving animals), no zoo on the planet would send animals to Byculla Zoo, which as pointed out in an earlier piece, has the worst mortality record in the country.
As for the seventh guideline (if inverted to apply to Indian zoos), conservation of species is far from what is at play in the move to bring Dory and her friends to Mumbai. Don't take it from me, let environmental activist and founder editor of Sanctuary Asia, Bittu Sahgal explain.
"This (the bringing of penguins) is a hardcore business proposition. There is zero conservation value associated with it," Sahgal told Firstpost, adding, "It's much better if they give up on this idea. It was a mistake. There's no harm in admitting they made a mistake. The city doesn't need it."
Pointing out that there are several zoos around the world that focus on conservation of species with a view to releasing them in the wild, he noted, "The present idea of zoos might have had some relevance in the days of the Roman Empire. But today, this (the penguin venture) is an absurd proposition. It's ill-advised, and it's aimed at entertainment and balancing project costs. Nothing more."
Certainly, the Byculla Zoo isn't without its merits, right? Right?
"It's a very poorly-run zoo and we don't really know what's going on there," said Sahgal, "But it's an excellent heritage botanical park. If that aspect was developed, they would get three times the number of visitors." As this elaborate article in The Indian Express points out, the botanical garden (known in the past as Victoria Gardens) on which the zoo presently stands, was once home to over 1,800 trees belonging to 150-odd different species.
But let's get back to the point about what can be done with the seven remaining penguins. Seven of an estimated 3,300 to 12,000 left in the world.
Can they be sent back to safer climes and friendlier environments?
"There's no precedent to send them back. The Centre can't do anything either. In fact, the government is mostly misled into believing that this is a good step," he added. It's worth mentioning that the carbon cost of climate control that will go into maintaining a barely adequate environment for penguins goes entirely against the grain of fighting climate change — something the government has gone to great lengths to point out it is battling.
The politics of it all
Meanwhile, the point is already in danger of being lost in the mire of political bickering ahead of next year's municipal elections in Mumbai.
On Monday, Maharastra Navnirman Sena (MNS) corporator and member of the BMC's standing committee Sandip Deshpande wrote a letter to the municipal commissioner Ajoy Mehta with the schadenfreude-laden subject line 'Yeh toh hona hi tha (This was bound to happen)'. Deshpande claimed that the MNS had decried the move to bring penguins to Mumbai from the time this plan was announced.
He went on to claim that the Rs 24-crore purchase of those 'innocent creatures' had been carried out due to a 'child's tantrum' thrown by an entity left unnamed in the letter. Back in July when the penguins arrived in Mumbai, the MNS corporator had suggested that it was Yuva Sena leader Aaditya Thackeray's 'tantrums' that resulted in the Byculla Zoo receiving penguins instead of kangaroos.
Adding that the lives of the innocent penguins were being toyed with, Deshpande, in his letter on Monday, called for the birds to be sent back home. He also asked the commissioner who was responsible for this waste of taxpayer money, before signing off with a 'we-told-you-so' kicker that formed the subject of the letter.
Shiv Sena leader Uddhav Thackeray reportedly did not take particularly kindly to the letter. After issuing a clarification about the conditions surrounding Dory's death, he fired a salvo at 'those who wish to save the lives of the penguins', asking if they would be able to 'save their own party'.
So what does this leave us with?
If politicians are willing to use minority groups of human beings as pawns in their game to win elections, what makes you think they're going to spare animals or birds? Don't for a minute let yourself buy into the proposition that either the Sena or the MNS truly cares about the fate of Dory's seven companions who are still standing.
Consider at this point that while the penguins are not even on display for the public yet, one of them has already died
Take a moment to let those words sink in.
So what to do?
We live in an age of wall-to-wall technology. An age in which Tupac Shakur — a couple or so decades after his untimely death — can appear as a hologram. An age in which 4D (and even more Ds; 7D and 9D attractions are de rigueur in major Indian malls) exhibits can bring time, space and textures in all combinations to one place at any given time. An age in which life-like scenarios can be recreated at home with a virtual reality headset.
What then is the need for zoos in this day and age?
Can we not create a perfectly well-rendered 3D environment filled with all sorts of flora and fauna at the right temperature to be credible? It's also far easier and cheaper to maintain.
But then again, where's the political mileage to be gained from that?
With inputs from Sanjay Sawant
Explainers
Jacinda Ardern gained international acclaim for her handling of New Zealand's worst mass shooting and her response to the COVID pandemic. But at home Ardern has come under increasing criticism over lockdowns, declining trust in government, and a deteriorating economic situation
Explainers
The brighter prediction comes as a survey showed Europe's economy growing for the first time since June and in the backdrop of lower inflation, improved supply chains, and the recent reopening of China's COVID-scarred economy. However, experts have warned that the UK is in for a rough go in 2023
World
New technologies are in the works, including hydrogen-powered aircraft, fully electric planes and synthetic jet fuel made from carbon extracted from the atmosphere