The case for baking your own bread: Keep chemicals away, and tradition alive
We need to bring back breads into our home kitchens, because that is the only way we can keep chemicals additives we see on commercial packs at bay
In all of literature, bread has always been used as a metaphor for food; for nourishment. That is how critical bread is to our existence. Despite the fact that bread, as we know it today, is only a couple of centuries old, a table will seldom feel balanced unless it has some format of bread prominently featured in it. The aroma of bread making — whether it is a mother making phulkas puffed to the seam on a naked flame or a French baker pulling out light as air baguettes with artisanal scoring on them — evokes a sense of comfort and warmth in us. Perhaps it is the carbohydrates, perhaps it is our conditioning — but the truth remains that bread does have a primeval appeal.
Isn't it terribly sad, then, that we are, increasingly, steering away from homemade or freshly made, small batch bread and seeking sustenance in frozen parathas and commercial "plastic pack bread"? It pains me greatly when people (especially from abroad) associate Indian breads with nothing beyond the naan. It is the culinary equivalent of associating India with elephants and snake charmers, however extreme that may sound. There is a plethora of Indian breads — leavened and unleavened — that are far more complex in taste and appearance and come with their own beautiful heritage.
Take, for instance, the lavash — no, not the crisp triangles that you buy at the supermarket to dunk into your dips — the Kashmiri version topped with poppy or sesame seeds that traveled from Turkey all those years ago to the valley and made its home there. Or the rich sheermal, leavened and poked and brushed with the comforting lactose flavors of milk and saffron, a Mughal inheritance that is still enjoyed today with delicately spiced kormas and niharis. The Goan poder is fighting to stand tall — he's resorting to using commercial yeast to make the gorgeous poee — a compromise in taste compared to the natural sweetness of the toddy that his forefathers used. The Maharashtrian eateries across the major cities are making a royal mess of the humble thalipeeth by deep frying it in notoriously overused oil when it should, in its correct format, be slow cooked with minimal fat on an iron skillet.
And yet, there is hope. There is hope in the dark pao walla's bakery around the corner, where he dutifully kneads kilo after kilo of dough and bakes it in a blisteringly hot oven no matter how humid it may be outside. There is hope in the women's cooperatives that offer employment to women who gather twice a day at their Poli-Bhaaji Kendra to make an extra bit of money by making the traditional chapatis and bhakris that they have been making in their home kitchens for decades.
We need to bring back flours and breads into our home kitchens, now more than ever because that is the only way we can keep "chemical additives", "emulsifiers", "improvers" and "stabilisers" and all those unrecognisable chemicals we see on commercial bread packs at bay. It is not difficult — bread making is in our DNA — we understand flours, hydration percentages, and kneading techniques by default! Yeast is a very small beast and taming it is very simple.
In my book Crumbs!, I hope to demystify the chemical alchemy of bread making, break down the complex terminology and make it more accessible to a novice bread maker. It hopes to bring the bhakri and the baguette into the everyday kitchen — without the addition of ingredients that one has to either import or ask a chemist to explain.
Rustic Multigrain Loaf
Baking time: 40 minutes
Baking temperature: 200 degrees centigrade
Yield: 1 medium-sized loaf
Ingredients:
200 grams multigrain flour (multigrain atta; or 150 grams coarsely milled Punjabi chakki style atta + 50 grams ragi and/or corn and/or jowar/bajra atta and/or brown rice flour in a combination of your choice)
60 grams/2 tablespoons wheat bran (available under organic brands at the supermarket or simply sieve regular atta to get coarse bran)
25 grams coarsely ground breakfast oats
20 grams fresh or instant yeast
5 grams sugar/raw sugar/honey
35 grams mixed seeds (use flax seeds, sesame seeds, poppy seeds, pumpkin seeds, sunflower seeds, melon seeds/magaj etc)
90 grams butter or olive oil
5 grams salt
180 milliliters lukewarm water (more or less as required)
A little extra flour for dusting
Method:
Mix the yeast and sugar with the lukewarm water and keep aside until frothy.
Place the flours, ground oats, seeds, and bran in a large mixing bowl.
Add the frothed yeast mixture to the flours and with a firm hand, bring the dough together, adding more water a tablespoon at a time, if required, to make a soft dough somewhat the consistency of a chapatti dough.
Tip onto a work surface and knead for 4-5 minutes, using the heel of your hand to push the dough further away from you and then bringing it back. This will help elongate the gluten strands.
Rub the salt and butter together on the work surface until the butter feels light. If you're using olive oil, you can skip the rubbing and simply mix the two together.
Knead the dough into the fat and salt mixture to incorporate. Knead for 3-4 minutes until the work surface and your hands look clean (indicating that the fat has been absorbed) and the dough feels springy to touch.
Return to the mixing bowl and cover with a plastic wrap or damp kitchen towel and leave to rise for 40 minutes to an hour in a warm spot. This dough will rise considerably but not quite double. However, if you have the time, make the dough and refrigerate overnight or for 8-10 hours at least. This will help achieve an airier crumb due to enhanced yeast activity.
If you have refrigerated the dough, bring it to room temperature (about 2 hours on the countertop) before proceeding with the recipe. Else, proceed as follows:
Punch the dough to degas it and knead it briefly on a lightly floured work surface.
Shape the dough into a ball, rolling it on the counter with gentle pressure to achieve a taut surface, tucking and turning as you go.
Place on a lightly greased and floured baking sheet and leave to rise again for 30-40 minutes, misting the top lightly with water to prevent drying.
Just before baking, dust the top of the boule with flour. Using a razor blade or very sharp knife dipped in flour, make a quick and shallow cross incision on the top of the dough.
Bake in a preheated oven at 200 degrees centigrade until well browned on top and hollow when tapped.
Cool completely on a wire rack before slicing.
Saee is a food-writer and consultant who runs a YouTube food channel and blogs at www.myjhola.in. Her latest book is called Crumbs! and is a chronicle of the different varieties of bread in India.
Entertainment
In the first scene of Our Daily Bread, Mary (Karen Morley) wards off debtors as John (Tom Keene) returns after a fruitless day looking for jobs, his days of dreaming big far behind him. So begins King Vidor's 1934 classic on the Great Depression.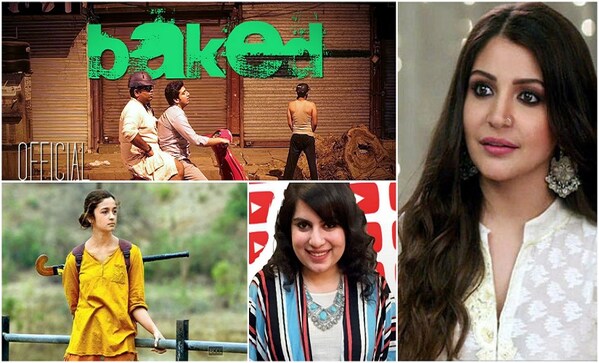 Entertainment
2016 was a year which we will remember for the kind of people it introduced us to on celluloid and in web series, from Alia Bhatt's unnamed character in Udta Punjab, to the web series Baked, where each character has its own charm.
long reads
From 'lavaas' to 'girda', Kashmir has a delicious array of local breads | #FirstCulture