Taslima Nasrin on being a writer in exile: Bans and censorship hurt; but banishment hurt the most
In an interview with Firstpost, Taslima Nasrin speaks about being a writer in exile, taking on both religion and patriarchy in her works and why her novels are never disconnected from social realities.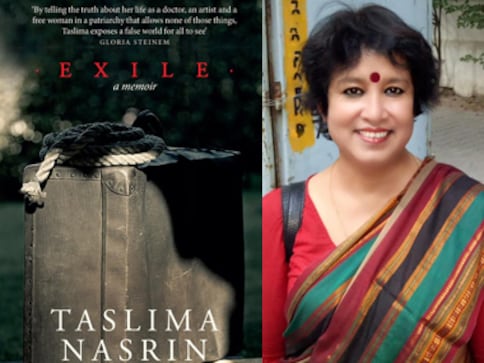 Bangladeshi writer Taslima Nasrin is back with a new book — this time, a memoir called Exile. Published by Penguin Randomhouse, Exile has Nasrin disclosing the series of events during the seven-month struggle that led to her ouster from West Bengal, Rajasthan and India; the time she spent under house arrest and the "anxious days (she) had to spend in the government safe house, beset by a scheming array of bureaucrats and ministers desperate to see (her) gone".
In an interview with Firstpost, Nasrin spoke about being a writer in exile, taking on both religion and patriarchy in her works and why her novels are never disconnected from social realities.
Excerpts:
From your writings being banned, banished or rejected to panelists refusing to share the stage with you in discussions and debates, you have been targeted one way or the other. Which one of these many instances has hurt you the most and why?
Every ban and censorship hurt. But banishment hurts the most. Banishment took away the ground from beneath my feet. What I need now most is a firm footing to stand up somewhere to fight for the freedom of expression. I was banished from both East and West Bengal. As a Bengali writer it is necessary for me to live in Bengal, though I am equally entitled to live wherever I want to live and to express my views which can be in-consonant from a hell lot of others. But banishment throws me away from my readers. There are not only people who hate me, or try to banjax and even eliminate me, but there are also people who love and respect me, who are encouraged and inspired by me and who need me. I undertake the risk of my life to speak up for the betterment of society. Come what may, I will never be silent.
You often write and openly address the two oldest systems of subjugation in our culture — religion and patriarchy — which themselves are neither mutually exclusive nor critical of the other. Do you feel there is enough freedom or space to address them? For those who are willing to, what would you say could be a way of tackling the isolation that will be a natural outcome?
There is not enough space to address religion and patriarchy. The state uses religion to control people, and the society uses patriarchal systems to control women. Whenever I challenge the two, I get attacked not only by misogynists and fundamentalists, but by the state and the society as well. My books get banned, I get censored, blacklisted, physically attacked and eventually banished. But I do not shut my mouth. I urge people who fight against religion and patriarchy not to give in whatever be the odds and continue fighting for equality and justice.
In your book you write openly about reactions to your writings and relationships within the literary community. Has there ever been a point when you thought you were putting too much of your personal life out there? Are you not fearful of your personal life becoming public knowledge?
I did not write about 'reactions to my writings and relationships within the literary community' anywhere in my creative works. But in my autobiography I have revealed everything of my personal life. An autobiography is about one's personal life. I have not hesitated to disclose my experiences. I am not a criminal, nor a hypocrite nor a liar. Never have I harmed anybody. But some people from the literary world tried to besmirch and destroy me. Ironically, they are treated as great people. Nobody knows they can be so conservative and cruel. I have been a victim of their petty politics. In my autobiography if I hide the truth, then I should not be writing the autobiography at all.
Of all the opposition you have faced which one would you say has made you feel the most threatened — the religious or patriarchal? Do you remember instances when these threats made you fear for the worst?
Religious fundamentalists are visible. Everybody knows they are bad people; they kill. However, not many people know that you can be killed by patriarchal people also. I divorced the man who I married, because he cheated on me; patriarchal people blame me, not him. I had a sexual relationship with my boyfriend; they call me a prostitute, but have nothing to say against him. They hate me because I have not lived a conventional life and I criticise the patriarchal system and oppose misogyny. All religious fundamentalists are patriarchal because religion is grounded in patriarchy. The patriarchal people are also those people who are not religious or religious fundamentalists. You will find misogyny among atheists and rationalists as well. It is not that difficult to be atheists, but it is not that easy to be feminists or true believers of women's rights either.
Do you think writers and literature for that matter has distanced itself from key issues in our society. Is there a disconnect? Is our literature far too cosmetic to amount to anything at all, other than a text to pass time with, or even escape?
I am a socially committed writer. I write poetry, short stories, essays, novels on women's rights, human rights, humanism, rationalism, feminism, freedom of expression and many other issues. Many writers do not write about any problems at all. They write love stories and treat women who believe in patriarchy as chaste or great women. You would not find any fiction in which a revolutionary woman or a woman who believes in sexual freedom, freedom to say yes or no to sex, is portrayed as a great woman. Most popular male writers in Bengal unfortunately hate feminism, and exploit women. I do not think they seriously want to change society. They love the status quo.
Does a book, or a text, have a homeland and need one? You have been in exile for some time, but your writings still go around. Would you ever exchange places with the books? Do you ever contemplate things like — giving up writing to return home?
Never did. Will never do.
Finally, Exile will probably be read by a number of your detractors. Apart from them, who do you think the audience for your book is? From Uniform Civil Code activists to women fighting against Triple Talaq, is there a group of people who Taslima Nasrin hopes to inspire and motivate for the struggles ahead?
People who read my books will continue to read my books. I know about my Bengali readers. But for the English audience it is different. I am not that widely read by English language readers. I expect progressive people to read my book. But I would be happy if all kinds of people read my books- men and women, progressive and retrogressive. I do not want to convert the converted. I want the blockheads or shitheads to read my books and change. It is not easy to change people besotted with ideologies, be it religious obscurantism, patriarchy or misogyny. These are benighted people who need exposure to modern, scientific and rational thinking. I do not believe in writing belles-lettres. My writings aim at changing society. How far writings can [help] do it is a debatable issue. It is immaterial whether I succeed or fail but I will continue my fight for change and no force can subdue me.
Opinion
Upper class readers basking in their growing prosperity, and adulation of India as a dominant economic force, are making a mistake in underestimating risks posed by growing divisions in our society. It is not only inhuman, but also unsustainable, says Mukherjee
World
Booking directly through airlines involves navigating a maze of fees, add-on offers and confusing seat selection choices. The resulting price at the checkout is often higher — much higher — than the advertised price
India
MP Congress Committee's media department chairman K K Mishra told media that he does not have information about the case but prima facie, it seems to be a "politically motivated" case