Tango in Argentina, Shah Rukh Khan in Bolivia, Incan culture in Peru: South America travel diary
In part two of Mumbai-based couple Sandeepa and Chetan's South America travel diary: their journey through Argentina, Bolivia and Peru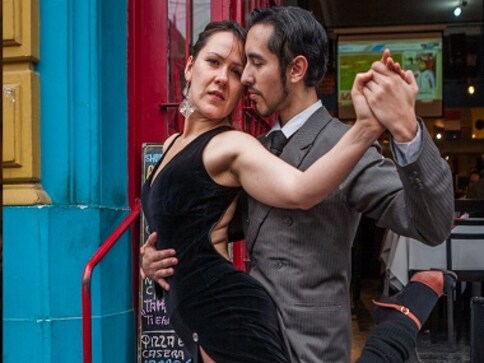 Editor's note: This is the second in a four-part travelogue series on South America. Read part one — on travelling through Brazil — here. 
Open air tango. Vintage markets. Opulent tombstones. Cafes. Parillas.
Laughter and  celebration.
Happy people of the happy-aired city: the literal translation of Buenos Aires.
Buenos Aires had too many contenders for the first impression, but what struck us most were the shadows.
A 28-hour bus journey had got us from the warm tropics near the Iguazu waterfalls to Argentina, our second country in South America. It had also got us to the southern hemisphere winter. Buenos Aires was where greens started turning to browns. And because shadows meant the cooler side of things, we started running away from them.
If it was cold, it wasn't welcome. Except for the helados (Spanish for ice cream. Many of our exploration breaks were spent in ice cream parlours, devouring the buckets filled with 3-4 flavours — one of them invariably the dulce de leche. Those were the smoothest, creamiest bowls of happiness we've ever had!
The few things we did right after our arrival in Buenos Aires set the precedent for the rest of our visit.
For the first lunch here, luckily on a Sunday, we visited a parilla (pronounced parish).
What's a parilla? Loosely translated, it's a steak house.
What do you get here? Asado.
What's an asado? Say it's a barbecue, and earn the spite of an Argentinian forever.
It is grilled meat — exclusively Argentinian meat, grilled only like the Argentinians can. We saw sausages and steaks being consumed by the buckets (yes, that's how they serve the meats)! The parilla was filled with the warm aroma of grilled meat and the loud sounds of laughter. Each meal on each table felt like a celebration.
Choose a barrio — neighbourhood — and spend the day there, was how we explored Buenos Aires. Nico, our friend and host (we had met in Mumbai a few years back through Couchsurfing) would arm us with the map and bus numbers before we left.
A day was spent in the super plush Recoleta neighbourhood — massive houses surrounded by manicured lawns. In all likelihood, their ancestors were the ones tombed in the famous Recoleta cemetery. Grandiose, multi-storeyed, highly carved artistic tombstones. It was spooky walking through rows of these knowing there were only coffins inside. We were aware of Argentina's identity as the Paris of the south, but staying stylish like this even in death - a bit too much!
A weekend in San Telmo, the oldest neighbourhood in Buenos Aires introduced us to the vintage market. People come here looking for hidden treasures— old magazines, cassettes, jewellery, camera, and mainly, the old world, hand-crafted-to-precision tools.
A visit to La Boca was another colourful weekend activity. It could be labelled "made for tourists", but open air tango performances are a delight — touristy or not. Bright red, yellow, blue shacks, local artists selling pictures of these colourful shacks, cobbled streets, puppet shows and tango, even a Charlie Chaplin — it is an all out entertainment avenue for everyone.
The heart of La Boca, however, is its football. This was Diego Maradona's first football club, and he enjoys the status of a demi-God here. The people living in La Boca refer to their barrio as the La Boca Republic. They like to think of it as a self-sufficient country - they study here, work here, live here, their friends and families are here. Rarely do they need to step out of their neighbourhood.
Many in Buenos Aires guessed we were Indians just by our looks. This Indianness received a range of reactions. A man in the vintage market proclaimed, "I loved him, and he loved me back — the President of your country" (referring to Gandhi). A young guy in all earnestness told us that his father was a Krishna devotee, which is how he had such an Indian name — Vishnu. He even showed us his identity card with the name Vishnu. "I am Shah Rukh Khan," was a marketing strategy used by another young guy in La Boca.
In the evenings, the streets of these neighbourhoods would come alive with live performances of the local musicians. The air filled with the resounding notes of these open air, free for all music shows.
These street bands (and their tattoo-artist manager), the singers and tango performers in the cafes and bars. The audience which danced their hearts in the middle of the road. Or the goth dressed father helping his pink clothed daughter appreciate the music. They all represented the free spirited nature of Buenos Aires. Everyone could pursue their passions and earn a living doing it. No one needed to conform to a stereotype. Their life was theirs to choose.
Which wasn't exactly the case when we moved into Bolivia. The natural setting of the country — most of Bolivia is the Andean altiplano, at altitudes over 3000 meters (Leh is around 3500 meters), takes a lot of choices away. At those altitudes, survival itself is the biggest challenge.
Harsh natural conditions have only added to the economic woes. (If Argentinian buses = first class in flights, Bolivian buses = state transport buses in India).
Pachamama (Mother Earth) is the biggest influencer (deity) here. Traditions haven't changed in centuries. Neither have the attires — women still wear the long flowing skirts, tie their hair in two long braids. The only addition is a hat — introduced by the Europeans.
After this first impression of the Bolivian altiplano (especially during our tour of Salar de Uyuni), Sucre came as a complete surprise. Expats, mainly Europeans were everywhere, especially in areas around the main square. Bars and restaurants were at every corner. Even our hostel was called Celtic Cross and run by a German and an Indian-origin South African!
A Swiss man, who had a Bolivian "woman", ran an art gallery. We were given a quick introduction to the Bolivian artists by this Swiss man. Mamani Mamani with his bold colours and strong lines and Eusebio Choque with his depiction of the Quechuan people and their mannerisms without revealing any faces left a strong impression. No matter where you live, in what economic or geographical conditions, people find a way of expression through art.
Sucre is the capital of Bolivia, though the government doesn't sit here. The President doesn't live here. Only the judiciary operates out of Sucre.
Its UNESCO world heritage status gives Sucre a sophisticated look. The houses around the main square have to be painted in white, the roofs have to be red tiled. From a hilltop, Sucre presents a striking red and white panorama.
Sucre is also an education hub of Bolivia (and Latin America). From drawing to engineering to Spanish, people come here to study. Many travellers stay in Sucre to learn Spanish like we did, making Sucre the place we stayed the longest. It was wonderful to have a routine. Wake up, make coffee and breakfast, attend classes, go to the local market (Mercado Municipal) for lunch, buy meats and vegetables for dinner. Walk around the lanes, go to the hilltop to watch the sun set. Make dinner, spend the time catching up with fellow travellers and our hosts in the hostel.
On one of the weekends, we visited a tiny village called Tarabuco, up in the hills. It's remote enough that many people do not even speak Spanish — they still converse in Quechua. Walking around its narrow dusty lanes, we were forced to stop and turn our heads into a hair cutting salon. Up there on the walls, along with posters of Cristiano Ronaldo, was the poster of none other than Shah Rukh Khan! When we told the hairdresser that we were from India, he pointed to the poster and asked, "Tum pehchano?" He was highly disappointed, however, when we told him that we didn't know Shah Rukh Khan personally.
From the man at the laundry, who had the look of, "Oh my God, how lucky are you guys", when we told him we were from India ("Que peliculas!" — what movies! And pointed us to the CD of Bollywood numbers he had in his shop), the girl at the booking desk who had popped a bizarre, "Do you love to dance?" because she had seen people break out into dance for no reason in the Hindi movies to people in the markets stopping us to ask us if we were from India and would just say "Shah Rukh Khan!" — everyone seemed to be in love with Bollywood. We had a newfound respect and a never before felt belonging to Bollywood. Little had we expected to feel this in Bolivia!
We left behind the Andes for a while and visited Santa Cruz, to the east, to get a feel of tropical Bolivia. After days of spine chilling cold, it felt wonderful to have sweat drenched clothes. Santa Cruz was nothing like the rest of Bolivia. The roads were wider. There was a supermarket unlike the Mercado Municipals in the other Bolivian cities. You got food beyond the corn, potatoes and fried bananas like you did in the Andes.
People were more westernised (we didn't see a single woman wearing the skirt). More people spoke English, many had stepped out of Bolivia for education. The people felt closer to the neighbouring Brazil than the rest of Bolivia, some to the extent of disliking the Bolivian association!
Peru was a last minute addition to our countries to visit in South America. "You can't go to South America and not see Machu Picchu," we were told. Cusco is the base city to start your visit to Machu Picchu, whether trekking, taking the bus or the train.
We hadn't realised the extent of the popularity of Cusco until we reached the bus station at 6 am, still dark and were accosted by hotel agents. This had never happened before in our entire time in South America. We knew we were in the tourism capital of South America.
Cusco had everything Incan. The Incan walls still stood as a mark of the Incan civilisation. There were Incan museums. Incan tours, Incan stays. Incan hotels, Incan everything. On our first day in Cusco, we went for a walking tour of Cusco.
Our guide introduced us to the ancient Incan civilisation — the 500-year-old "ancient Incan civilisation". We first thought it might've been a mistake. How was 500-year-old anything ancient? Didn't we have hotels and palaces in India that were that old? Did we refer to the Maratha or the Maharana Pratap history as ancient?
From then on, we saw everything in Cusco and the rest of anything Incan as a comparison to how we dealt our history and all things historical in India. How well the Incan legacy was marketed, and therefore the remnants preserved! Was there a lesson to be learnt from Cusco?
After Cusco and Machu Picchu, we went straight up, away from this Incan extravaganza to the capital, Lima. Post-Buenos Aires, after a gap of almost three months, we were entering a megapolis — a city with uniform concrete-glass facades. A city of many nameless, faceless people. A city easy to be anonymous in. It might've been the distance, it might've been a gap of several months of being away from Mumbai. But in its sheer size, we felt at home in Lima. It isn't a city very high on travellers' list.
In the evening, we headed to the coast of Lima. As we saw the sun set over the Pacific, we felt a strong urge to wet our toes in the Pacific waters. We had begun our journey at the Atlantic, traversed the continent of South America, collected a treasure of memories, and now reached the other end. Lima was the westernmost point of our journey. From here on, we would be moving in the direction of home!
Sandeepa and Chetan are full-time travel bloggers and photographers. You can follow their work here. They've been travelling long-term since 2013.
Read part three here.
Entertainment
Though the stardom era is coming to an end, the nostalgia and craze attached to the world's greatest superstars, Shah Rukh Khan and Tom Cruise, makes us believe that some things don't change.
Entertainment
The biopic on S Nambi Narayanan's life, Rocketry: The Nambi Effect opens to the world, Firstpost speaks to the persecuted genius.
Entertainment
There is no Don 3 happening in the near future, and certainly not with Shah Rukh Khan and Amitabh Bachchan in the lead.