Surrogacy Bill pushing for RSS' 'adarsh samsaar': Who decides what is a family anyway?
The bill has brought in a totally fallacious phrase called "altruistic surrogacy" that restricts this right to married couples with or without children who wish for another child and can procure it through the serves of a distant relative for surrogacy.
Before I start analysing two allegedly "progressive" steps taken by our otherwise insensitive bureaucracy and political class, may I cite three examples of alternative families in Bombay? I see them as models of how compassionate human beings can be when allowed to choose to contribute to social good as good-practices-citizens.
A short distance from where I live, resides a wonderfully warm single woman who is a divorcee and has now decided to abandon any future of heterosexual marriages because she has crossed her 'peak', beyond which one finds women are put on the shelf because they are "beyond the age of reproductive bandwidth", as they ruthlessly say in our society.
Both of us have networked with other single people without support  systems and evolved a workable "virtual family" where we help each other out during crisis. One of us has been looking after a very ill gay man without any prompting or help. My woman friend is always there for me when I feel depressed just as I am there for her. In other words we are a great new kind of family.
In the western suburbs, I must point out two lesbians who are great career women. One fine day, they saw their maid go through a crisis when she gave birth to a male child and the father had abandoned the mother and child. These incredible women just picked up the child and brought him home. During a visit to an orphanage, they discovered that the children are put up in unhygienic conditions — diapers not changed for days. The child now has a fabulous home and I'm proud to have held the child too as a budding parent – at 70, mind you! My colleague, another gay man, is called Papa by the two women. It's our kind of family as single gay and lesbian persons in an otherwise uncaring world. We know that we are walking on thin ice — the father would come any day and take the child away; and we will be left without a locus standi.
The third case is personal. Finding myself at the precipice of 70 and slowly needing help with my creaking bones, I formed a "gay family" of senior homosexuals of 55 and above. We have had  our first meeting and are going to evolve our very own family system as their biologoical families have abandoned them for being "single and cantankerous".  We are trying to "adopt" young men who can be buddies and friends who can help us become more useful to our communities.
But, the two bills that are about to become law are going to try and destroy even that small chance of us evolving as alternative family systems in a disintegrating hetero-normative world.
One is the ridiculous bill asking for a blanket ban on surrogacy for gays and lesbian couples from having surrogate mothers give them the children they want. Adoption is also prohibited because of our sexual truancy; while the other is to keep live-in same-sex or heterosexual couples out of the reach of parenthood through the surrogacy route. Why is there a moralising and hectoring tone without any empirical evidence to show our malafide intent? The surrogacy bill has been promulgated through a cabinet diktat that is inherently illegal.  It is denying the right of a woman to do with her body as she pleases and thus impinges on her Fundamental Rights for quality under the law and her right to privacy.
Notice the absolutely rigid concept of a heterosexual nuclear family and the great references to the non-existent great Indian extended family network which is as good as dead.
The bill has brought in a totally fallacious phrase called "altruistic surrogacy" that restricts this right to married couples with or without children who wish for another child and can procure it through the serves of a distant relative for surrogacy. Notice the absolutely rigid concept of a heterosexual nuclear family and the great references to the non-existent great Indian extended family network which is as good as dead. It could only come from conservative BJP upholders of the RSS adarsh samsaar that Bhagwat and company keep on talking about.
The bill is in response (allegedly) to the sudden emergence of India as a hub for "wombs on hire" and condemned in the media by reportage that has been highly moralistic and judgmental. The bill ought to be condemned for what it is: Regressive and one that has been created for a set of second hand citizens by virtue of their single status or living in alternative family systems. For example, what happens to two transgenders wishing to get a child through surrogacy? This bill denies them that because this "surrogacy business is worth Rs 900 crores in India (I quote The Times of India's 25 August edition).
Another route for corruption has been opened up in this bureaucracy by demanding that these clinics get registered and for surrogate parents to be couples "married for at least five years and for one to be infertile". The total lack of diligence is flabbergasting. Do they not understand that infertility itself is "treatable" and that even a majority of hijras are perfectly fertile males cross-dressing and in transition as kotis (effeminate males)? So who decides here what is a family? And who decides if a woman is "poor" and not capable of taking charge of own body and its autonomy? This paternoster patronising bill is not only unconstitutional but actually transgresses several fundamental rights like the right to privacy and equality before the law.
If challenged, it can be struck down though with some of these antiquated judges sitting on our Supreme Court bench, I despair at a total lack of diligence in both the judiciary and the bureaucracy in trying to marry their 'progressive views' with their rampant and rigid heterosexual mindsets.
So who decides here what is a family?
As if to compound matters, Minister and thoroughly confused Maneka Gandhi has caused more harm by stating a stereotype that exists: The great Indian father who now stands at a cross roads with working women (increasingly prevalent in two-income families.)It is anecdotal data that fathers in India do not help with either housework or child rearing activity, though this is a stereotype that is being breaking down rapidly in urban India. Maneka thinks that giving fathers long and equal "paternity leave" equivalent to the "maternity leave" of 26 weeks to post-natal women will be "misused and abused by the men taking off for free paid holidays." A TV debate on Times Now led to the usual shouting matches where Arnab chastised me as falling for the Menaka stertotypes and pulling two single fathers – Sandeep Soaparkar and Aditya Tiwari – out of his hat to prove how wonderful Indian fathers would be.
Firstly, the very fact that both were so lauded in the press was because they were single fathers, a very rare phenomenon in India. Mostly in our hardbound traditional patriarchal male-dominated India social landscape, it is women who have been abandoned by their husbands or male partners raise up children on their own.  To then, give such fathers the same facilities under some ephemeral right to equality when we are dealing with two unequal people in present day India is giving licence to abuse.
When I suggested that all single parents (male or female) be given paternity/maternity leave of 26 weeks to start with, a huge hue and cry was made by some Hindu priest who started shrieking in a shrill voice about "injustice to fathers" and "stereotyping of irresponsible fathers" by Maneka Gandhi. Strangely, the two women were definitely on my side as they got agitated and Arnab not  taking their protests at this sudden urge for "equity" as bogus "concern". One woman said that when we don't even have a Uniform Civil Code, Arnab pretended not to hear that, knowing fully well that Muslim Personal Law permitted the father to take away custody of the children from their mothers.
In conclusion, let me end with some victory for the wild hetero-normative world. With Section 377 still on the statutes, some gay and lesbian women are already demanding the right to marry (which I think is laughable). Neither gay or lesbian women couples are legitimate in the eyes of the law. Hence their marriages are null and void and they can be jailed forthwith. Hence concentrate on matters at hand – like fighting to get Section 377 off the statute books. And then prepare for marriage and parenthood. Till then, work very hard to build virtual/families in every way you can. There are a lot of us out there who need help. It'll do you good to help us single senior people to live a dignified life even though we're just a little over 10 per cent of the population. Learn responsibility and duties instead of the hectic partying that's the hallmark of the LGBT scene. Meanwhile, Menaka and our great Delhi political class can go on with their legal and political gymnastics.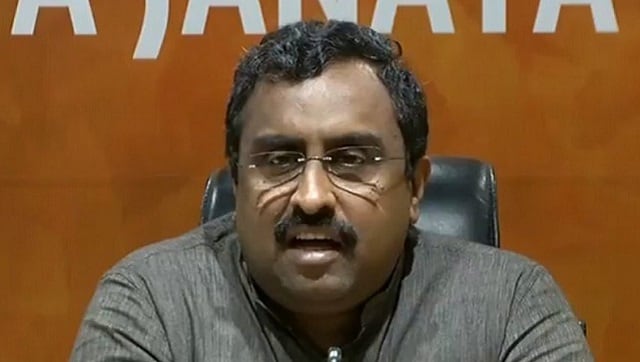 Politics
As he comes out with his latest book, The Hindutva Paradigm, Firstpost talks to him about various issues, including Deendayal Upadhyaya's Integral Humanism, the recent killings of Kashmiri Pandits in the Valley
India
The Uttar Pradesh government told the apex court that statements of only four out of 44 witnesses have been recorded by the judicial magistrate. The top court has posted the matter for hearing on 26 October
India
The RSS chief spoke about preserving traditional family values and traditions. He also urged people to visit Indian tourist sites, consume home-grown food and wear traditional outfits.