Stay warm in style this winter
Are you up for celebrating this winter while romancing heritage with ensembles that wear your mind and give you warmth enough to melt your heart?
The winter waves are here with all its suave charm and refreshing cold, bringing more warmth and style inside a contemporary Indian man's wardrobe.
This winter unravel your multi-dimensional personality with a more enriching and fulfilling life, made of several micro moments. Or, rather made of superfine microns pulled together in stylish sweaters. And how!
Dress as per occasion and let your winter wear define your persona
Sweaters are a trendy piece of clothing during winters. And you can make them trendier. Every apparel you carry off tells a story of your life and lets you express yourself distinctly, depending on whether you are getting ready to take on the board meeting, going for a Sunday brunch with your pals, setting the course for a wintery weekend at a beach or looking for casual must-haves.
Layering-up your knits for a neat look that keeps you warm too, like a wool coat or a cashmere sweater is quite the in-thing. Team your thin merino wool V-shaped neck cashmere with a bright silk shirt and matching trousers for a never-to-miss formal look. Beautiful and intricate embroidery on the luxurious merino wool gives a class and substance to your gracious demeanor.
Let some colors & patterns walk in your closet
Your magnificence cannot only be described in greys and blacks. Throw in a dash of color and the brighter hues and patterns in a merino wool sweater with an extra soft hand feel and warmth like a cozy Sunday afternoon would make you feel special. As the mist descends and winter calls for warm, go for comforting tones of blues, maroons, burgundies, wines and whites and patterns ranging from checkered to striped.
Play with Neckerchiefs and oversized scarfs
The new and stylish way to protect yourself from the cold this season is a printed cotton-silk mix piece of cloth in your wardrobe - your neckerchief. When paired with a textured, easy-to-wash merino wool sweater and slipped on to a shirt with folded sleeves, they set out a subtle and delicate statement while bustling with color and pattern. You can also opt to tie a bandana and let its ends hang loose over your sweater for a cool and smart eyeball-grabbing look.
Opt for handsomely crafted solid colors that mean business
A smart casual for a Friday work wear, solids are must-haves for the winter. Shades of brown bring certain neutrality and a sense of style whether paired up with a simple T-Shirt or a pinned shirt. Achieve the picture-perfect look with a 16.5 micron superfine merino wool full-sleeve sweater for an optimum coverage and a cozy comfort all day long. A style staple you must own!
Raymond's legacy woven with Merino's legend
The legend of premium quality merino wool with brilliant warmth-to-weight ratio and an outstanding history that speaks of 12th century luxury is now a part of Raymond's legacy of over 9 decades and will come to define the 21st century royalty.
Spanning from Spain to Australia, you can now locate the fleece of Merino sheep woven into an exceptionally fine fabric at a Raymond store next door in their Sweaters collection. The story spans 9 centuries but constitutes only 16.5 microns of merino wool and transforms into a winter secret that you can keep with poise.
Are you up for celebrating this winter while romancing heritage with ensembles that wear your mind and give you warmth enough to melt your heart?
This is a partnered post.
Find latest and upcoming tech gadgets online on Tech2 Gadgets. Get technology news, gadgets reviews & ratings. Popular gadgets including laptop, tablet and mobile specifications, features, prices, comparison.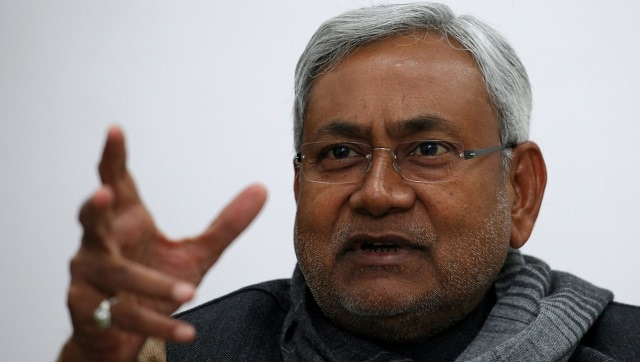 Politics
The meeting comes amid uncertainty over Kumar's alliance with the Lok Janshakti Party and if the party will fight the Bihar polls with the JD(U)-BJP combine
Business
With this deal, Jio Platforms and Reliance Retail now account for over Rs 9 lakh crore of RIL's valuation.
Brands
Based on real-life events, this film is a must-watch.