Srividya Natarajan on researching the traditions of the Isai Vellalar community, and the appropriation of their art
The author weaves a fictional telling of the Devdasi in her work, embroidering the tale by attaching a tiny fabric of herself to the characters rather than expressing her discoveries "in the form of a dry scholarly publication"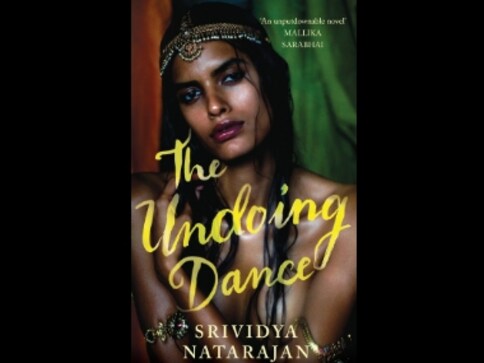 The Madras Devadasis (Prevention of Dedication) Act of 1947 abolished the practice of offering prepubescent girls to temples as wives of the deities and prohibited dancing by women in any temple precinct or religious institution. The Act crafted with the purpose of drawing a curtain on young women dancing for priests, landlords and courts of rulers and kings had a significant role to play in the shift from what was then known as Sadir, dasi-attam or chinnamelam to a more subtle, sanitised dance form, Bharatnatyam.
Small Devdasi communities, compelled to live out their days in penury and disgrace, continued to thrive despite it all and practiced their art in secrecy for decades. Today, accounts of several such Devdasi artists have brought into question the appropriation of their art form by an upper caste audience and the treatment accorded to them after Sadir was condemned for being amoral and exploitative of the nautch women.
Author, dancer and academician, Vidya Natarajan, a doctorate in the History of Sadir weaves a fictional telling of her understanding of the Devdasis in her latest work The Undoing Dance, embroidering the tale by attaching a tiny fabric of herself to her characters instead of expressing her discoveries as she notes, "in the form of a dry scholarly publication."
Earliest traces of the Devdasi, the wife of God, can be found in young girls belonging to various castes integrated into one social group living under the protection of the temple authorities and dedicating their lives to dance and music.
Natarajan's expertise lies in what is known as the isai vellalar community, described by her as the collegium of "non-brahmin artists, teachers, performers, and musicians" who have nurtured south Indian music and dance over many centuries.
The Undoing Dance is the story of three artists: Rajayai, a Devdasi; her daughter, the ever graceful Kalyani, who is prepared to escape the turmoil surrounding a Devdasi identity to start afresh; and Hema, Kalyani's child who refuses to completely surrender herself to her art. In each of these characters, one would find a little bit of the author.
"Into Kalyani I put some of my sadness at not having been able to pursue dance as a career, though my reasons were not hers; and into Hema I put some of the revulsion I felt towards certain features of the dance world."
The author of No Onions, Nor Garlic learned dance under the tutelage of Kittappa Pillai, a scion of the Tanjavur Quartet and music from the exponent T Brinda before turning full-time to her academic pursuits.
Moved by the depth and haunted by the beauty of her gurus' art, Natarajan was inspired to delve deeper into why Sadir was disregarded and reformed into Bharatnatyam in a movement that began in the early 21st century.
The all-pervasive idea behind abolishing Sadir was its association with patronage, cultivating relationships with men outside of wedlock and robbing women of the chance to be chaste Hindu wives. But Natarajan points out that while the reformists advocated wife-hood, it was not a role that gave women rights or power or choices.
In a similar vein, when Kalyani is offered a shot at 'normalcy' by Balan, it is at the cost of hiding everything about the tradition she was born into. And despite being permitted to bring her art to her new home, Balan's interruptions while she rehearses distance her from her music.
"In Balan," the author says, "I was trying to capture the kind of man who actually does love art, and would perhaps even have loved his wife's art, if he had found the energy to stand up and really oppose norms of propriety."
Natarajan also gives another reason for this disturbance: talent makes people fiercely focused and absorbed in her art, Kalyani forgets Balan's existence, something he cannot bear.
*
The isai vellala women, that Natarajan has extensively studied, performed routines like the Navasandhi Kavuttuvam and various Kuravanjis during temple festivals; the more athletic among them, she said, also performed acrobatic acts like the raattinam, where the dancer spun round and round on a pole.
Muttukannammal's gorgeously folksy Salaam Daruvu, Balasaraswati's highly sophisticated Mohamaana, Maddula Venkataratnam's sandhi vicchedana (interpretation) for a single line of a varnam, are among the author's favourite compositions.
Drawing a detailed picture of the life of a Devdasi, Natarajan notes that it was hardly perfect but had its own share of privileges. Her dance and music, primarily performed in temple grounds were "not so much individual dances as a whole spirit of continuity — between 'rustic' performance and 'classical' pieces, between poetry or dramatic recitation and dance," an essence that according to her has gradually faded away.
Natarajan's construction of the history of the Devdasis is built from their own accounts — their lives were quite different in the 1930s from what they were like in the 1960s.
She explains that historically, Devdasis were bestowed with social respect, property rights, artistic self-expression, public admiration, and a sense of involvement in important communal celebrations, rights which were revoked in the wake of the anti-nautch movement.
In fact, this narrative can be traced back to the golden days of the Chola dynasty when the king donated lands and houses to nearly 400 Devdasis to serve the Gods.
In most matrilineal settings, womanhood and a girl child was a cause of celebration.
The author who now teaches creative writing at King's University College, Canada says that when she met women from the isai vellela background during a research trip, she heard almost every one of them speak with nostalgia of the days gone by.
She describes the life of the isai vellala dancers as brimming with relentless practices, rehearsing with their orchestras, travelling to different towns (in the early 20th century by bullock-cart, and later by bus and train), performing in the temple or courts and training their children to be dancers.
However, there was a flipside to their existence. Natarajan opines that almost all institutions in India are scored through with misogyny and patriarchal values, and the Devadasi system was no exception. "Dancers were vulnerable to exploitation by male teachers, for instance, or by priests."
And the only alternative she notes that 'reformers' piously advocated was being a good Hindu wife.
She adds that examining a female role from the past through today's egalitarian lens will not do. "It wasn't as if there were any spaces for women completely outside the influence of misogynistic ideas and practices."
By the 1930s, she explains that the Devdasis had also begun to think of how they would modify their lives to adapt to the changing situation following the onslaught of the shame and dis-empowerment associated with their identity — whether by signing petitions to protect their rights, or by pursuing other professions like acting, or by affiliating themselves with efforts such as Periyar's Self-Respect movement.
At this time, in addition to being well-versed in the kitchen, an artistic bent was becoming in an upper caste Hindu woman. Natarjan's thesis thus argued that "Sadir had to be leached of its deep connection to erotic poetry in order to be reinvented as a performance art that could become part of the identity of upper caste/savarna women."
Founding Kalakshetra in 1936, Rukmini Arundale nurtured this idea, Natarajan opines, a cultural resurgence that could function in tandem with the political struggle for freedom from British Imperialism.
"The story in The Undoing Dance begins in the 1950s, long after this transition, and captures the gradual transformation of bharatanatyam into a badge of caste and cultural privilege, rather like a Toyota Corolla or jacquard curtains, and the cheapening of its artistic value."
The Undoing Dance by Srividya Natarajan has been published by Juggernaut Books
India
This was the first time that India was hosting the Chess Olympiad, which started from 28 July in Mamallapuram and will conclude on 10 August. The international tournament would see a participation of 349 teams from 187 nations, breaking the earlier records of participation
Photos
Tamil Nadu is abuzz with excitement over the 44th International Chess Olympiad, which begins today and goes on until 10 August, at Poonjeri Village in Mamallapuram. The state has gone all out for the event — from painting bridges to children dressing as chess pieces