Sri Sri's remarks against Malala show the ugly face of a godman's desire for power
Today's godmen have learnt to think bigger. That is why Sri Sri Ravi Shankar lashed out against Malala Yousafzai over a Nobel Prize.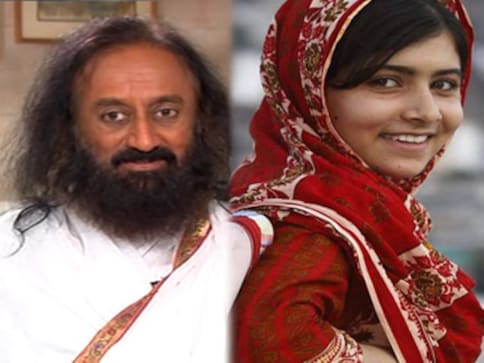 It is almost a law of nature that all gurus and godmen must display markers of their inner essence on their own being. Something obvious and unmistakable. Often it is the mane – wild or tame dreadlocks or an afro haircut or some outlandish hairdo or even a shorn head that will grab the viewer's attention and tell him/her that here is a person with a strong inner drive or compulsion for material and worldly success and will not be easily deflected from achieving his goals.
For godmen in the past, this had meant hordes of devotees of all hues here, there, everywhere, a handful of celebrity disciples for their business models to flourish, sprawling ashrams in far corners of the world, some schools, hospitals, etc. to institutionalise their message, a modicum of merchandising, often by savvy followers rather than the guru himself (they are not all male but they are of the same species so the male pronoun will do) and, at most, business class tickets for their globe-trotting ways.
No longer. Today's godmen have learnt to think bigger – trading on their widely established brand names like any US trained marketing guru. They are now taking on multinationals with their merchandising which are no longer mere trinkets like medallions with the face of the godhead to hang from the devotee's neck but range from foodstuffs to toiletries to beauty products to, of course, nature cures. The ace in their promotional campaigns is their own visage, stamped on packages and splashed all over television commercials.
The recognition they demand is no longer limited to undying devotion from their followers but from society at large. It is no longer enough for Sri Sri to be the Chancellor of Sri Sri University and the Chairman of the Quality Control of India Yoga Certification Committee, a member of the Amarnath Shrine Board (appointed by Government of Jammu and Kashmir, India), the Chairman of Reception Committee for the 500th anniversary celebrations of the Coronation of Krishnadevaraya (by Government of Karnataka, India).
Rather, a pliant government, extending patronage to their vainglorious events, handing out Padma awards and offering parliamentary seats has simply whetted their appetite for more. The ultimate recognition for what they see as their service to humanity appears to be the Nobel Prize, evidently the Peace Prize since ayurveda is yet to be accepted as a science and the sayings of the gurus are yet to amount to literature beyond their following. A prize that brings glory and bags of gold too.
So great is their need for this accolade that one Baba is on record as lamenting that he won't get the Nobel only because of the colour of his skin while the double-barrelled Sri Sri has just blurted out his acute heartburn at a little girl getting it for doing nothing at all. He has later tweeted that he never said he "was in the past offered the Nobel Peace Prize" but "had rejected it as I only believe in working and not in being honoured for my work" but in this day and age with smart phones in the hands of every Tom, Dick and Hari not to speak of the gaggle of journalists surrounding him, his denial is easily nailed.
The tapes show that sitting amidst the drought-ravaged, parched lands of Latur, dishing out platitudes to farmers of the state "to not commit suicide as that is not the ultimate solution for all the problems arising out of drought," the 60-year-old Sri Sri still hadn't forgotten the injustice of 2014, when the Nobel Peace Prize was "presented to a 16-year-old girl, without even looking at what she has contributed."
True, Malala Yousufzai of Swat Valley, Pakistan, hasn't "rekindled the traditions of yoga and meditation" or patented a form of yoga or held any tamasha on the banks of any river damaging its flat plains. Nor did she send a letter to the Islamic State, a la Sri Sri, offering peace talks which were rudely spurned by the murderous terrorists who sent a photograph of a beheaded man to teach Sri Sri some home truths.
Malala's worldview is quite unlike that of Sri Sri's "vision of a violence-free, stress-free society". She simply practises what she preaches. All she wanted was for her and her girl friends to go to school, to exercise their "right to education," and said so openly even in the face of the Taliban's diktat forbidding such "depraved ways" and took a bullet for her pains, almost losing her life in the process. A near-death experience later, she is still advocating education as a right for all children, girls and boys.
Jealousy is ugly, all the more so when it is detected in a guru who speaks to inner peace and rising above pettiness. Maybe Sri Sri Ravi Shankar, founder of The Art of Living Foundation, could take some lessons from himself. He has advocated "three types of silence" of which, "The first is the silence where there is no talking. This is very beneficial for people just to be aware of what they are saying and how much energy they spend talking." Are you listening Sri Sri?
also read
Explainers
Actor Nawazuddin Siddiqui recently said, 'Depression doesn't exist in villages; it's an urban issue with people glorifying minor problems'. His statement has evoked a sharp response as millions battle with mental health issues in India. But do people in cities suffer more than those in villages?
Entertainment
Shah Rukh Khan reveals how Mannat turned out to be wife Gauri's first project as a designer.
Entertainment
Manoj Bajpayee's Sirf Ek Bandaa Kaafi Hai is a biopic on a humble lawyer from Rajasthan, Advocate PC Solanki who brought justice to a minor girl who was sexually assaulted by a self-styled godman. under the POCSO Act