Sound of music: What keeps the Berklee Indian Ensemble going, harmoniously
They shot to fame with their covers of AR Rahman songs, but the Berklee Indian Ensemble, which was in Bengaluru recently for its first overseas performance, brings in many varied influences to their repertoire
When Annette Philip graduated from the Berklee College of Music, she was offered a faculty position, and a challenge: Although there was Indian music being taught on campus, how would she like to do something new with it?
"There was no Indian performing ensemble at the school. I immediately thought, 'Why not start one and see how it goes?'" said Philip, speaking to us earlier this week. Thus, the Berklee Indian Ensemble started performing in 2011.
This week the six-year-old musical troupe had their first concert outside the US — in Bengaluru, at the 54th Bengaluru Ganesha Utsava organised by Shree Vidyaranya Yuvaka Sangha.
The glitzy show was a long way off from their maiden performance, which took place in a classroom with 50 people, even as Indian music enthusiasts from Harvard, Cambridge, and the larger New England area crowded outside for two hours as the ensemble went through their repertoire.
Since that time the ensemble has gone from strength to strength, while continuing along their path of incorporating global musical influences with Indian melodies. The troupe's biggest gig was a couple of years ago at the Boston Symphony (Hall), which had 109 performers. The ensemble has garnered such a popular reputation that the show was sold out six weeks prior to the performance.
Philip remembers how, in the ensemble's first year, there were only 18 students from 14 countries in the group. Now, 42 students from 22 countries are part of it. There are musicians from Sri Lanka, Indonesia, Israel, even Puerto Rico. Philip describes the BIE as "a place for young musicians to come and find themselves". The group's essence is for musicians to join and create music that is timeless, historic and coming from a place of love. "The BIE is a platform for people from all cultures to come together, study, explore and experiment within the Indian cultural context as well as the Indian musical traditions like Sufi, Qawwali, Indo-Jazz, Folk, etc," says Philip.
The BIE first burst into limelight with their rendition of AR Rahman's songs like "Jiya Jale" and "Dil Se Re" on YouTube. The videos amassed more than 22 million views, and came to the attention of Rahman himself.
Incidentally, Rahman himself has a curious connection with the BIE's alma mater. Just before he broke into the Indian film industry with his award-winning score for Roja, he had to make a choice: Take up the Mani ratnam film, or apply to Berklee.
Life came full circle when Rahman received an honorary doctorate from the college in 2014, and performed with the ensemble. The proceeds from the performance were used to start a scholarship fund in Rahman's name to support Indian students wishing to attend Berklee.
For what is essentially an Indian music class to have students from across the world enrolled in it, and performing to packed auditoriums at important musical events in the US is indeed laudable. Philip says this is possible because "we perform like a professional band, so every member joins with the expectation that they have to bring their best every day, all the time".
The way the class goes about constructing an original or giving their own spin to a cover is an intensely creative process. Somebody picks a song of their choice, the class listens to it. Then they begin to question what element is relevant to their philosophy, what makes it appropriate for the group. From there, the music evolves organically. Sometimes, the BIE chooses a specific person to arrange a song. For their Bengaluru performnce, BIE was joined by Vijay Prakash and Raghu Dixit. The troupe's Israeli guitarist took up one of Dixit's songs ('Kodagana Koli Nungitha'), and everybody else followed, pitching their creative inputs. The result was a highly energetic twist to an old Kannada folk song.
For a troupe that has become famous for covering Rahman's songs, such experiments add to their growing repertoire. Philip says labelling the group would be incorrect as "we were doing music videos before the Rahman videos went viral". She points out that also score original numbers, and have done Sufi and Bangladeshi songs in the past. In the future, Philip hopes the group's musical horizons will broaden further; they would like to add a Pakistani element to their music, for instance. Although Rahman will always remain an inspiration, Philip would also like to try a global twist to an Ilaiyaraaja song, study Shreya Ghoshal's roots. The BIE would also like to host "a qawwali group, a folk night, even a bhangra night". "The sky is the limit," says Philip.
For students like Shilpa Ananth, the BIE "is a home away from home". Shilpa is a vocalist with the ensemble, and hails from Chennai. As an independent artiste in the US, she is currently working on her second album. She thinks if one wants to be a musician then Berklee College is the place to be. For Dan Laine, who plays the viola in the troupe, the energy and the beats of Indian music are what attract him to the ensemble.
In such a large group of people with diverse nationalities some of friction can only be counted natural. Philip is mindful of such interactions as she thinks it could be counterproductive to their music as also to her idea of being a family. She counts on everyday communication, pinpointing problems and solving them as measures to counter friction. "There is no right or wrong, just different choices. If you come from that perspective, you are less judgmental about each other," she says.
It is a philosophy that would serve all of us well in these troubled times.
Watch the BIE perform Rahman's 'Kun Faya Kun':
Lifestyle
He won the National Award for best animation film The Prince and the Crown of Stone in 2010.
Entertainment
At times, Schmigadoon! can feel like a Simpsons parody that outgrew its segment, or a classic movie butchered in order to insert commercial breaks. Luckily, it's also too fun for most of that to matter.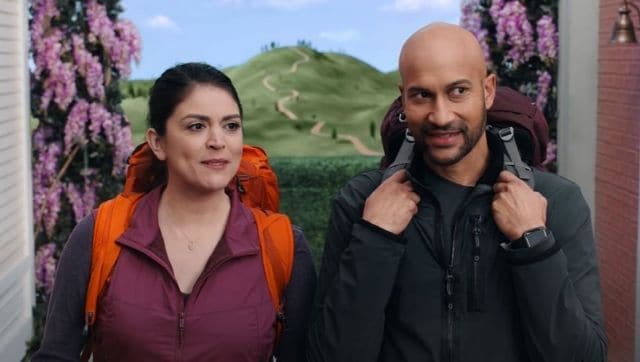 Entertainment
Though bumpy at times, Schmigadoon! is a feel-good comedy and a hat-tip to musicals, worth a slow-Sunday watch.