Smriti Irani's #IWearHandloom campaign is the latest effort to revive India's textile heritage
Smriti Irani's #IWearHandloom campaign, in the run up to National Handloom Day on 7 August, is a great supplement to the efforts by designers and regular citizens to revive Indian hand-woven textiles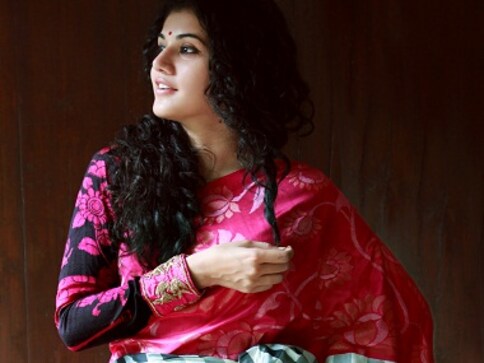 On 1 August, the new textiles minister Smriti Z Irani kicked off a "Selfie with handlooms" campaign on social media. Promoted with the hashtag "#IWearHandloom" on Facebook and Twitter, Irani launched the movement by posting a photo of herself in a royal blue Bihari silk, and tagged peers like Devendra Fadnavis, Kiran Bedi, Anandiben Patel and Shivraj Singh Chouhan.
Within minutes, personalities from the fields of sports, fashion design, the arts and politics responded to Irani's challenge.
Virender Sehwag and Vijender Singh both rose to the occasion, tweeting photos of their handloom kurtas; Jaya Jaitly and Amruta Fadnavis had shared images of their own lovely handwoven saris and anarakalis (respectively), and fashion designers Manish Malhotra and Suket Dhir posted collection images.
Read on Firstpost: Smriti Irani goes whole nine yards as textile minister; promotes #IWearHandloom
Irani's challenge seems to have the former HRD minister in the news for all the right reasons. The fact is that Indian handlooms and textiles do need a push — a major one — if they are to be prevented from dying out entirely.
Social media has been a major influencer in this regard.
The format that Irani has used for her #IWearHandloom campaign — sharing a image, tagging others to rise to the occasion — is one that has been used successfully in the past by initiatives like the 100 Saree Pact and Devditi: India Saree Challenge.
The 100 Saree Pact — founded by Anju Maudgal Kadam and Ally Matthan — was all the rage last year on social media. The principle was simple: Women had to share images of themselves wearing saris, and tag other friends to be part of the challenge. The premise was that each woman should attempt to wear at least 100 saris during the year once they opted into the Pact.
Why 100 saris? Because saris have increasingly become occasion-wear for Indian women — not the go-to garment that it was for a earlier generation.
Within a few months of going online, the 100 Saree Pact had drawn in lakhs of women, all over the world.
Anju Maudgal Kadam told Firstpost: "I think the 100 Saree Pact helped women discover who they are, discover their identity though wearing a sari. Women started discovering their heritage through wearing saris that were their mothers or grandmothers, and began associating it with their identity. It created self awareness and the feeling of being comfortable in your own skin. In the initial phases of the Pact, women would feel very uncomfortable in their saris. Gradually, they would come to love the way they look and feel in it."
When Smirit Irani sent out her "Selfie With Handloom" tweet, Ally and Anju were quick to respond under their 100 Saree Pact handle, commending the textile minister on her initiative.
Anju said that Irani's #IWearHandloom was a great initiative, adding, "It would be great if weavers and handloomers are helped out by this initiative."
Like the 100 Saree Pact, Devditi too gained a lot of support for their India Saree Challenge launched in 2015. They started a Facebook group and organised flash mobs that saw women in saris come together at urban locations and show off their best weaves.
Explaining what had prompted Devditi to set up their challenge, which ultimately saw about 3,000 women join the online community, Sapna Khandelwal, one of its founders said in an interview last year: "We don't want the sari to suffer the fate of the kimono in Japan. We want to make sure that the way kimono culture became obsolete there, (isn't what happens with the sari here)."
Certainly, there has been a systematic effort on the part of both the government and the fashion industry to revive traditional handwoven textiles.
If the Narendra Modi government instituted the first National Handloom Day in 2015 (it is now celebrated on 7 August; Smriti Irani's "Selfie With Handloom" campaign is to mark the week leading up to the second NHD, 2016) then industry events like the Lakme Fashion Week in Mumbai have had a dedicated "Indian Textile Day" over the past several editions, where designers showcase collections that have been specially crafted with only indigenous, hand-woven weaves and fabrics.
Ritu Kumar, Krishna Mehta, Sabyasachi Mukherjee, Gaurang Shah, Aneeth Arora — these are just a few of the names that come to mind when one thinks of Indian designers who are working towards reviving traditional textiles. Anita Dongre's Grassroots initiative is another example.
In an earlier interview with this writer, Sabyasachi talked about why he launched his Save The Saree campaign (handwoven saris priced as low as Rs 1,800; sourced directly from weavers in West Bengal and Andhra Pradesh):
"For me, that's a little bit of utilising my power as a fashion designer. As they say in the Spiderman movie, with great power comes great responsibility and we have a big fan following, people who follow the brand in what we do. What (has been)happening with the sari was that it was slowly losing its glory and weavers were losing work. For me, from an anthropological point of view, a garment of serious ethnological importance would eventually die out. So we started the Save The Saree campaign not as a commercial manifestation of what we do, but something I wanted to do at a personal level," he said.
Another designer who is found a huge fan following for his weaves — he has a celebrity clientele that includes Vidya Balan and Kirron Kher — is the Hyderabad-based Gaurang Shah.
Gaurang's fascination with the sari began at the age of eight, when he would visit his father's textiles store. Today, Gaurang's label supports 600+ weavers across four different states. The designer is eloquent on the subject of handloom textiles.
"To me it is important to sustain the tradition and heritage fashion of India," he told Firstpost. "Today, I feel proud my weaver family has grown from a mere 10 years ago, to 600 and growing. We support more than 600+ handlooms across India in the states of Andhra Pradesh, Maharashtra, Tamil Nadu, Uttar Pradesh etc, specially engaged in a weaving technique called 'jamdani'. Jamdani is a discontinuous, extra weft technique of weaving which takes no help from machinery. A hand drawn artwork design is kept under the warp in the loom, and is replicated by the weaver to (create) the finest details. It is almost like Parsi embroidery done on the loom. The intricacy of a design which was hitherto possible only in print and embroidery has been materialised into weaves."
Gaurang feels this is a "happy moment" for Indian handlooms as it has an advocate in the Prime Minister, in addition to celebrity endorsers like Vidya Balan, Sonam Kapoor and Kirron Kher, among others. The designer recently formed an association of weavers and textile experts to promote the sari on a global platform. He has also taken his passion for handwoven textiles into the menswear segment and will showcase a line of wedding wear for grooms, in Delhi, from 5-7 August. (Think: woven patan patola sherwanis, kanjeevaram silk dhotis and khadi jamdani kurtas.)
The promotion of traditional weaves, crafts and design is not restricted to nationally-renowned designers. At a smaller but no less important scale, are boutique labels like Sujatra Sarees — the brainchild of Agartala-born Chitralekha Das. Das, 60, creates ethnic wear that straddles our textile heritage and a more contemporary aesthetic.
In a conversation with Firstpost, Das said that e-commerce ventures have made sourcing unusual, exclusive saris that much easier for modern-day buyers. (The Madhya Pradesh Hastshilp Evam Hathkargha Vikas Nigam Ltd for instance, has Mrignayanee, an e-retail site for traditional, handloom textiles from the state.)
"In my opinion the real game changer is the phenomenal rise of e-commerce. Accessibility of unusual and exclusive saris is no more a challenge. Even as you see a beautiful piece on Facebook, the loop is completed when you get your hands on such lovely designs, no matter which part of the country you're sitting in," said Das.
Das is of the opinion that saris — and other handloom garments — need to be presented in a way that feels relevant and attractive to today's consumers: "We need to re-imagine and interpret the garment in a way that the audience feels this is something new and innovative. But while we reinvent, the question always remains as to how we do it while keeping the spirit and essence (of the original tradition) unbroken."
Certainly, Smriti Irani's use of Twitter and Facebook as a medium will ensure the #IWearHandloom campaign will reach a generation that thrives on social media.
Among these is 28-year-old Shraddha Nair, who works as a teacher and entrepreneur. Nair makes it a point to wear a sari at least 2-3 times a week, she says, and her preferred fabrics are raw silk, and for special occasions, silk.
Nair told Firstpost that a major portion of her handloom sari collection was "borrowed/stolen/inspired" by her mother, a school-teacher who has worn saris to work for the past 20 years.
While she didn't comment on other outfits made using handwoven textiles, she said the sari at least is pretty easy to don, contrary to popular perception: "There are so many DIY videos on the internet, you just need to watch one carefully and then anyone can wear a sari. It's certainly not rocket science, and it'll make way more heads turn than usual."
Going by the impressive responses to #ILoveHandloom, that seems to be true of all garments made of handwoven textiles.
— with inputs by Ankita Maneck
Entertainment
Kher spoke to the media outside the prayer meet venue and said that he couldn't find a single photo of his dear friend where Kaushik is not smiling.
Entertainment
In an exclusive interview with Firstpost, Tarun Tahiliani, the designer talks about his latest collection at the recently held Lakmé Fashion Week, fashion in the contemporary landscape, how fashion is inferior to craftsmanship, vocal for local and more.
Entertainment
Joining in as showstoppers for the fashion label, actress Sonakshi Sinha, Arjun Kapoor's sister Anshula Kapoor, Anaita Shroff Adajania and Mohit Marwah's wife Antara Marwah walked the ramp carrying off their own individual styles.