Shikha Makan's film Bachelor Girls will resonate with women living alone in cities
Shikha Makan's film, 'Bachelor Girl' is bound to resonate with women, young and old, living in cities alone.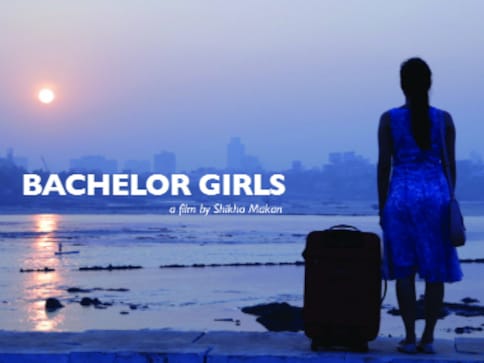 "You are from good families right?"

"You will not get boys home? See you can have friends but not boyfriends"

"No loud music or boys. And no parties"

"You are single girls. We don't want nuisance."

"You work late nights? So you will come home late?"

"Why are you unmarried and living alone?"
Why? What? When? Where? Who? How?
Women in India don't have to be journalists to know about the 5Ws and 1H rule, especially single women living alone in 'cosmopolitan' cities like Mumbai. When I moved to Mumbai eleven months ago, armed with strength to face adversities, I still found it difficult to find an apartment. Landlords and housing brokers were not only interested in my caste and food habits but were significantly more interested in my marital status, my work timings, when I would get home, if I had a boyfriend, if I would bring boys home.
I was a 'bachelor girl' after all.
Shikha Makan's documentary, Bachelor Girls hits a familiar chord. When I met her at a busy coffee shop in a plush suburb of Mumbai, I poured my own woes about apartment hunting to Makan and she didn't flinch, nor was she surprised. "It's amazing to see how many people have come forward after just the release of the trailer. 'I've had a similar experience.' This is not just in Mumbai, Kolkata, it's there even in Hyderabad," she said.
As I looked around the setting, I wondered how many women in there, sitting behind laptop screens or the many mirthful faces, sharing cups of coffee with friends, had their own stories to tell.
A psychology graduate from Delhi University, former radio jockey and theatre artiste, Makan herself had a harrowing experience when she had moved to Mumbai to become a filmmaker. "When I first came to Mumbai, I had strange experiences when I tried to find an apartment...I was very gung-ho, when you leave your home, you come out to claim your independence," she says. Makan's understanding of the city as cosmopolitan, migrant friendly and where people come to make something of themselves — a city of opportunities was put to the test. "I thought what I was experiencing was unique, something odd and that I was merely unlucky," she says. She was pulled up by the chairman of her building society for coming home at 2 am with a male colleague. "It was a messy situation. He said that he would take me to the cops and that he (Makan's colleague) was my client and I felt helpless, I was crying and naive. The chairman then asked me to get out in 24 hours!" she recalls. The chairman changed his tune after her father came into the picture. Association with a respectable man turned the 'slut' into 'sanskaari beti' overnight; but the harassment continued for Makan.
Makan decided to move out, but house hunting wasn't easy with housing brokers singing, "Aap bachelor girls ho, aapko compromise karna padega (You are single girls, you will have to compromise)". "Your choices start shrinking as a 'bachelor girl', you either have to take up residence in a sub-par building or you have to be so rich that you can afford a penthouse in a gated community..." she says before adding, "Well...even there you would have problems because Kalki Koechlin has had similar experiences."
The common refrain found in most girls sharing their stories of finding apartments agitated Makan enough to make Bachelor Girls. "I needed to use my tools to make a change," she quips. Makan's first attempt at documentary filmmaking was challenging but cathartic. Makan made a conscious attempt to look at stories outside of her own industry (film and media). "I was surprised and yet not surprised that this is how society looks at women, the essential feminist struggle of being looked at in a certain way, of being judged."
Makan's pool of interviewees come from upwardly mobile, English speaking women who have come to Mumbai from various small towns. Voiced through testimonies from bankers, students, a former UN employee, someone who works at the French consulate, Bachelor Girls perfectly encapsulates the lived experience of the life in a city for women. And that is the struggle, no matter how many deals you close, how many promotions you earn, your worth is as good how you fare against societal expectations. Women in India's workforce
"The subtext of my film is that in India the feminist struggle now three or four decades old and we have this whole dialogue on women empowerment, beti bachao, beti padhao and there is so much of emphasis on arriving at a version of a woman who is educated, financially independent and can live on her own. But when this version of a woman comes to your doorstep, we want to shut the door on her face and say that we don't want you." 
Dialogues on empowerment aren't fashionable terms that look good in campaigns and fliers, they have to make an impact in the lived experience for women. We are always living in spaces where people tell us that it's not safe, we have to wear 'decent' clothes, we have to work doubly hard to be taken half as seriously at work and then landlords tend to literally lord over us. Reclaiming independence in one's own living space should be in the order of business too. Most of the time, we aren't allowed the privilege of making choices and when we do shatter that myth and make choices, we are judged for it. "The fact that you 'chose' to be single or unmarried is unacceptable to Indian society. That is the reason why I feel that the subject of my film has touched a chord with so many women out there. Because we are all wanting to make our choices without being judged," says Makan.
Makan's film is bound to resonate with women, young and old, living in cities alone. The film has been picked up at the International Film festival in Vancouver and Madurai. Makan is currently travelling with her movies and screening them in different cities across India. Makan hopes to release the film on a broader platform so many more people can watch it and further the much needed debate.
Entertainment
Chhatriwali is more than just a film on condoms, it is about the importance of sex education in schools. And sex education helps one to clear any misconception and doubts on sex related issues.
Entertainment
The no interview strategy, 'the stars to go into hiding' and Shah Rukh Khan's fan club who actually acted as publicists helped in the success of the Pathaan.
Entertainment
The craze for Pathaan is unbelievable. The furore and frenzy far surpass what we witnessed for RRR or KGF 2. The collections which were expected to pan out over the weekend, are now expected to hold steady post-weekend.