Share lions, forget cheetahs: layers of hurt Gujarati pride
The SC verdict not only robbed the state of its monopoly over Asiatic lions but also scuttled the royal Gujarati dream of importing African cheetahs to India.
This is not about Narendra Modi. Well, mostly. There are other Gujaratis worth mention too. One is Dr MK Ranjitsingh, a former secretary of the government of India who drafted the Wildlife (Protection) Act in the early 1970s. Then there is Dr Divyabhanusinh Chavda, former president of WWF-India and renowned wildlife author. And of course, Dr Yadvendradev Jhala, possibly the most published scientist at Dehradun's Wildlife Institute of India.
All three are erstwhile royals, love big cats and share a romantic dream: to see the
cheetah sprint across Indian grassland again. The dream generated the idea of importing the charismatic spotted cat and releasing it in the Indian wild. It was a fascinating thought and the masses loved it. So did then Environment minister Jairam Ramesh, and it became Project Cheetah by 2010.
The plan, however, made no sense to most experts who voiced their reservations. But the project proponents, backed by Ramesh, went ahead to complete the site selection for this Rs 300-crore indulgence without even bothering to get the proposal cleared by the National Board of Wildlife. The agenda changed almost overnight at Palpur-Kuno sanctuary in Madhya Pradesh. It had been waiting for Gir lions since 1993. Now it was told to dress up all over again to welcome African cheetahs.
It was not only MP, the state most Gujaratis now hate for stealing their lions, that was gung-ho about the cheetah project floated by the three Gujarati heavyweights. Chief Minister Narendra Modi promptly sensed the irony of it all and his government announced that Gujarat too would make room for a few exotic cheetahs.
The plan lost some steam after Ramesh was transferred from the Environment ministry. Then, the Supreme Court put it on hold last year, asking the government to give priority to "our own species". Yet, arrogance remained the hallmark of this project.
This winter, I spent a couple of days in Dehradun's Wildlife Institute of India where students and teachers of ecology from across the country congregated for a conference. At one of the unwinding sessions late in the evening, I met a former WII student who was working for the cheetah project. He began by quizzing me on my assessment of the project's viability and I expressed myself rather frankly. Unable to convert me over the next half hour, he eventually started wagging his finger: "Dr Jhala is confident and it (the project) will go on. Once the first lot of cheetahs is released, I'll remind you of all that you just said. I'll quote you everywhere."
I regret I may never hear from him again. And for good reason. The SC threw away the cheetah project because it was both illegal and immoral. After Iran refused to part with any of its few surviving Asiatic cheetahs, the plan shifted to flying in African animals. But the IUCN prohibits introduction of alien species. The singular focus on tigers and the resource crunch at the Environment ministry results in an annual allocation of just Rs 800 crore to save 15 key non-tiger species and around 650 protected forests. Had it rolled, Project Cheetah would have cost at least Rs 300 crore.
Splurging on introducing an alien species is outright vulgar when there is no money to help indigenous species — the wild buffalo, great Indian bustard, Jerdon's courser, gharial, hangul, Nilgiri tahr, river dolphin, dugong and numerous amphibians — fight imminent extinction. Those who backed the cheetah project, claiming it would help save the animal's grassland habitat, watch the same grasslands disappear along with its prime resident and the country's stateliest bird species, the great Indian bustard.
Besides, cheetahs would have fuelled conflict as the smaller cat prey on smaller livestock found close to villages. The docile cats would have been be easy meat too for poachers and vulnerable to even packs of village dogs. Introduced cheetahs, by the project's own admission, would also prey on the great Indian bustard and reduce the chance of any species recovery.
But what makes shifting a few lions from Gir to Kuno a better idea?
First, these are our own (Asiatic) lions and creating a new population will guard the species against summary extinction should an epidemic or natural calamity strike at Gir. Unlike cheetahs, lions will not be easily undermined by the two big cats found in Kuno: they will not be mind leopards and stand a better chance against tigers. Lions can prey on larger animals and are likely to feed on Kuno's large stock of feral cattle rather than raid villages. Of course, setting up a new population involves many uncertainties but the lion project is worth the risk because the future of an endangered species depends on its success.
Yet, pride stumbled the lion project. It has waited since 1993 because Gujarat hung on to its asmita and monopoly of lion tourism revenue. The delay probably frustrated Dr Ravi Chellam, India's foremost lion expert who earned the SC's gratitude for assisting it throughout the case, so much that he eventually left the Gir prides to work with other cats and, eventually, lowly reptiles. Coincidentally, the day the SC pronounced its judgment and named Dr Chellam a member of the expert panel in charge of the lion relocation, he was at Gir with a foreign delegation. A violent agitation at Sasan forced him to leave.
Let's hope that Dr Jhala, also named by the SC to the same expert panel, will face less resistance from fellow Gujaratis while packing off a few Gir animals. In any case, more than expressions of hurt Gujarati pride, what is likely to delay the lion project is the lack of preparedness in Kuno. If lions are rushed without setting the stage and pay the price, the project may never get a second chance. See, it is not about Modi.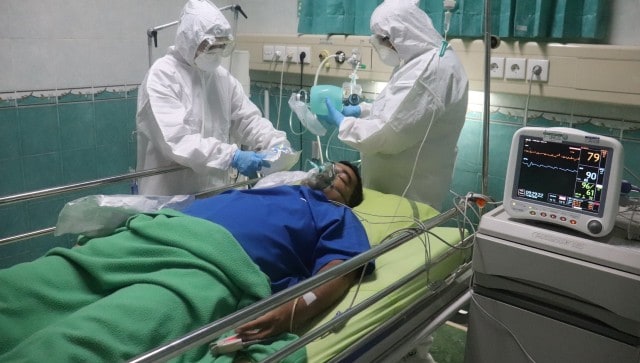 India
The company in a statement said that another 600-bed Covid Care facility will come up at a separate location in Jamnagar within in two weeks
India
The direction came after the AMC informed that it has withdrawn the rule that only those patients who are brought by '108' ambulances be admitted to municipal hospitals or in the AMC's quota in private hospitals for COVID-19 patients
India
The various posts in the organization include Branch Post Master (BPM), Assistant Branch Post Master (ABPM), and Dak Sevak