Scene 75: Rahi Masoom Raza's dark portrayal of Hindi film industry remains intact in Poonam Saxena's translation
Dr Rahi Masoom Raza's Scene 75 is peppered with dark humour and vividly portrays the unsavoury side of the Hindi film industry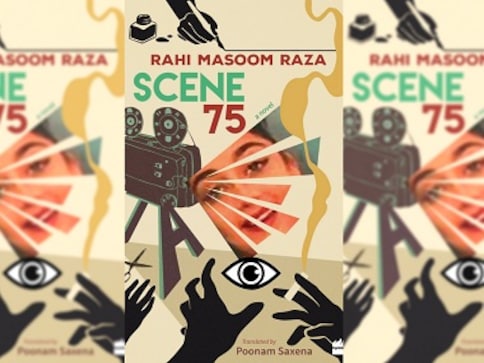 What is common between the TV-epic Mahabharat, the classic comedy Gol Maal (the Hrishikesh Mukherjee original), Mili, Lamhe, and a whole lot of strange-sounding films from the 1980s, such as Kasam Paida Karne Wale Ki? They all featured Dr Rahi Masoom Raza as the writer in some capacity.
Besides his work in films, Dr Raza was also one of the most celebrated Urdu writers of our times. Mirroring the lives of many serious writers from the 50s and the 60s, he too maintained a fine balance while juggling film projects and pursuing literary brilliance. In this context, Dr Raza's Scene 75 is a wonderful book that is both a fine read and a treatise in how writers managed to perform such jugglery, as well as the price they often had to pay. For millennials, access to Raza sahab's seminal works has been limited. For those who can't read the Devnagri or Urdu script, Poonam Saxena's luminous translation of Scene 75 is a great place to discover the 'other' Rahi Masoom Raza.
Often referred to as the scholar who strayed into Bollywood, Raza sahab's Scene 75 is peppered with dark humour and vividly portrays the unsavoury side of the Hindi or Bombay film industry. It narrates the story of Amjad Ali, who hails from Benares, and his struggles and frustrations when he tries to make it big as a scriptwriter in Bombay. Interestingly enough, like one of the films that Raza is best remembered for – Gol Maal – the book, too, is not about what ostensibly meets the eye.
Amjad is grappling with a scene – the eponymous 'Scene 75' in a film that is called Chaurahe Ka Dada – and although it's a small, largely insignificant scene, the kinds that he would have otherwise belted out of the park in the blink of an eye, it debilitates his senses. He simply can't get around Scene 75. Raza's narrative then dives into a space where myriads of little kaleidoscopic mirrors show the people who populate the film business and the rest of Amjad's world, and deconstruct the writer's universe. In writing Scene 75, Raza could very well be describing a scenario that he himself may have endured countless times. Could this be the reason why some of what he describes seems to be straight out of some film that he may have written the screenplay or dialogues for? The realism of the prose is organic, but one can't help wonder how much of the inspiration behind Scene 75 is really stirred from Raza sahab's own life; after all, not all the people in the Hindi industry in that era were debauched. Or were they?
Irrespective of how one eventually interprets Raza's prose, Scene 75 is both enthralling and at the same a bit disconcerting too. It's a world that is ugly, and the harder it tries to hide that reality, the dirtier the image gets. Today, much of Scene 75 could also sound the words that were printed in film magazines of the 70s. Perhaps Raza sahab would have been more than aware of the manner in which readers in the past consumed periodicals that bared it all when it came to the maya nagri. This facet is retained through the course of the book, but the other facet – the idea of identity, the one that is real and the ones that Amjad the writer is forced to assume while writing or dealing with the world – loses its lustre at places.
Although the English translation never denatures the original text, there is a sense of historian's fallacy that props up at certain places. Could it the nature of our living today – in a hyper-connected world, the relentless flurry of information gives a different contour to what we perceive as 'reality' with each passing moment – that makes us see the past (or in other words, the essence of Raza sahab's writing) differently? This notwithstanding, Scene 75 is a treat to read as Saxena's translation is never burdened by what many translators call the 'trail of the foreign'. In fact, this writer was reminded of a passage from VS Naipaul's Among the Believers where, while traveling in Tehran, Naipaul notes that he would have been "like a half-blind man" without access to the language but thanks to Behzad, his translator, "the walls spoke" and "many other things took on meaning".
Entertainment
Actor Arjun Kapoor has trimmed his hair considerably and is sporting a moustache for his film Kuttey, a dark comedy.
Entertainment
The first part of Dharma Productions' first action franchise Yodha will release in cinemas on 11 November, 2022.
Entertainment
"Whatever we've read in our childhood, our books – storybooks, even our textbooks, literature in Hindi and English in school… it's all about how much interest you have in studying, and those things registering themselves in your mind. All of that reflects in our art," says Encore, one half of Seedhe Maut.