SC judgment on privacy was catalyst: Humsafar Trust's Ashok Row Kavi on petition to quash Section 377
The Mumbai-based NGO Humsafar Trust — headed by LGBTQ rights champion Ashok Row Kavi — moved the Supreme Court against Section 377. Row Kavi spoke with Firstpost about what prompted the petition.
For a few heady months after the July 2009 Delhi High Court verdict striking down Section 377 of the Indian Penal Code, the LGBTQ community in India felt they could finally be free. The HC, hearing a petition filed by the Naz Foundation, had ruled that Section 377 — which criminalises 'sex against the order of nature' — was contrary to the equality guaranteed in Article 14 of the Indian Constitution. The court further held that the criminalisation of consensual gay sex was a violation of the rights to life and liberty enshrined in the Constitution.
By December of 2009, Section 377 was back in force — the Supreme Court of India overturned the Delhi HC judgement, stating that abolishing or amending the section fell under the Parliament's purview, not the judiciary's.
Still, the year 2018 has provided glimmers of hope to the LGBTQ community.
In January, the SC admitted that its previous ruling on the constitutional validity of Section 377 deserved a second look. On 1 May, it admitted a plea by Arif Jafar — who ran the LGBTQ outreach programme Bharosa Trust in Lucknow — seeking to quash Section 377. In 2001, Jafar had been arrested by the police on charges of "running a gay racket", beaten and jailed for 47 days, his office premises ransacked.
A few days before it admitted Jafar's plea, hotelier Keshav Suri — the MD of the Lalit Suri Hospitality Group — had also filed a petition in the Supreme Court, against Section 377. Suri's lawyer told the court that the "petitioner himself has suffered mentally and been stigmatised on account of his sexual orientation at personal and professional fronts."
In 2016, chef Ritu Dalmia, hotelier Aman Nath, dancer Navtej Singh Johar and entrepreneur Ayesha Kapur had filed a similar petition.
Now, the Mumbai-based NGO Humsafar Trust — headed by LGBTQ rights champion Ashok Row Kavi — has also moved the SC against Section 377. On 1 May, Kavi along with other members of Humsafar — Vivek Anand, Gautam Yadav and Yashwinder Singh — filed a petition in the Supreme Court.
The apex court, on the basis of Humsafar, Jafar and Suri's pleas, has issued a notice to the Centre, seeking a reply from the ministries of Law and Justice within the week.
Firstpost reached out to Ashok Row Kavi to find out more about Humsafar Trust's petition. Edited excerpts:
What prompted the Humsafar Trust to move the court now, against Section 377?
Ever since this judicial challenge to Section 377 started in the Delhi High Court, we have been providing logistical support to the Lawyers Collective (LC) whenever they needed it. We fully supported Naz Foundation in its case and followed it through the courts. It was only last year that we saw a whole plethora of new challenges to Section 377, of individuals who recounted their personal travails with it, and decided to also get into the battle. After consultations with Anand Grover of the LC, we decided we needed to get a community perspective from our grass root work with over 7,500 gay men in Mumbai apart from our outreach programmes with male sex workers, hijras and Lesbian/Bisexual/Transmen (LBT) women. It was our wealth of data from working within the public health system that we thought would buttress our case in fighting Section 377 and how it affects work that directly concerns public health. That's when the Board met and unanimously decided to join the battle and file the petition.
This January, the SC had announced that it would reconsider its earlier stance on Section 377. Was this perceived as a promising move by the community?
Yes! We do consider some of the recent judgments as a "promising" progressive stance on Section 377. Certain developments in both the anti-rape laws guided by the recommendations of the Justice Verma Committee and the right to privacy judgment where they have been expanded to include sexual orientation give us hope that our petition will be heard in a progressive constitutional framework. So we thought we'll join the battle.
Has the Naz Foundation associated with your petition in any way?
We've always been close to the Naz Foundation and especially to its founder Anjali Gopalan who has been a pioneer in working with gay men and HIV issues. We have backed her decision to file the first PIL in the Delhi High Court decades ago. Anjali is our mother in that respect and we will go with her and Lawyers Collective wherever it takes us in this battle.
The SC has also allowed the petition by Arif Jafar of the Bharosa Trust, to quash Section 377...
Arif Jafar is another old colleague and he really took it in the neck during those hard times when he was arrested for distributing condoms. We were afraid that time because all the facts were not clear to us as to what had happened in Lucknow; after the fact-finding team led by LC went and got it all together, we discovered he had been physically tortured and abused in jail. His personal experiences read like a horror story where he was made to drink his own urine and accused of running a sex club just because they found safe sex literature in his NGO, Bharosa Trust. That convinced us to support him whole-heartedly.
Is the community making a concerted effort to get Section 377 abolished?
Yes, the LGBTQ communities are making a concerted and unified effort to fight Section 377 and get it off the statute books. First, we made it very clear that we wanted to just 'read down' the Section to keep "consensual sexual relations between two consenting adults in private" out of the purview of Section 377. This was because we were very concerned that the Section was utilised to prevent sexual abuse of children and we wished to protect children.
However, after the POSCO Act was passed, all sexual abuse of children is handled very competently under this law. We, therefore, don't need Section 377 at all. And hence our new demand is Section 377 needs to be abolished as any kind of un-consensual sex is now well defined under the new rape laws.
With the SC recognising Right to Privacy as a fundamental right, how do you see that stance influencing the status of your petition?
The Supreme Court recognising the Right to Privacy where 'privacy' included sexual orientation gave us immense hope. It was that glimmer of hope that we are now following with great sincerity and hope that the constitutional bench hears our pleas sympathetically. We are now armed with a huge amount of data and grass root experience working with gay men and other LGBT across Mumbai metro and India under the Global Fund programmes Pehchaan and Diva. So yes, the Supreme Court judgment on privacy has been a catalyst for us to jump into the fray.
Could you share some of the data Humsafar has provided in support of its petition to the SC? 
The Humsafar Trust (HST) works on various issues faced by the LGBTQ community — legal issues; crisis situations with families; cheating, extortion, blackmail and violence faced by the LGBTQ community due to the very real and imminent abuse of law under Section 377. Since 2010, the HST Crisis team has addressed 83 crises cases in Mumbai. Of these 83, six cases involved an adult, homosexual male being blackmailed by the police under the threat of Section 377. In 12 cases, adult, homosexual males were threatened with false accusations under Section 377 — they were victims of extortion by ordinary persons, with the amount asked for going up to Rs 1,00,000.
An online peer-reviewed research paper of HST revealed that around 57 percent of 448 MSM (men having sex with men) and TG (trans, gay) respondents reported fear of IPC 377 with 37 percent having experienced victimisation within the last 12 months at the time of the survey. The chief perpetrators were persons posing as potential partners who often initiated meetings with the intention to blackmail gay and bisexual males, sometimes with the connivance of the police. The research further revealed that of 16 cases of violence and discrimination the HST crisis team handled in the immediate aftermath of the full reinstatement of Section 377 in December 2013, only five persons sought any legal recourse.
A 2011 HST study on the impact of the decision of the Delhi High Court reported that participants felt more comfortable being themselves and open about their sexuality. However, after the December 2013 Supreme Court ruling, 54 percent of participants believed that the change in law was a major setback to the community (as per our 2016 study, Understanding the Impact of the Supreme Court judgment on Section 377 on LGBTQ Communities). While the decision of the Delhi HC significantly lessened if not eliminated discrimination, harassment and violence against LGBTQ persons by civilians and the police alike, the new findings (showed that) in the aftermath of the 2013 SC decision, harassment and violence not only significantly increased but also lead to blackmail. Around 41.2 percent of the participants had been subjected to blackmail or knew someone who had faced extortion.
HST conducted a study in 2017 with the transgender community in three cities (Mumbai, Delhi and Bengaluru) assessing their needs and situation: 59 percent of transgenders experienced violence from families, partners and police. HST has nurtured Umang, a support group of lesbian, bisexual and transpersons (LBT), and done a literature review of documented cases of violence against LBT between 2016 and 2017. The review details lesbian couples being harassed/dissuaded from staying together using Section 377. Between 2017 and 2018, HST — through Umang — handled four cases of lesbian couples facing harassment from police and their families for wanting to be in a same-sex relationship.
(Detailed data from Humsafar Trust here.)
What can allies of the community do to support the petition?
Talk about the issue with different audiences — family, teachers, workplaces, police, lawyers, doctors. Also, show their vocal support for the community in public forums as well as social media. Take part in community activities, events as well as marches, to show their solidarity with the community.
Click here to read about the Supreme Court's past judgments involving Section 377
India
The bench said 1985-batch IAS officer Goel got voluntary retirement from service in a single day, his file was cleared by the Law Ministry in a single day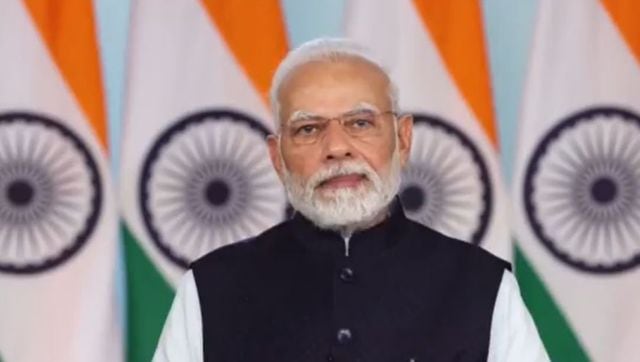 India
Prime Minister Modi will launch various new initiatives under the e-court project, as part of the programme. The e-court project is an attempt by the government to provide services to litigants, lawyers and the judiciary through ICT enablement of courts
India
A five-judge Constitution bench headed by Justice K M Joseph said it wants to know whether there was any "hanky panky" in Goel's appointment as election commissioner as he was only recently given voluntary retirement from service