Sari story: Satyam Shivam Sundaram to Mr India, how the nine yards reflected Bollywood's favourite tropes
From the quintessential mother played by Nirupa Roy to the sensuous yet virginal Zeenat Aman in Satyam Shivam Sundaram, the sari has come to represent several attributes, from modesty to mischief | #FirstCulture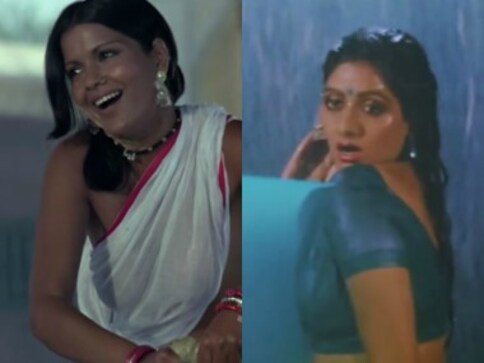 Designer Sabyasachi Mukherjee's recent comments about how Indian women who do not know how to drape a sari should 'feel ashamed' kicked up quite the row. While reactions tended to focus on 'oh look, another man telling a woman what to wear', it also brought up an interesting question — that of the relationship between an Indian woman and her sari. The sari has been fetishised, celebrated, overlooked, misunderstood (in perhaps equal measure), and our ties to it go back a long way. In this multi-part series, we take a look at the sari's whole nine yards — its history and how different parts of the country embrace it; the sari as symbol; and the politics of the drape. Read on...
In a white sari sans blouse, a village belle rings a temple bell, lights a diya, and pours water over a Shiv linga. She caresses the divine phallus, croons to it, and presses her head against it in what can only be described as trance-like coital anticipation. As she washes the stairs that lead up to the temple, the swell of her breasts becomes clearly outlined through the gauzy white of the sari.
Part of this series — How the sari wove together Indira Gandhi's politics, Jayalalithaa's power and Mother Teresa's compassion
Raj Kapoor's 1978 melodrama Satyam Shivam Sundaram is a compendium of sexual images so ripe and unsubtle, it leaves one's imagination with very little to imagine. The sari – particularly its white and wet incarnation – emerges as the real star through frame after voyeuristic frame of Kapoor's relentlessly male auteurship. It drapes the heroine (Zeenat Aman) only to audaciously reveal her curves, her navel cavity, her limbs. It drips with unashamed pleasure. It unfurls its promise of sex and a happy ending even amid the tragedy that engulfs it and threatens to tear it to smithereens. It becomes an emblem that represents, at once, virginal innocence and stirrings of a carnal nature. Describing Kapoor's imprint as auteur, Monika Mehta writes, in an essay titled Satyam Shivam Sundaram: (Im)proper Suturing of Sound, Scar, and Stardom, from the 2011 book, Censorship and Sexuality in Bombay Cinema, "In the film, the camera introduces us to Aman by showing a close-up of her beautiful, partly covered face and providing a generous view of her untrammelled breasts in a thin, white sari. The camera moves leisurely to her smooth, silky back as two village men discuss her marital status."
The white and wet sari reappears in the 1985 Bollywood drama, Ram Teri Ganga Maili, also directed by Raj Kapoor. Once again, the camera's leery male gaze focuses on Ganga (played by Mandakini) prancing under a waterfall, her body all but naked. The sari that covers her is a flimsy thing; its white colour confirming her virgin status; its transparency revealing her sexual preparedness, an imminent deflowering and the sullying of its pristine white.
Hindi cinema – in particular the fare dished out by mainstream Bollywood – has a tricky equation with the sari. It has draped the garment around lovers, mothers, wives, mistresses, prostitutes and goddesses in ways that are suggestive of a woman's character, status in society and the treatment she deserves from her male counterparts – lovers, fathers, husbands, pimps. It has turned nine yards of fabric into convenient tropes that assist in advancing tacky story lines. It has used the sari as leitmotif of both repression and emancipation; it has oscillated frequently, in depicting the sari either as a badge of modesty and honour, or an insignia of glamour and unspeakable mischief.
Sari story: How its 108 wearing styles represent India, its people — and their many mutinies
It might be reasonable to concur that Sabyasachi Mukherjee's recent comment about Indian women and the sari is an articulation of subliminal signals received over years of being entertained by Bollywood. His critique of Indian women at the Harvard India Conference, "I think, if you tell me that you do not know how to wear a sari, I would say shame on you. It's a part of your culture, [you] need to stand up for it," is a revelation of Bollywood's confused (and confusing) iconography. For, by placing the sari within the precincts of Indian culture, Mukherjee reinforces the image of the coy bride, the modest housewife, the mother figure, each draped in a sari suggestive of an appropriate femininity.
Examples abound, of the archetype Mukherjee is probably referring to. Actress Nirupa Roy, the quintessential mother in several Bollywood films of the 70s and early 80s, draped in simple cotton saris, is perhaps a prototype of what Mukherjee had in mind. For, a mawkish mother who draws the attention of a pantheon of Hindu gods to the injustices of this world by frenziedly ringing temple bells could very well be a representation of Indian culture. She is the 'maa' in the iconic dialogue from the 1975 film, Deewar. "Mere paas maa hai," proclaims her good son Ravi, played by Shashi Kapoor, elevating and relegating her at the same time, to the stature of a mother in a tightly-wound sari that tells of her misery.
There are other sari-clad actresses that Mukherjee may have been subconsciously influenced by, when he plotted the ability to drape a sari on the graph of Indian culture. Madhuri Dixit, dancing at her sister's baby shower in a resplendent purple sari teemed with a backless blouse, in the 1994 musical romance Hum Aapke Hain Koun…! is a heaving, shaking, throbbing case in point. As the bubbly, younger sister of the docile and goodly Pooja (Renuka Shahane), Dixit, who plays Nisha, causes paroxysms of unrequited lust among viewers in India and abroad, when her swinging posterior, clad in purple, is hit by her lover's slingshot, and she turns around in mock anger. The image has inspired the oeuvre of artist MF Husain, whose 'Nautanki' painting is accompanied by the note: "Tu aaj nachegi itna ke ghungroo tod degi (Today, you will dance so much that you will break your ghungroos)." Dixit, dancing to 'Didi Tera Devar Deewana' in a purple sari heavily embellished with crystals, is perhaps a flamboyant marker of Indian culture – a 'good girl' with permissible amounts of sass, gyrating at an occasion legitimised by society for a bit of saucy frolic – the godh bharai. Mehta confirms Dixit's allowable sensuality, in an essay titled Tracking the Twists and Turns in the Khalnayak Debates on Censorship, from her 2011 book: "…Dixit, unlike Aman, managed to escape the sex-symbol tag. Whereas Aman's screen roles served to affirm her status as a 'Westernised,' 'uninhibited' heroine, Dixit's dance performances stood in stark contrast to her conservative public persona."
By making expert sari-draping abilities a marker of culture in Indian women, Mukherjee has presumed that the sari is the preferred garment of the domesticated Indian woman, innocent of her sexuality and polite about its flowering. The sari he is alluding to is not the transparent white of Aman or Mandakini, neither is it the turquoise chiffon that Sridevi danced in, when an invisible man made love to her in the 1987 cult science-fiction, Mr India. It isn't the wild red of the seductress, but the conjugal red of a Bollywood bride, all atremble the prospect of the night ahead. Mukherjee's expectations of Indian women are influenced by Bollywood's clichés and stereotypes, not by the woman who occasionally defies the trope and manages to wear a sari she does not know how to drape.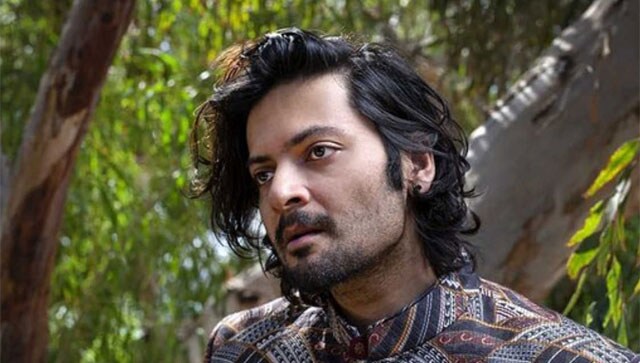 Entertainment
Fazal essays the role of Zafar in the popular buddy comedy film franchise, which started with 2013's 'Fukrey', followed by a sequel 'Fukrey Returns' in 2017.
Entertainment
After shattering records with massive critical acclaim back in 2001, Zee Studios is back with the most anticipated sequel of 'Gadar 2,' that redefined patriotism, love and passion in Bollywood!
Entertainment
Directed by Neeraj Pandey, Auron Mein Kahan Dum Tha is said to be a musical love story. The film's music will be given by Golden Globe-winning composer MM Keeravani