From Salman Rushdie to Chetan Bhagat: The navratna of new Indian storytelling
Who would form the navratna of storytelling in the new India? From Salman Rushie to Chetan Bhagat, here's our list.
Legend has it that the wise king Vikramaditya had nine gems, or navratna, in his court. These jewels were nine of the greatest minds in Vikramaditya's kingdom. The most famous of them was the poet and magical storyteller, Kalidasa. Centuries later, the Mughal emperor Akbar would gather his own navaratna, nine brilliant men from all over the Mughal empire. In Akbar's court too there was a gifted teller of tales: Birbal, whose glinting wit and wisdom lives on in folk tales that regale us centuries later.
It just goes to show that storytellers have long held a privileged position in India.
Fast forward to the present. The royal courts are the stuff of history, but our love for stories hasn't lost any of its steam. Considering how many books are being sold in the country, there are more people reading and more books being published in India than ever before. The big change, though, is that today, we're hungry for stories that are 100 percent local. The American bestsellers and British prize winners are all very well, but today India wants to read the English that is our vernacular. We want to see in our books the India that is imagined and recreated by Indians, not foreigners. Fortunately, there are a lot of writers who have proven they are more than equal to this task.
So who would form the navratna of storytelling in the new India? Even if we limit ourselves to writing careers that began after 1947, it seems impossible to pick only nine, but we've given it a shot anyway.
Salman Rushdie: Before there was "Hinglish", there was Rushdie's HUG-ME, a Mumbai mix of Hindi, Urdu, Gujarati, Marathi and English. Rushdie is modern Indian literature's first rock star. His novels won prizes and wowed critics despite the Indian languages that speckled his English. He mingled with the West as an equal, earned the wrath of fundamentalists and attended the best parties (his list of friends includes everyone from Bono to Martin Amis). But most importantly, Rushdie showed everyone that English really is an Indian language. His writing loosened the colonial binds in which Indian English had been straitjacketed. And his novels are witty even while exploring serious issues like identity and racism, which is rare. He may be famous because of the fatwa that was issued after his The Satanic Verses was published, but his writing is as exciting (if not more) as the controversies that dog Rushdie.
Essential reading: Haroun and the Sea of Stories, Midnight's Children, The Moor's Last Sigh
Namdeo Dhasal:  Today the term "Dalit literature" doesn't sound like a strange and unfamiliar concept, and for that, one of the people we need to thank is Dhasal, who was among the most prominent poets and writers of his generation. He didn't write in English, like the others in this list do, but he's had an immense impact upon the rise of Dalit literature. Dhasal wrote incandescent poems in Marathi and showed a poverty and grimness that was real, rather than fetishized for a foreign audience. It was Mumbai's savage underbelly, teeming with pimps, prostitutes and gangsters; seething with the poet's rage at the inequalities that characterise his world. Even in English translation, Dhasal's language is fierce, angry and powerful enough to make you catch your breath. His poetry wasn't an escape but an eye-opener and it paved the way for many Dalit writers and poets.
Essential reading: Golpitha
Amitav Ghosh:  Bearing the cross of being a Bengali intellectual, Ghosh's novels are everything you expect of Indian literary fiction. They're often slow, always insightful and every sentence is crafted meticulously. The word that few will use for Ghosh's writing is "fun" because his novels are no laughing matter. They're serious and filigreed with exquisite sentences, but while they may not be witty, they do completely immerse you in the world that Ghosh is writing about. Perhaps because he is a historian by training, the best of Ghosh's books contain mesmerising descriptions of the past and make spider-web connections between the historical and the contemporary. His novels demand patience, but in exchange, you get the rich rewards of some amazing, beautiful stories.
Essential reading: The Shadow Lines, In An Antique Land, River of Smoke
Ruskin Bond: Most people point to writers like Chetan Bhagat when talking about popular authors in India, but the first writer to sweep the popularity stakes in the country is Ruskin Bond and it's not because his books were turned into films. (Two of them were though.) Although he's written everything from ghost stories to non-fiction, Bond remains India's favourite author of kiddie fiction. His name is enough to fill up rooms up with children who (for once) listen to an adult – that is, to Bond. A lot of Indian languages have a rich tradition of children's literature, but for years, Bond was almost the lone light in the English kiddie fiction landscape in India. In the concrete jungle that is urban India today, the greenery and nature that is ever-present in Bond's stories reads almost like a gentle, comforting fantasy.
Essential reading: The Blue Umbrella, The Mr Oliver's Diary series
Arundhati Roy: Would Roy be in this list if she wasn't the first born-and-living-in-India author to win the Booker Prize? After all, she has only written one novel. The God of Small Things on paper may not seem like worth much excitement. However, this novel set in Kerala and exploring a complicated family history and scandal remains one of Indian fiction's most unforgettable books simply because Roy's poetic language. Intense and elegant, The God of Small Things brought the poetic into Indian English. Many would subsequently attempt to follow in her footsteps and most stumbled, which is why poetic prose is the stuff of parody today. That doesn't change the fact that you'll be hard pressed to find imagery as exquisite as what Roy crafted in The God of Small Things.
Essential reading: The God of Small Things
Suketu Mehta: Another one-book wonder (so far), but Maximum City was a game changer, and not just because of the catchy title that has since become Mumbai's tagline. Mehta's book was one of the first non-fiction titles to expertly weave memoir with travel writing and current affairs reporting. Maximum City is a keenly-observed account of Mumbai as Mehta experienced it when he came to live in Mumbai in 1998, after more than a decade spent in America. It's an intensely private book while simultaneously being about the city that frustrates, incenses, inspires and fascinates him and those who live in it. That's why everyone from NRIs to long-resident Indians found themselves nodding vigorously in agreement with Mehta while reading Maximum City. Mehta tackles everything from communal riots to Bollywood in his book, making the book a feat of both writing and reporting. Maximum City has served as the blueprint for the endless "India books" (by returning NRIs in particular) that have since been published.
Essential reading: Maximum City
Devdutt Pattanaik: For generations, Hindu mythology has fed Indian children and grown-ups' appetite for everything from fairy tales to science fiction. Yet in recent times, those stories seemed to have become a little too other-worldly. Limited to cartoons and the occasional tacky television show, the Hindu myths no longer seemed to be told and circulated as they had been during our parents' and grandparents' times. Enter Devdutt Pattanaik, who has written extensively about Hindu legends, heroes, heroines, gods and goddesses. His writing is accessible and although he's read copious amounts to unearth some wonderful stories and characters from the ancient texts, Pattanaik doesn't make an exhibition of his erudition. His love for the mythology is unmistakable and so persuasive is his storytelling that Pattanaik has convinced companies that mythology may help their business. In addition to being an author, Pattanaik is now a consultant and management theorist.
Essential reading: The Pregnant King, Shikhandi And Other Tales They Don't Tell You
Chetan Bhagat: He is the biggest celebrity in the Indian literary landscape and the one who evokes the most intense reactions. Readers love him for telling stories to which they feel they can relate. Critics and authors hate him, ostensibly because his grammar and sentence construction are poor (though the real reason is probably that they'd like to have a fan base as large and devoted as his). Love him or hate him, the fact is that Bhagat jumpstarted English pop fiction in India with novels that are defiantly un-literary. He brought many who weren't interested in fiction into the reading fold. Without him, we probably wouldn't have seen as dramatic a rise in home-grown English popular fiction. He's also one of the few whose books have been turned into blockbuster films. From marketing his writing to cultivating his popularity using the Internet, Bhagat is something of an education on what makes an author and how to remain current in this brave new world of Indian literature.
Essential reading: All of them or none of them
Anuja Chauhan: There are few pop fiction authors who are equally loved by critics and fans. Anuja Chauhan is one of them. Originally from advertising – she's the one who coined Pepsi's tagline, "Yeh dil maange more" – Chauhan's three bestselling novels are proof that chick-lit need not be stupid. Chauhan's novels sparkle and sometimes, she ends up packing much more than a love story in them. The Battle for Bittora, for example, offers quite an insight into politics and election campaigns. But the point of Chauhan's novels is not social commentary. She's telling you a charming little story that is full of love and eccentricity. The young women are pretty, feisty and the ones who save the day. The men are dashing, witty and utterly lovable. Their families are adorable and usually, just a little nuts. The twists Chauhan adds to her stories are usually totally cuckoo and yet, entirely believable. Chauhan has taught us that to write high-grade, properly-entertaining fluff, you've got to have wit, wisdom and a lot of intelligence.
Essential reading: Those Pricey Thakur Girls, The Battle for Bittora
Subscribe to Moneycontrol Pro at ₹499 for the first year. Use code PRO499. Limited period offer. *T&C apply
Arts & Culture
In Chitra Banerjee Divakaruni's latest book, the forgotten story of Rani Jindan Kaur comes to life.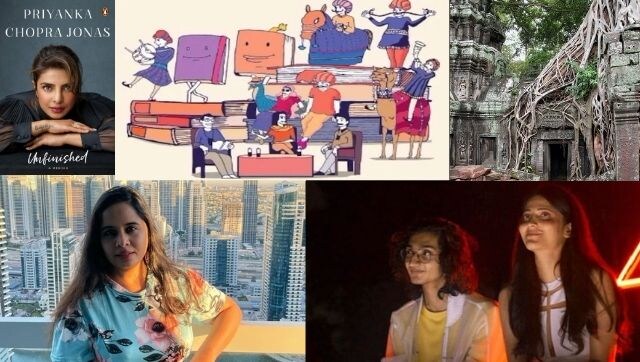 Arts & Culture
Every Friday, we'll bring you a curated list of online experiences — performances, talks, tours, screenings — to mark on your weekly calendar.
Arts & Culture
I've always loved the club life. As a fauji kid it's a big part of your growing up years, says Anuja Chauhan.