Saif Mahmood's Beloved Delhi: A Mughal City and Her Greatest Poets is a grand, yet intimate work
Beloved Delhi: A Mughal City and Her Greatest Poets is a grand work, but which is at the same time intimate. And this is precisely its biggest triumph.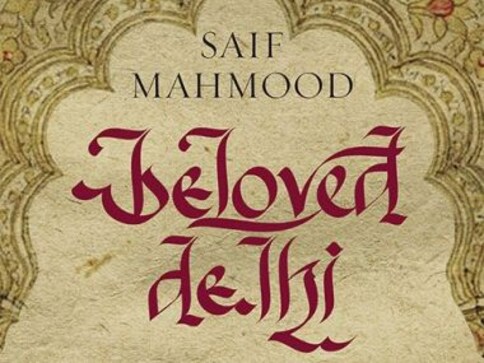 Maqdoor ho toh khaak se poochhoon ke ae laeem
Tu ne vo ganj-haaye gira-maaya kya kiye
(If I were given the power, I would ask the Earth, 'O Miser!
What have you done to those precious treasures [that were buried in you]?')
It is with this philosophical couplet by Mirza Ghalib that Saif Mahmood, literary critic and legal luminary, teases our palate to begin his book Beloved Delhi: A Mughal City and Her Greatest Poets. It is an apt selection because Mahmood's debut work is littered with treasures that reveal not just his own love for Urdu poetry and the cadence of the form – it's alliterations, style, pacing and ellipsis – but also explores an almost forgotten era in the history of the great city of Delhi through its beloved bards, the famed Urdu poets of the Mughal era.
There have been dozens of books on Urdu poetry and its masters before. Ranging from translations to a selection of ghazals, nazms and shers, these works have whetted our appetite, exciting our senses for more. Two such books of note are The Taste of Words: An Introduction to Urdu Poetry by Raza Mir and Celebrating The Best of Urdu Poetry by Khushwant Singh and Kamna Prasad. But if you are looking for something in far more detail, then Mahmood's book is the piece of the literature that you must get your hands on. The book is part time machine in that it actually transports you back a few hundred years and places you right within the ramparts of the magnificent Qila-e-Moalla (the Red Fort) to give you a ringside view of the political, historical and cultural milieu in which eminent poets such as Zauq, Dard and Mir lived.
In all, Mahmood covers a period of a little over 200 years, from the early 18th century to the early 20th century, in Delhi's history. He chronologically details the ups and downs in the lives of eight heavyweights of Urdu poetry, from the 'great satirist' Mirza Mohammad Rafi Sauda, to the 'debonair hakim of Delhi' Momin Khan Momin before rounding off his selection with the 'last casanova of Delhi' Nawab Mirza Khan Daagh Dehlvi. Along the way, Mahmood busts popular myths such as the Urdu language having originated around the late 18th century in Muslim army camps and cantonment bazaars. Instead, Mahmood, relying on his own exacting research, emphatically states that Urdu had been in existence for several centuries before and was the lingua franca of the Qila-e-Moalla and its neighbourhood.
The selection of poetry that is peppered right through the book is mesmerizing, but is also, very importantly, not without context. So while we relish the famous poem that ends with the lines, 'Tum salaamat raho hazaar baras, har baras ke hon din pachaas hazaar', Mahmood tells us quite insightfully that Ghalib wrote this adulatory piece of verse with the devilish ambition of getting the Mughal emperor Bahadur Shah Zafar to convert his bi-annual honorarium into a monthly one. Or that the very same Zafar, who also finds pride of place in the book, weighed down by the substantial number of charges put on him by the British, following the mutiny of 1857, gave expression to his unending trials and tribulations in the lines, 'Subah ro-ro ke shaam hoti hai, shab tadap kar tamaam hoti hai' (I weep the morning into evening, All night I tremble in restlessness). Fortunately, for those who may be daunted by the task of reading and understanding Persianized Urdu poetry, the Romanized transliterations of the verses and translations in English have been suitably done.
Beloved Delhi: A Mughal City and Her Greatest Poets is a grand work, but which is at the same time intimate. And this is precisely its biggest triumph. By juxtaposing the personal lives and personalities of the poets alongside the many tumultuous events taking place in Delhi city, Mahmood provides proper perspective in understanding the fine works of these masters. He balances anecdote with historical discernment, not overdoing any one. In doing so he navigates, with terrific aplomb, the challenge of not turning his work into an academic dissertation, but which yet retains the touch of something intelligent, witty and scholarly. Walking this tightrope is an underappreciated art; a pothole which often stumps the best of authors. But Mahmood holds forth on the subject with élan, delicateness and a masterly touch.
At a time when the very position of the Mughal kings and their contribution to our nation's culture and heritage is being questioned, Mahmood's book is the perfect remedy. He brings to light the many foibles and tales of the Mughal court, but by telling it through the lens of the eight poet laureates, he imbues his work with immense character, heft and depth. You laugh and cry in equal measure as you read through the 350-page-plus book. It is a beautiful ode to a once great city, that is ultimately meant to be savoured, indulged and indeed, treasured.
Akshay Manwani is the author of Sahir Ludhianvi: The People's Poet and Music, Masti, Modernity: The Cinema of Nasir Husain.
Saif Mahmood's Beloved Delhi: A Mughal City and Her Greatest Poets is published in India by Speaking Tiger Books.
Entertainment
The court made it clear on Thursday that the makers shall scrupulously adhere to a disclaimer that says the film is inspired by the attack and the elements contained in it are purely a work of fiction.
Opinion
Various parts of North India including the national capital may celebrate Republic Day with wet weather conditions
India
Delhi University students and officials at the 99th convocation on 25 February will not be seen in the conventional black robes and caps. Instead, they will be donning traditional 'angavastras' or stoles to 'promote Indian culture'