Ruskin Bond: 'Writing has suddenly become a very fashionable profession'
Ruskin Bond talks to us about his new books, his favourite crime fiction novels and literature festivals.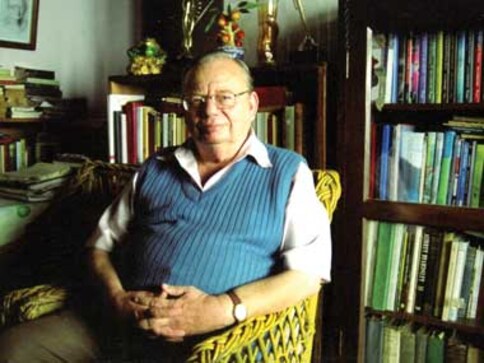 I was 10 years old the first time I read a Ruskin Bond book. The Blue Umbrella was also one of the first books I had bought for myself, instead of relying on an adult to get it for me. That's why when I went to Mussoorie, one of my first stops was Cambridge Book Depot. It so happens that the 83-year-old legend lurks around the bookstore and chats with fans if you are lucky. Unfortunately, my lurking was fruitless.
So when I recently stumbled upon a stream of new releases from Ruskin Bond, I was delighted. Bond's autobiography, Lone Fox Dancing, chronicled his foray into writing and life in Mussoorie in the 1950s, his memoir Looking for the Rainbow: My Years with Daddy, chronicles the time he spent with his father (with illustrations by Mihir Joglekar). Confessions of a Book Lover was a curated collection of lost stories, that were his favourites; each story had an introduction of how he had stumbled upon them. Bond explores bookshelves in Hampstead General Hospital in London, the Select Bookshop of Mr Rao and Ms Murthy in Bengaluru, among others from where he picks out the most incredible stories.
I was hooked.
When I phoned Bond to talk about his new books recently, it struck me that this is the first interview I was conducting by calling a landline instead of a mobile.
Bond picked up with a cheery hello, and as I questioned him about how he came to release three books together, he said, "Ah well, it's not in my hands when I publish books. I have several publishers; they are unlikely to coordinate with each other. I just write, and I am lucky enough to have a few readers that care. And if three books come out together, maybe next year there will be none."
In Confessions of a Book Lover, Bond has carefully selected a bunch of short stories that he thinks will appeal to his readers. When asked how he thought he should curate a certain number of stories instead of writing them, he says, "Well, the suggestion for curating these stories came from my publisher who said, 'Mr Bond you are a book lover, you have been reading books since your school days, so why not write about books/stories that have been forgotten or books that have been out of print and maybe that would create an interest in them again.' So I put it up along with parts where I talked about my days as a young man exploring bookshops."
Bond says he choose the title for a unique reason. "Well, I choose the term 'confessions' because it is an equivalent to confessions of an opium eater. Maybe at the back of my mind, books have occupied the same place as opium and other stimulants for other people, the way they depend on them to keep them going for their life. In the same way, I have come to depend on books to keep me going for life."
As for the title of his autobiography, he says, "For most of my life, well at least till I was in my 50s, I was pretty much alone. I had to make my living without any great deal of encouragement and other sources or family. The independence brought me happiness, but it also brought me companionship, and Lone Fox Dancing expressed my feelings at that time, and it's also the name of the poem in the book."
Bond says it took him a year to write the autobiography and Confessions..., that too with alot of prodding from his publisher. As Bond jovially points out, "I'm quite a lazy guy actually, well over a 100 titles published over a lifetime — but if you write for 60 years, 2-3 titles a year, then it is going to mount up over a lifetime. But the autobiography took me a year. Whereas Looking for a Rainbow took me about a week... I just got into the mood and wrote everything down. I hate deadlines — you probably have a lot of them in your profession — but I am not very good with them."
His books tend to have a nostalgic touch, and of this, Bond says: "Well,  the longer you live — your life pans about before you and you often think about the good times rather than the bad times — so yes there is a certain longing for things that are lost, which I suppose is called nostalgia. But then one must also preserve all that was good in the past, and nostalgia helps people with that."
With Confessions out in the market, I asked him about his other favourite authors. He says, "Oh there are lots. I have been reading since I was little, so I have so many favourite authors. I love crime fiction so I have read everything from Sir Author Conan Doyle to Agatha Christie to PD James, right up to the present, I could even write a history of crime fiction. But then again this would be the real crime fiction: the one that requires an intellectual challenge on the part of the reader and the detective without needless violence."
What does the veteran author think about young writers these days? He says, "A lot of young people want to write and are writing these days. A lot of people now want to get published, but there are great many people who don't get published — writing has suddenly become a very fashionable profession. I don't know if that's got to do with these literary festival or the fact that now these writers have acquired celebrity status which they didn't have 30-40 years ago because of the visual media. Back when I set out to be a writer in the 1950s, if you got your book published, suddenly if it was successful, you were known by your name — no one would recognise you on the street. In a way, a writer lead a very anonymous life — which was good because it gave him time to lead a normal life."
The celebrity status Bond has achieved is phenomenal. I tell him about missing seeing him at Cambridge Book Depot in Mussoorie three years ago and he says, "I sort of prefer the solitary life I used to lead before this digital medium came in. Now, so many people know me. People come here a lot. Tourists come and ring my bell, and bang on the door. The crowd has definitely increased as days go by. But it's true that while you need solitude, you also need people around you."
Before the octogenarian puts down the phone, I ask him about his aversion to technology. Bond shrugs it off, and says, "No, I am simply lazy. Why should I be forced to depend on technology if I am getting along perfectly fine without it? If I can avoid it, I will avoid it. I will relax, I mean I don't need Whatsapp buzzing in my pocket. The landline is bad enough!"
Lifestyle
Over the past two decades, the concept of identity fusion has emerged as an important psychological theory. It presents the idea that our personal identity is porous, so it can become integrated with a group.
Arts & Culture
Visitors from most countries outside of Europe will need to show that they have been fully inoculated against the coronavirus with vaccines approved by the European Union's medicines agency.
Lifestyle
Tall, thin and brightly coloured, Hanoi's "tube houses" dominate the city's streets as nine million people compete for space in the bustling capital.