When did you shop last? Whether your answer is 'Last week', 'last month', 'yesterday' or 'I'm shopping right now', it's a known fact that us women, just enjoy pampering ourselves with a new pair of boots or a lovely scarf or the bag that accentuates all outfits. We might just freak out at the thought of going broke because it simply means no more shopping! (Guess, we all have had this nightmare!)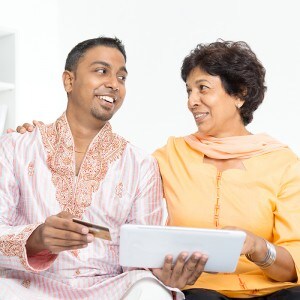 We women are ready with a myriad of excuses to shop ranging from the simple, "I have nothing to wear" to the more thought out and innovative, "Shopping is cheaper than a therapist". The very inkling of heavy discounts, attractive offers and new arrivals can drive us straight to the malls. We can then take a call whether to shop or buy.
Yes, you read it right. As often as we use these two words interchangeably, shopping and buying are different from each other.
Here we take it upon us to let you know what separates shopping from buying: (P.S.: You can thank us later for clearing the air).
1.Retail Therapy vs. Pick-n-Pay: Meandering through piles of clothing, accessories and stacks of shoes, happily for long hours is, without a doubt, something that a woman truly enjoys. Shopping for us is more about the time, experience and emotions rather than spending money. Most of us believe in 'shop till you drop' and the 'feel good factor' that shopping is all about. (Believe it or not, retail therapy is for real!)
For men, the idea is to pick and pay (buy) for whatever they like and yes, they would not sort through hundreds of clothes to select one T-shirt. 'Buying' is more about the final transaction.
2.Sensory Indulgence vs. Mission Shopping: Have you never gazed dreamily into the display arenas from the store windows? Well, most women have. And then they detour the stores as if absorbing the surroundings. Once they set their eyes on a leather jacket or a silk sari, the next step automatically leads to them touching and feeling its texture. The mantra is to let their senses indulge before taking the final decision on what, when and where to buy.
As opposed to this, men prefer skimming through quickly, spotting what they intend to buy and just spend on it without meditating over it. Their visit to the mall is more like a mission that they accomplish in the same amount of time that a woman takes to make her first purchase.
3.Courtship vs. Marriage: When courting a man, we are happy to indulge in something new and fanciful. Doesn't it sound exactly like shopping? We choose to be happy and relaxed yet excited the moment we are up for shopping, just like in the courtship period. In the end, we may not buy what we had gone shopping for, just like courting might or might not end up in marriage. Buying is the final result of the entire pleasure trip, just like marriage is the end result of courtship.
4.Gender Roles: You know that perfect wedding gift that you got? The embroidered personalized quilt that you love? That was the result of a woman shopping. #WhenAWomanShops she makes sure that she thinks well and good about what you truly need, and searches high and low for it. As opposed to that, remember that ceramic cow that you got for your birthday? Yeah. That was the result of a man buying. When a man has to buy something for someone else, the item's proximity to the check-out counter is pretty much the only thing the man will think about.
This is a sponsored post.
Updated Date: Jan 28, 2016 15:53 PM