Rethinking the hijab: COVID-19 made masks ubiquitous; will it also spur shift in assumptions about veiled faces?
To broach the topic about the veil meaning something more than a mere clothing choice seems somewhat an exhausting exercise now, one marred by debates that insist upon centralising the hijab as the server of patriarchal functions.
Now that masks have become a staple article of clothing for every time we step outside the house, it's making me think about clothes in a very different way.
Ironically, countries in Europe are still upholding the bans on niqabs, which is a type of hijab that covers a good part of your face except for the eyes, even as they are making their citizens compulsorily wear masks, which essentially does the same. The compulsory mask-wearing mandate proves just how stark and unjustifiable the ban on niqabs and burqas actually is in the West, how indefensible a practice of Islamophobia. It wasn't a security issue after all, you see, and it lays bare the kind of associations the mask-wearing requirement alongside the ban on burqas interestingly brings forth.
But we're all wearing masks now, here in India too, and while I'm slowing getting used to identifying more people by their eyes (I've had lots of practise with niqabis before) I'm also wondering if the issue lies not with the veil and about the covering up per se, but stretches beyond it to touch upon a lager discourse — essentially, that on differing ways of living and being.
As a veil-wearing woman myself, I'm often asked if I did not ever desire wearing different kinds of clothes. I wear the rida, which is the traditional dress for women in my community, and it basically consists of a skirt-like ghagra paired with a tunic that looks something like a poncho, called the pardi. Wearing it as opposed to the kind of veils and modest dressing that other Muslim women adopt, where a hijab is paired with loose, long tunics and pants or skirts, means that it seems that I am "missing out" on all that the world has to offer — well, in terms of clothing at least — and which is apparently within my means as an urbane, educated woman.
To be asked if one has ever wanted to wear other kinds of clothing is to be taken by a bewildering kind of surprise. It picks you up from your particular vantage point that has been informed by your lifeworld and rudely places you in a strange new, kind of regressive, viewing place from which you are now forced to examine your own self. But I see the implicit question behind the one articulated: I realise I'm being asked if I did not ever want to live a certain way of life that it is assumed I'm prevented from living because I wear the hijab.
I hail from a social milieu in which wearing the hijab implies being "conservative". Deciding to wear the hijab full-time (as opposed to only at the mosque), then, was quite a struggle for me. I'd find myself constantly straining against two pulls that, at the time, seemed impossibly opposed to each other. On one end there was religion and faith, and a lifestyle tailored to my beliefs. But then from the other side there was the pull of my ambitions and a career, and all those things that kept me interesting in the world and made me engage with it.
Were I to choose not to go ahead with the veil-wearing, I knew I'd be choosing to live a lifestyle that was apparently "modern" and affiliated to global, cosmopolitan ways of being and living. One that is self-evidently influenced by the West and includes going out for drinks at bars after work, or being open to all sorts of sensory experimentations, for instance; a way of conducting everyday life that is unhindered by the norms and restrictions that sometimes accompany religion, because there is no belief in it. A life that is basically secular and giddily freewheeling.
Along with being a variation in clothing that also reflected my culture, to me, the veil was ideological. It represented not only my faith but a way of life that I subscribed to, and a whole set of beliefs and principles. It was an informed choice of clothing, but it was also the conscious choosing of a particular lifestyle.
Clothes embody lifestyle. Your clothes speak about your lifestyle as they speak about your identity, how you see yourself and want to be seen in the world and by it. And among the multiple ways of living we can imagine for ourselves as varied human beings, there are certain ways of living that are more prominent than others, that are dominant, even.
[imgcenter]
[/imgcenter]
To broach the topic about the veil meaning something more than a mere clothing choice seems somewhat an exhausting exercise now, one marred by debates such as this one that insist upon centralising the hijab as the server of patriarchal functions. Why aren't men asked to cover up, they demand, why must modesty be the woman's lot. Stripped of its context and the circumstances of agency, and scrutinised as merely something that unfairly "covers" the woman, the veil is then turned into clothes that must necessarily subjugate, throttle and punish the wearer. The fact of the matter is that the choosing of the hijab is the choosing of a particular manner of living life that is fundamentally opposed to and almost absurdly different from the kind of life that has the stamp of approval of those that dominate and influence culture at large: the majority.
That any free-thinking person with agency could opt for this way of life is disorienting and decentralising, and the upholders and participants of the dominant culture don't know what to make of it.
But come, let's address the question and answer it once and for all, upfront and sincerely. No, I don't wish I could wear different kinds of clothes. It's been a while since the time I used to wear clothes of the more secular type, and I don't hanker after them now. However, what I do feel – well, not the exact thing, though certainly close to it – wistful about is the attitude that is met with certain ways of being in the world that is not extended to me.
When I'm talking with someone new, trying to see if we can be friends, even while engaging in a light, bordering-on-small-talk conversation I am hyper-aware of what is probably most likely (though of course, I can't say for sure) going on in the mind of my interlocutor. I'm hyper-aware of how the other person must be sizing me up, analysing me. My clothes precede me, my Muslimness is laid bare and along with it all kinds of unconsciously imbibed prejudices and beliefs. I'm hyper-aware of this, of how the other person might be on their path to summarily dismiss me as "orthodox", which of course, feeds into how I myself react to them.
Because of how I choose to spend my days perhaps my ideologies may diverge from those of my "modern", urbane counterparts, but in terms of my pursuit for a fulfilling, meaningful life of the mind, I am with them, and nothing but my hungry mind in this aspect, matters.
The set of values and principles upon which I build my life and the kind of faith-based lifestyle I choose to follow don't preclude the liberality with which I view and reflect upon the world. Neither does it stop me from engaging with it. Wearing the hijab full-time didn't mean that I couldn't do what I had always been doing before I took the call. I could still read books, go out with friends, go swimming and for treks. I could still travel, and I would, sometimes by myself. I could still have ambitions, even a career, and remain just as interested in knowing the way the world worked as I had always been.
While I was at university pursuing my MA, I interviewed for some sort of internship with a team of young documentary film-makers. When I arrived at the venue and met in person the woman who had responded to my application, she froze at the sight of me, and then just stared, for what was easily a full minute. It seemed she couldn't equate the person she's spoken to with the rida-clad woman who had turned up in reality. Perhaps it just doesn't seem possible that someone who dressed like me could also be interested in something like that.
Viewed in this context, the ban on hijabs and burqas in European countries then appears as a signal of disapproval of a particular manner of living. Not only that, it also seems to be a twisted expression of a kind of bewilderment, as if to say, how could someone wearing that thrive in Europe of all places, with its many freedoms and promises of "liberated" lifestyles and living?
I wonder if looking at people with their faces partially covered could sort of normalise the sight of niqabis in our country's comprehension. It would be a step, I like to believe, in the increased normalisation of our clothes at the very least. It might even save a poor veiled woman somewhere from being questioned about the different kind of clothes she might wish to wear.
Tasneem Pocketwala is an independent writer and journalist based in Mumbai. She writes on culture, identity and gender.
— Illustration © Satwik Gade for Firstpost
India
The National Capital had logged 11,684 Covid cases and 38 deaths due to the disease on Tuesday, while the positivity rate had declined to 22.47 per cent
Health
A statement from the Brihanmumbai Municipal Corporation's health department said that 84 per cent or 2,142 of the 2,550 new patients are asymptomatic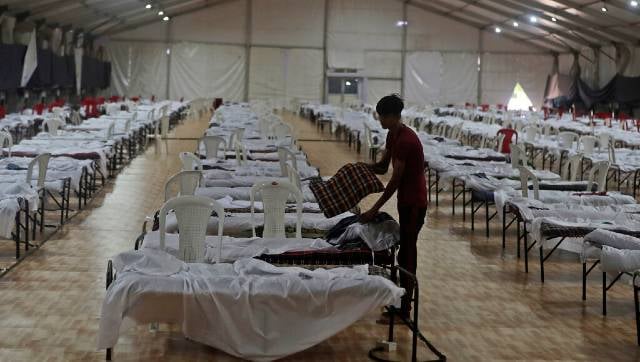 India
The research, published recently in the International Journal of Infectious Diseases, used a newly adapted test that can detect whether the virus was potentially still active.