Remembering Moti Lal Kemmu, the cultural activist who revived age-old theatre tradition in Kashmir
Moti Lal Kemmu breathed new life into Bhand Pather, a popular form of musical folk theatre laced with wit and dry humour | #FirstCulture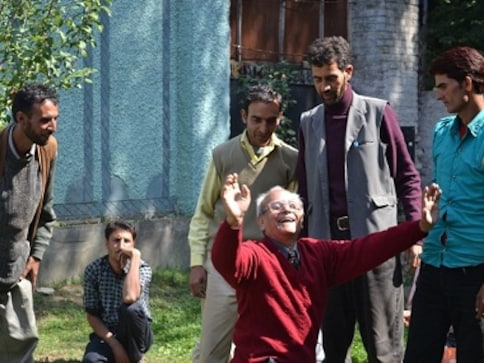 The imposition of Section 144 did not permit a gathering of more than four persons for decades in Kashmir. Cultural activities like music, dance, theatre and watching films were banned by militants, and any defiance would be met with fatal consequences. But in 1996, at the peak of militancy, about one lakh people gathered to witness a miracle—a theatre show—conducted by National Bhand Theatre, in a village under the open sky.
People came in droves, perched themselves on trees and roof tops, defying the diktat. The theatre show was made possible because of the perseverance of the late Moti Lal Kemmu (1933-2018), who revived the traditional arts of the Valley, which had begun to vanish after Independence. "He infused a new life in all kinds of traditional pather, which means 'theatre' in Kashmiri," says Jammu-based thespian Balwant Thakur, who is the director of the Natrang theatre group.
Moti Lal Kemmu passed away in Jammu, on 16 April. Like many other Kashmiri Pundits, he was exiled from the valley in 1990, but this did not stop him from working. He wrote several plays and was perhaps the only artist awarded by both the Sahitya Akademi and the Sangeet Natak Akademi, apart from being a recipient of the Padma honour.
Bhand Pather is a popular form of musical folk theatre, usually a satire laced with wit and dry humour. It is practiced mostly by the Muslims in the Valley. Ravi Khemu, his son, who is a well-known actor and director in theatre, films and TV, recalls the stories of Bhand Pather involving his father. "When I was around eight years old, I saw a man wearing a huge turban, sitting at our door. He said to my father, 'I'm a Bhand and I heard you are a trained theatre professional. Do something to revive Bhand Pather, there is no trace of it left in Kashmir.'" This man was Mohammad Subhan Bhagat, who was later put under house arrest by the militants in Kashmir, for practicing his art.
He had come to meet Kemmu, who was the first man in Kashmir to professionally learn Kathak in the style of the Jaipur gharana and study theatre at the Baroda University. Kemmu took about 30 Pather groups from different corners of Kashmir under his wing to revitalise this dying form of theatre. Mohammad Subhan Bhagat became his first disciple.
Kemmu worked with these groups as an actor, director and playwright. In many Pathers, he acted as a maskhara—the comedian—who weaves together different narratives into a cohesive form.
"When I returned from the National School of Drama (NSD) after graduating in the early 80s, he gave me 10 groups of Bhand Pather from North and South Kashmir to work with. His work in the art form continued till 1990. Then he was exiled from the valley. What he had achieved through so many years of hard work seemed to be lost again. There was a lull of about six years, and people were scared. Bhagat was put under house arrest, Parweena, an actress, was killed at Lal Chowk in Srinagar. Another theatre actor from Kupwara was killed," recounts Ravi.
Then, the practitioners of the art form started coming to Jammu to seek his guidance. He wrote a play about the status of Bhands in exile, titled Bhand Duhai. It was a play within a play, written in traditional style. Along with his anti-militancy writing, he continued to work with Bhand actors from the Valley. He wrote several plays that became huge successes," adds Ravi. Pather was not the only art form he revived; he also worked with Dhamali, the traditional dance of Kashmir and also got Ravi to add innovations to it in the form of new choreography.
In 2011, Jammu-based theatre group Natrang started a residential workshop with 20 selected Bhand groups of Kashmir, with the support of the Sangeet Natak Akademi. The selected groups were requested to nominate one person each to join the workshop. It was necessary for this person to have an aptitude for writing Bhand scripts and direction. The Akademi invited Moti Lal Kemmu to conduct the workshop, along with other experts in acting and direction, like Amin Bhatt, Nissar Naseem, Sajood Sailini, Dr Farooq Fiyaz, and Ravi, among others, who served as the visiting faculty.
"In folk theatre there is no tradition of writing, but we had to write to revive it. The old masters of Bhand Pather are dead, and militancy did not allow new ones to evolve. I feared that this art will die out," Moti Lal Kemmu told this writer in 2012.
Bhand presentations in the new style explored contemporary themes, which addressed the trauma of the common people, who suffered due to the continued conflict in the valley. The success of these shows drew people in hordes, in the Baramulla, Kupwara, Anantnag, Charsharief, Rajwarh, Kulgam, Bandipora, Tilgam and Budgam areas, which are known to be under the control of the militants.
Kemmu also became founder of many theatre groups in the state, namely Abhinava Bharati, Kashmir Bhagat Theatre, Shahwali Lika Rang, Luka Theatre Bombay, National Bhand Theatre, and Wathora, which produced memorable plays like Nagar Udaas, Bhand Duhai and Tota Aur Aaina. His collection of plays include Teen Asangati Aikanki (1968), Lal Drayas Lol Re (1972), Trunove (1970), Tshai (1973), Natak Truche (1980), and Tota Tol Aina (1985). Several of his plays have been translated and produced in Hindi. "About six of his plays are yet to be published, and we are working towards this end," adds Ravi.
In the recently concluded Theatre Olympiad, two plays written by this stalwart, Bhand Duhai and Tota Aur Aaina, were staged at Varanasi and Jaipur, under the direction of MK Raina. "Had there not been a Moti Lal Kemmu, there wouldn't be a Balwant Thakur, and this is true of many other practitioners of theatre in Jammu and Kashmir. He was a mentor to young theatre artistes like me who didn't find any support—moral or financial—from family or friends," says Balwant Thakur. Many thespians join him in paying homage to the writer, director and mentor, who struggled to bring a smile to the faces of Kashmiris, under the shadow of guns.
World
The government of Pakistan has put an end to the subsidy on electricity for PoK that has been illegally-occupied by Pakistan for the last seven decades
First Cricket News
While the sale of bats has increased from 3 lakh to 30 lakh over the last 10 years, a shortage of willow cleft might force factories to close over the next five years.
World
US State Department spokesperson Ned Price said that the United States supports a constructive engagement between India and Pakistan but the nature of such talks is for the two countries to decide