Remembering Balamuralikrishna: Senior disciple, Carnatic vocalist Rama Varma pays tribute
Rama Varma studied under Mangalampalli Balamuralikrishna. In this tribute, Varma examines his teacher's musical legacy
Indian classical music is one that respects parampara or lineage a lot. Thyagaraja was one of the greatest exponents of this system of music and a few generations of disciples later — after Manambuchavadi Venkatasubbaier, Susarla Dakshinamoorthy and Parupalli Ramakrishnayya Panthulu — came a young boy in 1930. Born in the tiny, obscure little village near the Godavari river in Andhra Pradesh called Sankaraguptam, this boy was to change the face of South Indian Classical music forever — Mangalampalli Balamuralikrishna.
Because of his stunning command over all the aspects of music as six-year-old, when he started to sing in public, a bala (child) was prefixed to his name Muralikrishna.
And, as his fame grew, so did his name and the titles that came before it: Padmavibhushan, Sangeetha Kalanidhi, Dr Mangalampalli Balamuralikrishna.
While it is easy to get mesmerised by the depth, the sweetness, the range, the dynamics, the speed, the clarity and the sheer beauty of his voice — and equally easy to be overwhelmed by the very long list of Doctorates, awards and titles that he won over the decades — I was fortunate enough to become fascinated with his mind as a composer, above everything else.
Newness is something that is attractive to most human beings. And the allure might fade after a time, when one becomes intimately familiar with something or someone. But having spent more than 20 years obsessively studying his music, his poetry, the charming melodic cadences and the vivid and riveting rhythmic pulses, I can honestly say that I have only become infinitely more fascinated over time, with the freshness and brilliance of his compositions and by the extraordinary genius of the mind of the creator behind them.
When Lord Ganesha destroyed the evil intentions of the Demon Durasara who attacked the city of Varanasi, it translates into verbal magic effortlessly and spontaneously in the capable hands of Dr Balamuralikrishna as "Vaaranaasinaakraminchina Duraasaruni Duraasha Niraasha Gaavimpa" for example. In his Thamizh song "Pirai Aniyum", Lord Ganesha is described as "Munnam vanangi anugiya perukku pinnam nindru thunai sheyyum" ("For those who stand with folded hands in front of you, you stand behind them and help them!") In 'Na Jaane Thava Dhyaanam Vina', he interprets the three syllables of the word "Bha-Ra-Tha" as Bhakthi (devotion), Rakthi (emotional content) and Thanmayathwam (aesthetic sense), as opposed to the usual interpretation of "Bhaava, Raaga, Thaala." "It is Bharatha and not Bhaaraathaa, no?" he would chuckle, eyes twinkling.
The five Pada Varnams, the Thaana Varnams, a Padam or two, a Javali or two, a bunch of scintillating Thillanas that would bring life into the laziest person in the world, songs in all the 72 Melakartha Ragas that he composed and published when he was just a teenager, a few exquisite Ragamalikas, a few beautiful Bhaava Geethas, around 200 Krithis — many of them scattered all over the world unlisted, from Singapore to Rajapalayam — and then the music he gave to the lyrics of great masters like Annamayya, Bhadrachala Ramadasa, Sadasiva Brahmendra, Narayana Theerthar, Purandara Dasa, Maharaja Swathi Thirunal, Jayadeva, Kaiwara Amara Nareyana, Mallekonda Ramadasa, Etla Ramadasa and others: the compositional wealth that he left us is really and truly overwhelming. It is also much more precious and valuable than all the awards and titles that he won. His entire body of work can be compared to a university that musicians, students of music, music teachers and music lovers can delve into again and again and come up with something fresh, original, vivid, beautiful and useful each and every time.
Being at heart, an exemplary performer, the composer in him often took a back seat. When he felt that the listeners were waiting for their favourite songs like 'Endaro Mahanubhavulu', 'Samaja Vara Gamana', 'Devadi Deva', 'Nagumomu', 'Pibare Rama Rasam' or 'Oru Naal Poduma' for the hundredth time, he felt that he couldn't let them down by not singing them.
I used to fight with him relentlessly, arguing that the listeners would surely request songs like 'Pahi Sameera Kumara', 'Gaana Maalinchi', 'Kamala Dalayatha Lochanamulave', 'Kaavave Kanyakumari' or his 'Kharaharapriya Pada Varnam', if only he would sing them from time to time and make them aware of their existence. But he would deftly deflect my arguments by asking me, "How come you know all these songs ?" and continue: "Because you took the trouble to come to Madras all the way from Kerala and learn these songs from me. And make me remember songs that I haven't sung since the 1950s. So you got them. The people who are happy to listen to 'Nagumomu' again and again….well, that is what they are meant to get!" The case would be closed.
From being outspoken to being politically correct, gullible yet astute, innocent despite being naughty, disarmingly simple and explosively confident, his personality was as unusual and fascinating a mix as the mountain of compositions he has left us. Like an elaborate buffet at a 5-star hotel, there would be something for everyone….and it would be up to us to take what appeals to us, be it 'Nagumomu' for the 500th time, 'Paluke Bangaramayena' for the 400th time or his own mesmerising composition, 'Maamava Gaanalola' in the hauntingly beautiful raga Rohini created by him.
Rohini, Lavangi, Mahati, Sumukham, Ganapathy, Vallabhi, Chandrika, Prathimadhyamavathi, Siddhi, Roopavahini… just the ragas created by him would be enough material to do a PhD on. While his physical presence will be terribly missed, thanks to technology, the internet and sites like YouTube and sangeethapriya.org, one can hope that more and more people who are serious about good music, would explore further, delve deeper and be rewarded more and more abundantly by the ocean of music left to us by this extraordinary man. May his soul rest in peace.
The author, also known as Prince Rama Varma, studied under Mangalampalli Balamuralikrishna and is a renowned Carnatic music exponent.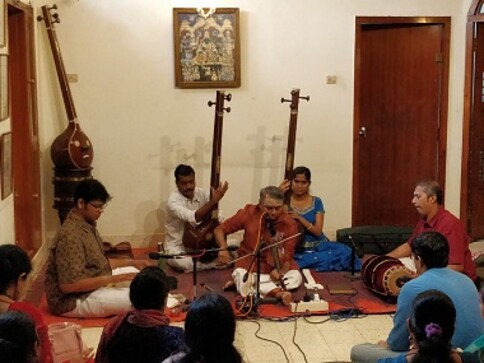 Life
Carnatic music in all its aspects is on display during Chennai's "December Season", or "Margazhi" as it is called in Tamil
India
An entire two-day program featuring four classical artistes was cancelled because some people had objected to the inclusion of Carnatic musician TM Krishna
Life
How can we build meaningful links between the worlds of Carnatic and Hindustani classical music?