Regulating surrogacy: Instead of killing it, govt should free the industry from its ills
Surrogacy does not become 'fashionable' because SRK did it. It is still a necessity.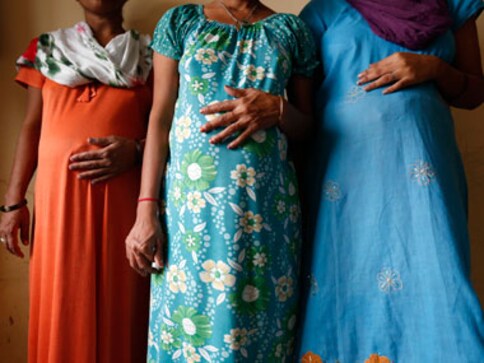 My neighbours in one of Mumbai's uncountable high-rises are a lovely couple with a beautiful infant daughter. The mother is in her early-40s and I've never seen her pregnant. Knowing the odds stacked against her being Virgin Mary, one day, in a let's-wait-for-the-elevator-till-death-do-us-part kind of typical high-rise situation, I broached the subject of her child's divine appearance.
"Surrogacy," she replied as her daughter snuggled into her arms.
I nodded, a wave of relief sweeping over me. By virtue of being a woman in her 30s with no knight in shining armour in sight — 'leftover women' I believe we're called — I'd assumed that my only options for motherhood were to freeze my eggs, marry the charlie with body odour, or start thinking of cats as babies.
Surrogacy, therefore, became a beacon, shining the light on my desire to have children. It afforded me the luxury of waiting for the right man with whom to start a loving family.
It was also the only respectful thing that Tusshar Kapoor had ever done.
You can imagine then what it meant for me — and for thousands of women (and men and gays and foreigners and live-in couples) — when Union External Affairs Minister Sushma Swaraj came all guns blazing with the near blanket ban on surrogacy in India.
My reaction, after telling my heart to heed, was to understand her raison d'être. The intention of the government, it seems, is to stop the exploitation of surrogate women. There are apparently clinics, unregistered, undesirable, sprouting like weeds, that offer little by way of money or care to surrogates while raking in foreign moolah.
It took a moment for this to sink in.
So, the government, instead of using stringent regulation to weed out unregistered clinics or malpractices, decides to weed out the entire industry?
This is like saying that because some men are rapists we should throw all men in jail.
It is also undeniably shameful. Our government is abdicating responsibility. By passing the onus to commissioning parents and legitimate clinics, it is shirking its most basic duty of implementing a regulatory mechanism. After all, it's easier for them to issue a blanket ban rather than build a regulatory environment, isn't it?
Yes, keeps checks and balances for doctors, middlemen, agents and aspirant parents.
Yes, bar women from being surrogates more than once in their lifetime.
Yes, make it illegal for doctors practicing procedures that might hurt a surrogate mother and a baby's physical and mental health.
Yes, ensure that clinics look after the surrogate mother and her family.
Yes, fine and imprison couples that abandon the surrogate baby.
Yes, ensure that aspirant parents are not monetarily cheated.
Yes, ensure that the women are properly compensated. Hell, bringing new life is a miracle that deserves its asking price.
No, don't take away our right to have children.
It gets worse. Swaraj made cruel, regressive statements that surrogacy is a 'shauk' for celebrities, and that gays and live-ins have no legal sanctity. How can she decide whether gay couples make for less loving parents than infertile couples? Where does the government come off taking such a high moral ground? Should we begin pointing fingers at their personal lives, like they're doing with ours?
What if Swaraj's daughter wants to have a surrogate child tomorrow? How would she feel at being denied becoming a grandmother because of her own draconian laws?
And to think a few days ago she assured a Twitter troll that all politicians are sensitive.
You cannot societally shame people away from surrogacy. This is neither the time nor the tool for moral crusading and judgment.
More so, are you against surrogacy or alternate lifestyles?
Surrogacy does not become 'fashionable' because SRK did it. It is still a necessity.
In our country, women face unimaginable societal pressure to become mothers. On one hand we are judged for not having children, on the other hand, the government hastily removes support systems that allow us to have children. How do these actions serve women in any way?
Furthermore, banning surrogacy will only lead to an underground black market for wombs that will perpetrate greater exploitation of the very women the government seeks to protect. It will completely leave the market unregulated.
This bill provides women a greater disservice than service.
If you really want to protect women, then bring perpetrators of sexual violence to justice, stop granting criminals impunity, create a society where women have both public and private agency, legalise equal pay for women, and build facilities for working mothers.
In the name of protection, do these things. Don't sneak into our bedrooms and murder our humane desire to have children.
The truth is that the demand and, more importantly, the need for surrogacy are high. Surrogacy achieves social good. The people involved – the surrogates, the parents, the children – are not mere statistics. They are human beings with a heart and a desire to have things that most humans desire — security and family.
Make the exploitation punishable, not the industry.
Don't throw the baby out with the bathwater.
The author is an award-winning author, journalist and speaker whose new feminist book The Trouble With Women is now available on the Juggernaut app. You can follow her on Twitter @MeghnaPant.
Opinion
India under Prime Minister Modi has fully endorsed the United Nations in its "Think equal, build smart, innovate for change', motto, with regard to women's empowerment
World
The US maternal mortality rate is the highest among high-income nations and the number of deaths in 2021 was the most since the mid-1960s