Regine Petersen's meteorite photo project uncovers narratives about human memory, culture — and wonder
Decades after a meteorite crashed through the roof of Ann Hodges' home in Alabama, injuring her, photographer Regine Petersen — fascinated by the story — decided to investigate it, and other similar cases, further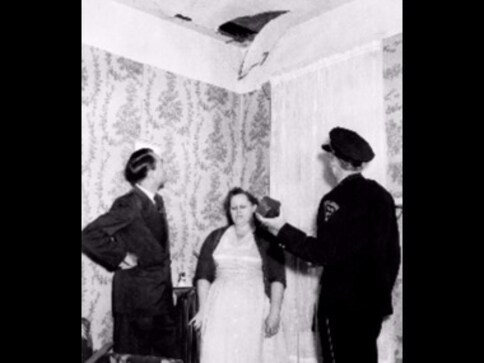 Oak Grove, Alabama, United States. 30 November 1954. A meteorite crashes through the roof of a farmhouse at two in the afternoon. It bounces off a radio cabinet and hits a napping Ann Hodges, severely bruising her.
Although not remarkable in size, the meteorite crash becomes one of the only few recorded episodes in the history of an extraterrestrial object injuring a human being. The incident receives worldwide publicity and sparks an ownership conflict over the rock itself.
The Hodges meteorite (as it is commonly known) would later be donated to the Alabama Museum of Natural History. And decades after that eventful afternoon, the incident would spark the imagination of German photographer Regine Petersen, eventually becoming the first chapter in her project, Find a Fallen Star — an exploration of stories of meteorite falls around the world.
Petersen's continent-spanning work was recently displayed in Jaipur, India, at the 18th-century astronomical observatory, Jantar Mantar, as part of the JaipurPhoto festival, curated by Aaron Schuman.
Apart from the Hodges meteorite (officially known as Sylacauga meteorite), Petersen's project explores two other meteorite falls — one in Ramsdorf, Germany in 1958, and another in Kanwarpura, India in 2006. The project, however, goes far beyond just documenting the facts about the incidents or photographing the rocks themselves: It tells stories… Complex narratives of human nature, remembrance, cultural similarities and differences, and how a rock from outer space can alter one's life — in some cases, forever.
Regine was in Arizona for an artist residency when she encountered people who lived in the area and were very interested in meteorites — meteorite hunters, scientists. There, she photographed meteors that were in private and museum collections. She also heard of the Alabama incident, and that — as Regine says — "set the ball rolling". "When I read about the incident, I thought: This is impossible. It was so weird!" she says.
Regine adds she's fascinated by meteorites themselves, their sculptural aspects, the otherworldliness and "the things that many people find interesting, I guess". But the Alabama incident exemplified what Regine was most enthralled by: "(This) moment when a rock from space collides with our everyday lives".
Researching more such witnessed falls, Regine finally chose the three cases she would focus on, in her book. And as much as the project is about the meteorites, it is also (if not more so) about the lives of people entangled with these falling stars.
"I was curious about what happened [to the people]," says Regine, explaining how she visited each site and spoke with people there. "Things [were a bit] complicated because I am not a documentary photographer in a traditional sense. I call my work 'documentary', but at the same time, it is very much about my associations and thoughts… So, when I was in these places, it was not my aim to reconstruct the story, but use the story as something that initiates thought."
"When a collision takes place, you start to question a lot of things — human existence, life on earth, where do we come from… You start to see things maybe differently. At the same time I am interested in the specifics: A meteorite just falls to earth and hits something — it's totally random. I'm interested in looking at these very random places, seeing what happened, what I learned from being in these places, what it tells me maybe about the place that these people lived in, or their personal stories."
Not all places she looked at, visited, or researched, made it to the final cut of her project. One of the reasons she chose these three particular stories was because she wanted to explore "instances in very different places, as meteorite falls are a global phenomenon" and "look at the similarities and differences of these places" as also how she positioned herself differently in these places.
"I realised that [these] stories are quite complex," explains Regine. "Maybe the German chapter is the best example. Because in the beginning, there was this official story of five children witnessing this meteorite fall, and they thought it was Sputnik. It was in the 1950s… when the Sputnik satellite came down [the first artificial Earth satellite launched by the Soviet Union in 1957, which broke into flames while reentering the planet's atmosphere in 1958]."
"They hit the meteorite with an axe or hammer — it's not quite clear — broke it into pieces, and shared the pieces among them. This is the official story. But while I was there, I came across other people who also claimed to be witnesses to the fall and every one of them remembered the incident differently. I got a feeling of how people misremember or subjectively filter things."
Different cultures respond in varied ways to essentially the same event — a meteorite crash. For instance, Regine's book A Brief History of Meteorite Falls (100 eyewitness accounts spanning different time periods) highlights how some people thought a meteorite was a gift from God, or a demon that fell from the skies, or even a thing to be venerated. Indians would dip their arrows into water that filled craters formed after a meteorite crash, believing they could then defeat their enemies. Or more contemporarily, an Australian who thought a meteorite crash was a 9/11 anniversary attack, or in Japan, where someone thought a meteorite was radioactive because news of the Chernobyl disaster had recently been reported.
"You always see traces in these stories of the history and politics of the place… it gives you a little bit of a mirror of the times," says Regine.
Working retrospectively — the German and American chapters both take place in the 1950s, while the Indian chapter unfolds in 2006 — had its own challenges, but Regine wove these into the project. "In the chapters on Alabama and Germany, the idea of memory is quite important. In India, the language barrier was more of an obstacle for me to get the information that I wanted. I tried to use these obstacles and incorporate them in the work in order to show that sometimes it's difficult to access what we call 'truth'," she says.
In the Indian chapter, lack of information about the fallen meteorite was also an issue. What little was available, wasn't of much help. "There was an article in The Hindu that said the meteorite fell close to an atomic power plant. There were two shepherds who beat the meteorite with sticks and then drowned it in water because they were frightened," she recounts. "And I thought that maybe they were superstitious or thought [the rock] was a demon, and that is why they hit it and drowned it. But in the end, they had really pragmatic reasons: They thought the meteorite was hot so they dragged it with their sticks and tried to cool it down in the water. So the article itself was suggesting something that wasn't really there."
Coming back to the present, Regine says while she doesn't really intend to add another segment to her project (although she has done a couple of smaller chapters — one online and the other as part of a magazine commission), she will always be interested in meteorites.
She is, however, two years into a new project which is currently in its research phase. And while she can't divulge the details just yet, Regine says this too, will take her to different places.