Ravi Shankar's Hyderabad connection: When he returned to where he got married
Panditji expressed a desire to visit the temple after twenty years of matrimony and was pleasantly surprised to meet the priest who had declared him and Sukanya man and wife.
Pandit Ravi Shankar was extremely particular about one thing. After a concert, he was insistent that there should not be any felicitation or speeches. He believed the audience should be allowed to go home with the music in their heart and that nothing should come in between.
However, the government organisers insisted on a felicitation ceremony after he had finished performing at his last concert in Hyderabad in 2009, was perhaps the only glitch during Panditji's last visit to the city, which was truly special for him. For it was at the Chilkur Balaji temple on the outskirts of Hyderabad that he had married Sukanya Rajan in 1989.
Panditji expressed a desire to visit the temple after twenty years of matrimony and was pleasantly surprised to meet the priest who had declared him and Sukanya man and wife.
G Srinivas Murthy, an architect by profession first met Pandit Ravi Shankar in Delhi as a college student in 1987. The task assigned to him and a friend was to convince the sitarist to perform for SPIC MACAY in Delhi.
"We used to sit on the lawns of his house at 95 Lodhi Estate, which was assigned to him as a Rajya Sabha MP. It was amazing how his house was like a gurukul. At any given point of time, 25 to 30 people lived at his home, he would feed all of them all the time and take classes whenever he had time,'' he recalls.
Murthy, who is also trained in Hindustani classical music, subsequently played the tanpura with Panditji at several concerts. One of them, Murthy recalls with a touch of embarrassment, took place in Kathmandu in 1998.
"The photographer took the photograph from such an awkward angle that I was in the centre and Guruji and Anoushka Shankar were to my left and right. When the photograph was published in the newspaper the next day, Guruji knocked on my door early morning, showed the paper and said in a jocular manner - `Tum to chhaa gaye'. Where do you find maestros of his stature indulging in such light-hearted banter?'' Murthy said.
His end, those who were close to the family say, came unexpectedly even though he was hospitalised for some time now. They say he always wanted to be in India and wished to pass away in his homeland.
Most people who have interacted with Pandit Ravi Shankar talk of his two different personas - on stage and off stage. That off stage, he would be like any other elderly person, with a walking stick in hand, someone who would find it extremely difficult to even take another step without help. But the moment he got on stage, he was transformed. Almost like a Maharishi, a sage who went into a trance with his sitar, becoming one with the music he created.
In January 1998, Ravi Shankar and Yehudi Menuhin performed together for the first time in India on the occasion of the 50th anniversary of Indian Independence. Such was the chemistry and mutual admiration and respect between the two that Menuhin, who is called the `Einstein of Music' said that Ravi Shankar's genius and humanity can only compared to Mozart's.
It was at that concert that Ustad Zakir Hussain played the tabla. And his words today mourning Panditji's farewell are also in sync with the musical magic they created. Speaking about his demise today, Hussain said, "Beings like him don't die. They just go back to heaven to take their rightful place amongst Gods. Today, with his presence, heaven is enriched. Farewell Ravi uncle.''
Interestingly, both Pandit Ravi Shankar and daughter Anoushka Shankar are in contention for the Grammy award this year. Panditji for his album `The Living Room Sessions Part 1' and Anoushka for her `Traveller'. But as Panditji's sitar falls silent, there is consensus that it is the Grammy's which have been honoured by Pandit Ravi Shankar receiving them.
Find latest and upcoming tech gadgets online on Tech2 Gadgets. Get technology news, gadgets reviews & ratings. Popular gadgets including laptop, tablet and mobile specifications, features, prices, comparison.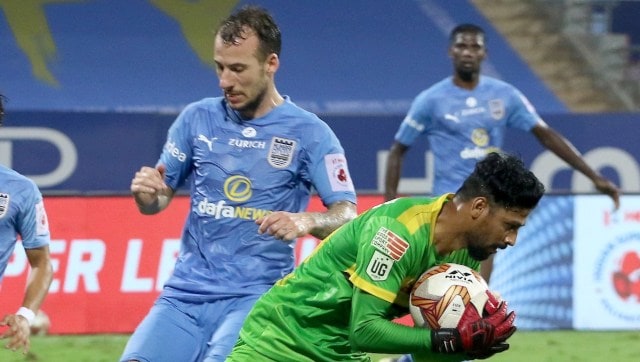 Sports
In a match where both the teams failed to convert many chances, it was Hyderabad who turned up stronger on the day, denying any goal to the relentless Mumbai attack.
Sports
With the home stretch of ISL 2020-21 fast approaching, Firstpost takes a look at some of the key storylines from the season so far.
Sports
The last time these two sides met early in the season, Hyderabad got the better of an injury-marred Odisha, thanks to Aridane Santana's penalty.