Ram, Janu and Gulbonda: How Tamil movie 96 and social media saved a small Kerala startup
Calicut-based Gulbonda makes and sells wooden dolls. Founders Ritwik Mekkayil and Pallavi M talk about how the cast of the movie, and social media, saved the business from closure and the struggles of a small-city startup
It's been 24 hours since our first call and Ritwik Mekkayil is still too busy to talk. The immediate task at hand, he hurriedly explains before dashing off, is to look for a good, dry piece of tree bark in rainy Calicut, which has proved to be elusive. His business partner, Pallavi M, takes over and explains the urgency of the situation. "We haven't slept in 24 hours," she explains, wearily.
Mekkayil and Pallavi run the Calicut-based art studio Gulbonda where a three-member team, comprising the duo and a carpenter, handcraft and sell miniature wooden dolls. Last week, inspired by the hit Tamil movie 96 (it was the first movie the soon-to-be-engaged couple had watched together in several months) they made two dolls based on the main characters, Ram and Janu, played spectacularly by Vijay Sethupathi and Trisha Krishnan. On Sunday, they uploaded pictures of the celebrity merchandise on Instagram. "Ritwik had reached out to the cast of the movie and one of the supporting cast members had shared it as an Insta story." But even then, the two had no great expectations: they had 21 followers on the social networking service (and a good sense of humour about it, unlike most millennials) and had just begun to make peace with their near anonymity and the niche space they operated in.
"But my phone didn't stop buzzing," remembers Pallavi. "By the time I reached home, I had received tons of alerts and notifications." The duo logged in to see what had stirred up such unusual activity, and were gobsmacked: Krishnan had shared the post on Instagram and Twitter. Her post was liked 8,200 times on the micro-blogging site and it fetched Gulbonda 2,185 followers overnight.
Since then, events have taken a surreal turn. "Trisha ma'am sent us a direct message on Instagram that night itself, requesting us to make these dolls for her. So far, we have 200 orders for the Ram and Janu dolls. It's raining here and it takes three days for the acrylic paint on the dolls to dry. So we are struggling to finish and ship them off on time." But it's the kind of struggle that they are grateful for, having lived through the other kind – the no fun type, punctuated with uncertainty, familial disapproval and cash crunches.
The world of Gulbonda
Gulbonda is a figment of the childhood buddies' wonderfully quirky imagination, fuelled by cartoons like Foster's Home for Imaginary Friends. "Gulbonda is an imaginary planet populated by small-sized people called Gulbondians, who pursue their dreams," says Pallavi. The planet, she explains, has been hit by a meteorite and the Gulbondians have found their way to Earth, where they are up for 'adoption'. "Ritwik coined the word Gulbonda — it doesn't mean anything, but it's his favourite word to express happiness and delight," she laughs. Pallavi, also the creative brain behind the business, weaves short stories around these Gulbondians and brings them to life through her wooden dolls. She is the dreamer and Mekkayil the realist, and their perfect chemistry came in handy when the two decided to go into business together.
For start-ups elsewhere in the world, funding is probably the greatest concern of all but for a startup in a small city, it is perhaps, as Pallavi points out, family. Mekkayil, a mechanical engineer by education, quit his IT job to become an entrepreneur, while Pallavi, an architect, had begun taking art classes to support her dream. Their decisions didn't go down well with the families. "It took us a lot of time to convince them. They are still worried about how we will survive after marriage. Gradually, we stopped attending family functions and gatherings and were on the lookout for a workspace away from home," she recalls.
Pallavi's art teacher offered some respite by providing space for an art studio and the opportunity to conduct NATA coaching classes for students. "Using that money, we started an online marketplace for designers and artists in 2017, but had to shut shop in April this year due to severe cash crunch."
It left them heartbroken but remarkably, their spirit remained intact. "We didn't want to repeat our mistakes so we spent the next few months researching for our next venture. We learnt a lot about pricing, designing, marketing and money management." It was a phase of tremendous struggle: they were unemployed and perennially broke.
Using the leftover money from the coaching classes, the duo launched Gulbonda four months ago. "I also wanted Gulbonda to be a space where other struggling artists could meet and connect in a small city like Calicut," she adds.
But the new venture wasn't an instant hit. Last month, the two put up a stall at a flea market in Bangalore and although they managed to generate some interest about Gulbonda, the overall response was disheartening. "We didn't make a penny," says Pallavi. "No one wants to buy handmade dolls these days, when you have a variety of musical toys in the market." For the first time, their spirit was broken, leaving them "depressed".
"A good friend and business advisor, Akshay, advised us to take a break and step out of the office. We had given up so many things that couples enjoy doing — like watching a movie and hanging out with friends — as we'd invested all our money in the business. But that day, after debating which movie to watch and reading the reviews, we decided to watch 96. It changed everything."
Right now, the young entrepreneurs' topmost priority is to meet the surging demand for the Ram and Janu dolls. "We just want to enjoy this moment. After all, it's the best time we have had so far," laughs Pallavi.
Entertainment
Shahid Kapoor is all set to make his digital debut with Prime Video's upcoming crime thriller, Farzi. Created by Raj & DK, who are known for their edgy thrillers, the series has already piqued the interest of the audience.
Entertainment
Compiling them all, Farzi being a series coming from 'The Family Man' directors, Raj & DK starring the combination of two amazing actors making their OTT debut, Shahid Kapoor and Vijay Sethupathi.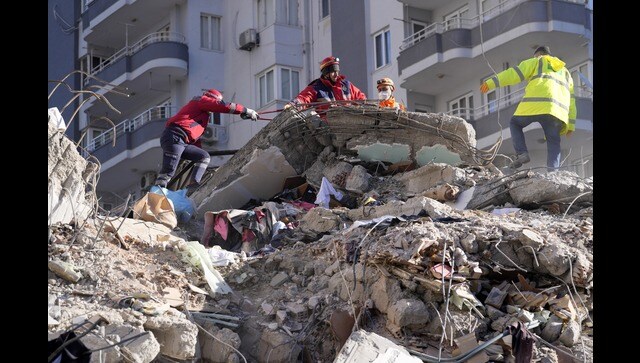 World
The four individuals were detained after officers found accounts that shared 'provocative posts aiming to create fear and panic', the police said